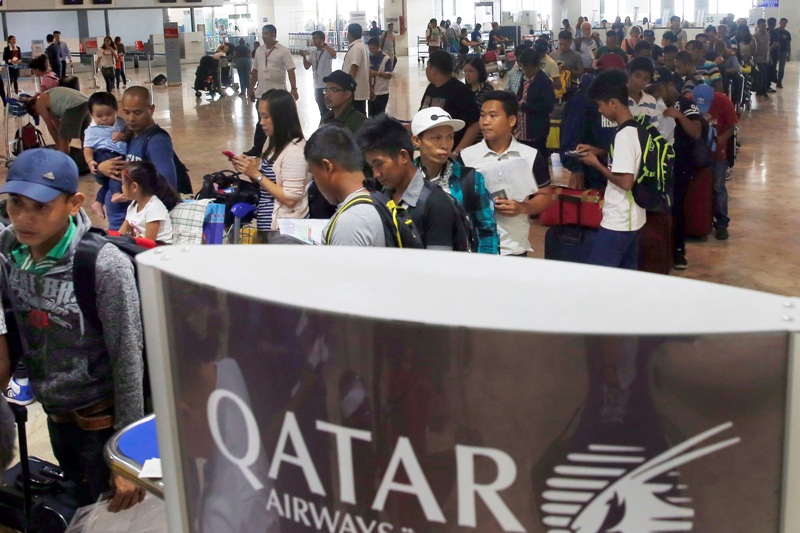 The government continues to process documents of Filipino workers returning to Qatar, as only newly hired applicants who are still in the country will be covered by the temporary deployment moratorium. AP/Bullit Marquez, File
Government continues processing of OFW documents for Qatar
MANILA, Philippines - The government continues to process documents of Filipino workers returning to Qatar, as only newly hired applicants who are still in the country will be covered by the temporary deployment moratorium.
The moratorium is being implemented as the government is assessing the situation in Qatar, the Department of Foreign Affairs (DFA) clarified yesterday.
Meanwhile, only a few overseas Filipino workers (OFWs) can work in Qatar even as the government has partially lifted the deployment ban.
Labor Undersecretary Dominador Say said the lifting of the ban covers only workers who have been issued overseas employment certificates (OECs).
"We will no longer be issuing OECs so only those who have existing OECs can leave for Qatar. After that, no more workers can go to Qatar until the suspension is fully lifted," Say said.
The labor official said he could not yet ascertain the number of Qatar-bound OFWs with existing OECs.
Say clarified that the Philippine Overseas Employment Administration (POEA) will continue processing documents, but will not issue OECs.
He said the Qatari government sought the lifting of the suspension because there are pending projects in the country.
"We just agreed to meet half-way, we will allow only those with OECs," Say said.
The DFA, POEA, Department of Labor and Employment (DOLE), Overseas Workers Welfare Administration (OWWA), Philippine embassies and overseas labor offices in the Gulf region continue to monitor, coordinate and reassess the situation in the area.
"The government clarifies that people who are working in or who have urgent business in Qatar are free to return, provided they should observe precautions," the DFA said in a statement.
The government renewed its call for Filipinos in the region to exercise prudence and reiterated its readiness to assist the OFWs.
Filipino workers in Qatar and in countries that cut diplomatic ties with it are advised to remain calm and communicate with Philippine embassies or consulates.
Saudi Arabia, United Arab Emirates, Bahrain, Egypt, Yemen, Libya and Maldives severed ties with Qatar for allegedly supporting the terrorists.
Qatar has denied the accusations, saying these were unjustified and baseless.
The Lilac Center for Public Interest said the suspension in deployment could affect the hiring of OFWs in the Gulf region.
"It was a decision based on wild speculation and rumors, as Secretary (Silvestre) Bello himself said the DOLE is still assessing the situation," Lilac Center president Nicon Fameronag said.
Under the rules, the POEA can stop the deployment only upon recommendation of the DFA, Fameronag said.
"There is no crisis involving OFWs in Qatar. Only a potentially disruptive situation that the Qatari government is capable of handling," he said.
The Qatari government has ensured that the diplomatic row would not affect the normal course of life of citizens and residents of the state, he added. – With Mayen Jaymalin