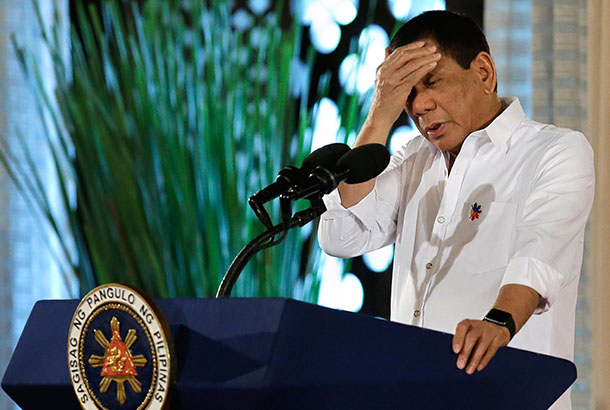 Philippine President Rodrigo Duterte touches his head during his speech at the swearing in of officials of various municipalities at the Malacanang presidential palace in Manila, Philippines, on Thursday, June 1, 2017. Duterte declared martial law in the Mindanao region, the southern third of the Philippines, and poured in troops backed by airstrikes, artillery fire and tanks to crush the urban insurrection. AP Photo/Aaron Favila
Fact checking Duterte's Maute claims
MANILA, Philippines (First Published June 7, 5:38 p.m.) — President Rodrigo Duterte pointed to illegal drugs as the root cause of the crisis in Marawi—a claim he made before troops and the military top brass less than a week into the siege by militants in the largely Muslim city.
These were his exact words in a speech given last May 27 at Camp Teodulfo S. Bautista in Sulu:
Apparently, na-overtakan (overtake) tayo ng events. ISIS is… Hindi purely 'yan. It would be a lie to say that puro ISIS na 'yan sa Marawi ngayon. Ang puno't dulo diyan is droga kasi diyan ang hotbed ng shabu pati drug sa Mindanao. Hindi pa nga dito eh. Diyan 'yung lahat ng mga politiko na gustong yumaman, kahit sino doon na kung marunong lang.


Kaya 'yung mga Maute, magkapatid 'yan na pulis, nung nakita nila sa Maynila na maganda ang negosyo, umuwi 'yan sa Marawi, nagtayo ng malaking laboratory. Hindi lang nakuha ng news 'yung sa likod nung ni-raid nila, iyong sa tatay nila 'yon. Diyan nagumpisa.
Philippine top cop Ronald dela Rosa backed Duterte, saying there is a case buildup against narco-politicians reportedly helping the Maute.
READ: Marawi crisis: What we know—and don't know—so far
How the drugs came into the picture was explained by Duterte in the latter part of his speech.
READ: FACT CHECK: Inconsistencies in Duterte's martial law report
He said that when Christians and Muslims involved in the drug trade fell on hard times, they sought refuge from extremists by pretending to fight for Islam.
Ang problema nito ngayon, pagdating ng modern times hanggang ngayon, Marawi has always been the hotbed also of insurgency. Doon ngayon, ang mga tao Kristiyanos, pati mga Muslim sumali na diyan sa droga. 'Nong nagkaipitan na, they went to the revolutionaries, pretended to fight for Islam to seek protection.


Iyan ang nangyari sa mga Bisaya na nandiyan sa negosyo ng shabu at 'nong naipit na sila at papatayin sila ng gobyerno, nakipag-sapalaran na. And now they are proclaiming to be jihadists for protection.

So kaya marami 'yang Balik Islam. Iyang Balik Islam, wala akong ano—puro… Ewan ko kung a true believer of Islam would be comfortable with a Balik Islam, lalo na kung may record. Iyon ang nangyari, pati 'yung mga gangster diyan sa Buldon, lahat na, nagkaipitan na ngayon. They want to be identified with Maute who were really two brothers who went into drugs. Tapos ngayon pretending to be allied with the ISIS because si Hapilon nandoon and he was anointed. Iyan ang giyera ngayon.
Joseph Franco, an analyst specializing on counterinsurgency and counterterrorism, said his research does point to the profit-driven nature of the conflict in the Philippines.
"They use IS as a branding device to make themselves appear fiercer. Fiercer image, more ransom… In the Philippines, ideology is used as the justification rather than the motivation for violence," he said. And the declaration of martial law, he argued, might give the Maute a propaganda boost.
READ: A look into Duterte's reasons for martial law in Mindanao
However, Franco said the president's claims need more evidence.
"Press releases do not cut it for claims that big. Maute was known prior to their ISIS pledge as an extortion ring. And as a private army," Franco said.
READ: AFP: Video shows militants' intention of establishing Islamic state in Marawi
Guiamel Alim, a Cotabato City-based coordinator of the Transitional Justice Reconciliation Commission Listening Process, also disagreed with the statement, saying that "problems in Mindanao, including Lanao del Sur and Marawi, have been there for long, even before the issue of drugs came out."
"If you look at the roots, it's still the question of self-governance of the Bangsamoro people," Alim added.
READ: AFP: Marawi siege was start of extremist plan to gain ISIS status
The TJRC, jointly created by the Philippine government and the Moro Islamic Liberation Front peace panels, is tasked to conduct an in–depth study on the trauma past armed conflicts inflicted on the people and communities and to submit recommendations to address these.
Duterte's recent claims seem to be a departure from his statements at the start of his term linking the Mindanao conflict to historical injustice.
Alim views the existence of militant groups in Mindanao as an offshoot of the frustration and hopelessness over the failure of the past peace processes.
"If you recall yung Abu Sayyaf for instance ay hindi nabuo yan before MNLF (Moro National Liberation Front). It was after the failure of the MNLF and the government peace process na nagkaroon ng grupo na Abu Sayyaf and many of them were coming from MNLF parents. Same thing happened with the Bangsamoro Islamic Freedom Fighters."
Police and military said the Maute had relatives in the MILF and connections with local politicians. A police intelligence brief obtained by the VERA Files said the terror group is composed of close relatives but they are accepting members outside of their clan due to their depleted numbers.
It said the group's composition includes those from known clans in Lanao del Sur—Maute, Romato, Mimbantas and Macadatu—as well as members of the MILF/Bangsamoro Islamic Armed Force, MNLF/Bangsamoro Armed Forces, Bangsamoro Islamic Freedom Movement/BIFF, Abu Sayyaf Group/Al Harakatul Al-Islamiya, Ansar al-Khalifa Philippines and those who want to experience Hijra fighting in the name of religion.
READ: Duterte bestows ISIS status on Maute group
Irene Santiago, chairperson of the Government Implementing Panel for the GPH-MILF Peace Accord, also mentioned that the "extreme deprivation" of four fundamental human needs for security, development, fair access to decision-making and acceptance of identity are at the root of the Mindanao conflict.
Rommel Banlaoi, one of the leading security experts in the country, said that the Maute does get funding from the illegal drug trade but that is just one part of its revenue. The group's income include legitimate businesses, extortion disguised as zakat—one of the five pillars of Islam—or the giving of alms to the poor, illicit arms trade, donations from supportive families and local officials and money laundering of overseas Filipino workers' remittances, among others.
Banlaoi in an analysis released in 2011 said terrorism in Southeast Asia has complex and dynamic underlying causes. He enumerated various factors such as poverty, lack of democracy, the historical factor of Western colonialism and the forcible subjugation of Islam in Southeast Asia and the penetration of Al Qaeda's violent extremist ideology into Muslim radicals in the region.
The illegal drugs trade was not cited as a cause.
READ: Duterte claims drug money funding terrorism in Mindanao
Over 7,000 lives have been claimed by the drug crackdown, Duterte's signature campaign. Authorities contradicted this number last May showing a lower figure of nearly 4,600 drug-related killings.