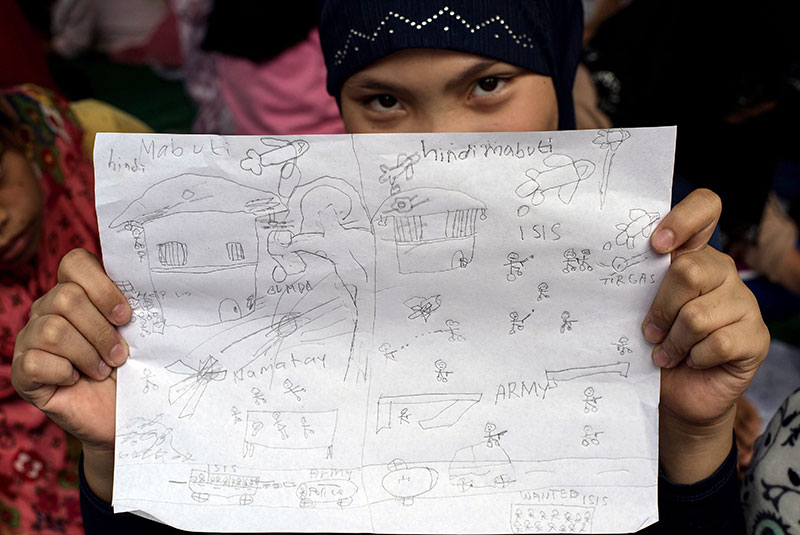 A student shows her drawing depicting the conflict in Marawi City as part of stress debriefing for evacuees at the Pantar Central Elementary School in Lanao del Norte yesterday. AFP
Over 200,000 evacuated from Marawi
MANILA, Philippines - More than 200,000 people have been displaced from Marawi City due to the ongoing clashes between the military and members of the Maute group, latest figures from the Department of Social Welfare and Development (DSWD) show.
The DSWD also reported that more than 50,000 of the displaced residents are children.
Around 90 percent of those displaced – about 194,000 people – are currently staying with relatives in nearby areas, including Lanao, Misamis, Maguindanao, South Cotabato, Cebu and Negros Oriental.
The DSWD said 3,768 families or 18,065 individuals from Marawi are still staying in 29 evacuation centers set up by local government units in nearby towns. Most of the evacuation centers are located in Iligan and Cagayan de Oro.
Based on latest data, the DSWD has provided over P100 million worth of assistance to those displaced, including more than P60 million in fund augmentation to field offices in affected areas.
The provincial government of Negros Occidental said it will also give more than P1 million in financial assistance to the displaced residents. The dioceses of Bacolod and Dumaguete in Negros island are spearheading a campaign to raise cash donations, halal food and other relief items for displaced residents.
Social Welfare Secretary Judy Taguiwalo called on the public to help in efforts to assist those affected by the clashes.
The Philippine Red Cross, on the other hand, installed 12 portalets at two evacuation centers in Iligan City and provided drinking water to 56,000 evacuees.
Taguiwalo also reiterated the need for government to institute measures to address violence against children and ensure the protection of their rights, particularly in the armed conflict in Marawi.
"The scars leave our children with long-term damaging effects to their development and total well-being," she said at the launch of the cross-regional meeting on violence against children at Manila Hotel.
Meanwhile, the government and the Moro Islamic Liberation Front (MILF) have established a peace corridor that resulted in yesterday's recovery of 140 civilians trapped in the raging battle between soldiers and Maute group in Marawi. – With Jose Rodel Clapano, Non Alquitran, Gilbert Bayoran