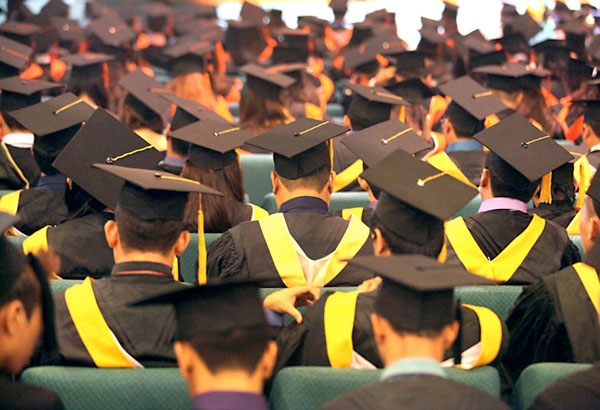 The bicameral conference committee yesterday approved the bill granting free college education in state universities and colleges and local universities and colleges in the Philippines, which senators described as a major reform in the country's education system.STAR, file
Congress approves free tuition in all SUCs
MANILA, Philippines - The bicameral conference committee yesterday approved the bill granting free college education in state universities and colleges (SUCs) and local universities and colleges (LUCs) in the Philippines, which senators described as a major reform in the country's education system.
The bicameral committee report is the reconciled version of Senate Bill 1304 and House Bill 5633 providing for free college education in SUCs, LUCs and government-run vocational schools.
Sen. Francis Escudero, chairman of the Senate committee on education, and Senators Sonny Angara, Sherwin Gatchalian, Ralph Recto, Joseph Victor Ejercito, Loren Legarda, Juan Miguel Zubiri, Cynthia Villar, Leila de Lima, Richard Gordon, Joel Villanueva and Paolo Benigno Aquino IV authored the bill.
Both chambers of Congress are expected to ratify the measure before they go on a break this week.
Once both houses ratify the measure, it will be transmitted to Malacañang for President Duterte's approval.
The country has some 114 SUCs and many more LUCs.
"This is a huge reform for struggling students and their hardworking parents. I became a legislator because I wanted to spearhead initiatives like this that can help our countrymen reach their hopes and dreams," Aquino said.
"All it needs is the President's signature to make tuition and other fees in SUCs and LUCs free, and financial support for students in private colleges and universities through grants and loans accessible and available," he said.
The last time such a reform was implemented, he said, was in 1988, when secondary education in public high schools was made free.
Once enacted into law, the measure will complete the chain in the country's educational institutions and give more Filipinos access to quality education, according to Aquino.
It will also streamline and strengthen all Student Financial Assistance Programs (StuFAP), making them available to students who want to pursue higher education in private institutions, as well as subsidizing other expenses of SUC students.
Last year, Congress realigned some P8.3 billion in the budget of the Department of Public Works and Highways to fund the free tuition program of the Commission on Higher Education (CHED), as the bill was still being deliberated in Congress.
If the bill is signed into law, a much larger allocation must be included in the 2018 national budget.
Angara said there will be sufficient funding sources but did not elaborate.
Recto earlier said the huge funding for free college education is not that big, as some economic managers fear.
He said that this year, the government will spend P78.2 billion for 4Ps, P17.9 billion for senior citizen allowances and P102.4 billion for uniformed personnel retirees and veterans, which amounts dwarf the P8 billion that will benefit 1.4 million SUC students.
"Some will see the billions as deficit numbers. Let us see them, for what they really are, as means to realize dreams," Recto said.
CHED OKs tuition, school fee hikes
As this developed, CHED has approved the applications for tuition and other school fee increase of 268 private higher education institutions (HEIs) for academic year 2017-2018.
The 268 private HEIs represent 16 percent of the total 1,652 private schools all over the country, according to CHED.
"This is 36 HEIs lower than the reported 304 HEIs last academic year. Of the 268 private HEIs, 262 will increase tuition while only 237 will increase other school fees," CHED said in an official statement yesterday.
Across the private HEIs with approved increases in either tuition or other school fees, the average increase in tuition is 6.96 percent or the equivalent of P86.68 per unit, while increase in other school fees is 6.9 percent or P243.
DepEd reactivates info, action centers
Meanwhile, the Department of Education (DepEd) formally reactivated yesterday its Oplan Balik Eskwela Information and Action Centers (OBEIAC) nationwide to address common problems encountered prior, during and after the first week of school opening.
The DepEd said that the OBEIACs will again seek to provide students, parents, teachers and other education stakeholders wider access to information and solutions related to the opening of classes next Monday, June 5.
The DepEd said that the central office in Pasig City has allotted more hotline numbers this year to accommodate school opening-related requests, complaints, suggestions and other public concerns from May 29 to June 16, from 7 a.m. to 6 p.m.
The OBEIAC may be reached through these hotlines: 636-1663; 633-1942; 636-6549; 635-0552; 638-7530; 638-7531; 635-9817; 638-7529; 636-6550; 637-9814; 633-7252; 632-1370; 632-1364; 638-1793; 632-1368 and 632-1361; fax: 638-8641; 634-0222; text: 0919-456-0027 and email: action@deped.gov.ph.