Philippines, US kick off seaborne disaster response drill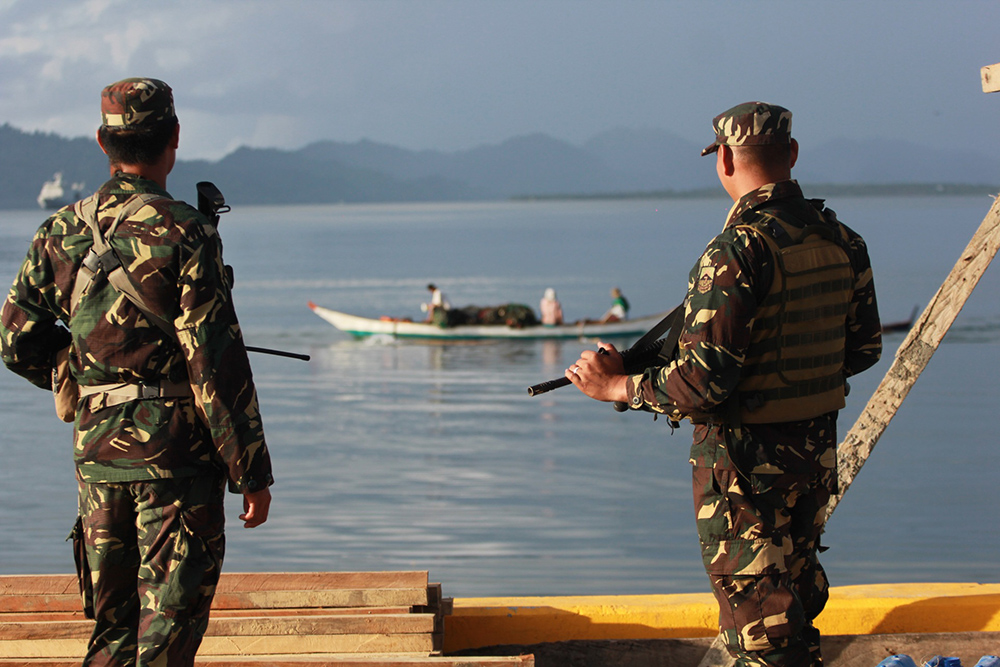 CASIGURAN, Philippines - Philippine Air Force Hueys flew over Casiguran town early Monday morning in an exercise simulating response to the town being cut off by a major typhoon.
The helicopters, the Armed Forces of the Philippines' newest UH-1Ds, conducted aerial reconnaissance to survey the worst-hit areas and secure the nearest landing area for relief teams, Maj. Celeste Frank Sayson of the AFP Public Affairs Office said.
The first part of the Civil Military Activity from the Sea, which is one leg of the Philippines-US Balikatan exercise for 2017, was meant to allow commanders to decide what relief goods and response teams to send and where.
From the distance, the BRP Tarlac, the Navy's first Strategic Sealift Vessel, launched relief teams carrying supplies on rigid hull inflatable boats.
Philippine Army soldiers met them at the Casiguran port to bring the supplies to designated evacuation centers.
Casiguran is near Benham Rise, which President Rodrigo Duterte wants to change its name to Philippine Ridge. Sayson said holding the exercise in Aurora province has nothing to do with the reported presence of Chinese ships in Benham last year.
"This was planned for more than a year," he said. "As you saw on the way here, the area can be easily isolated in case of a disaster."
He said the town is an ideal venue to test the AFP's sealift capabilities.
"You can only reach it by air or by sea. For now, we are concentrating on sealift," Sayson said in Filipino.
The Tarlac was assisted by the USNS Sacagawea, a dry dock cargo ship that also brought supplies.
Sayson said US advisors were on the Tarlac, which was dispatched from Manila, to share best practices on sealifts and on disaster response.
The Balikatan exercises, which featured live fire exercises in past years, are focused on humanitarian assistance and disaster response this year.
Duterte had previously threatened to call off exercises with the US entirely as the Philippines pursues what he calls an independent foreign policy, which includes closer ties with China, Russia and with regional neighbors.
The president has also expressed displeasure at the US for what he called meddling in Philippine affairs by expressing concerns over human rights issues in the government's war on drugs.