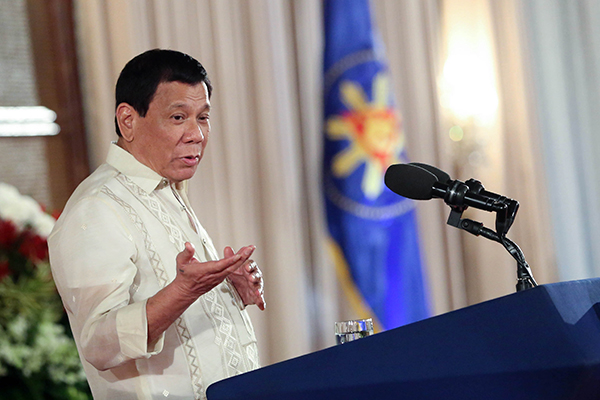 President Rodrigo Duterte's net worth grew by P3 million, from P24,080,094.04 to P27,428,862.44, in a span of six months since he assumed office on June 30 last year. File
Duterte net worth up by P3M
MANILA, Philippines - President Duterte's net worth grew by P3 million, from P24,080,094.04 to P27,428,862.44, in a span of six months since he assumed office on June 30 last year.
In his statement of assets, liabilities and net worth (SALN) for 2016, which was submitted to the Office of the Ombudsman on April 26, the President declared that his cash on hand/bank had increased.
The reason for the increase was not specified.
Duterte declared that as of Dec. 31, 2016, his total assets amounted to P28,428,862.44, less his declared liabilities of P1 million.
In his entry SALN submitted to the ombudsman on Aug. 16, 2016, Duterte declared that as of June 30, 2016, he had total assets of P25,180,094.04 and liabilities of P1,100,000.
Duterte's assets as of the end of 2016 were comprised of real properties totaling P4.485 million and personal properties worth P23.943 million.
For his real properties, Duterte declared eight residential lots purchased in 1996, 1997, 1999 and 2005, three houses and lots purchased in 1998, 2008 and 2015, one house and lot acquired in 2007 and two agricultural lots purchased in 2008 and 2014.
Five of these declared properties (two agricultural lots, one residential lot and two houses and lot) were under the name of Veronica "Kitty" Duterte, the daughter of the President and his longtime partner, Cielito "Honeylet" Avanceña.
All the properties are in Davao City.
For his personal assets, Duterte declared P18.453 million cash on hand/bank, various investments amounting to P3 million, house appliances and furniture worth P350,000, jewelry worth P300,000, Volkswagen Sedan bought for P40,000 in 1978, Toyota Rav 4 bought for P800,000 in 1996 and other personal properties of P1 million.
Duterte's cash on hand/bank saw the biggest increase from P15.305 million as of June 30, 2016 while the value of his other assets remain almost the same.
Duterte seemed to have divested his interests in Honda Cars-General Santos City and Poeng Yue Foundation Inc. in Davao City where he used to be an incorporator since 1997 and 2012, respectively, as declared in his entry SALN for June 30, 2016.
"I/we do not have any business interest or financial connection" with the two business entities, Duterte declared in his SALN for end of 2016.
Duterte declared his liability as a P1 million personal loan from a certain Samuel Uy, a businessman in Davao City who was also Duterte's campaign donor in the 2016 elections.
In his entry SALN, Duterte declared P1.1-million liability still due to his personal loan from Uy.
According to a previous report of the Philippine Center for Investigative Journalism (PCIJ), Duterte declared a net worth of P23.51 million in his 2015 SALN and P21.97 million in 2014.
Duterte's declared net worth in previous years were: P18.93 million in 2011, P16.62 million in 2009, P15.32 million in 2008, P9.69 million in 2007, P8.65 million in 2006, P8.43 million in 2005, P7.02 million in 2004, P2.83 million in 2002, P1.77 million in 2000, P1.48 million in 1999, P1.05 million in 1998 and P897,792 in 1997.
The President has been accused by Sen. Antonio Trillanes IV of having billions in his bank accounts, but he denied this, saying there was no truth to the allegations.
Meanwhile, the ombudsman has yet to release the SALN of Vice President Leni Robredo for 2016.
In her entry SALN submitted to the ombudsman on Aug. 1, Robredo declared a net worth of P11,053,138 as of June 30, 2016.
Robredo's declared assets amounted to P17,953,138 composed of real properties amounting P1.735 million and personal properties amounting to P16.218 million. Robredo declared liabilities amounting to P6.9 million.