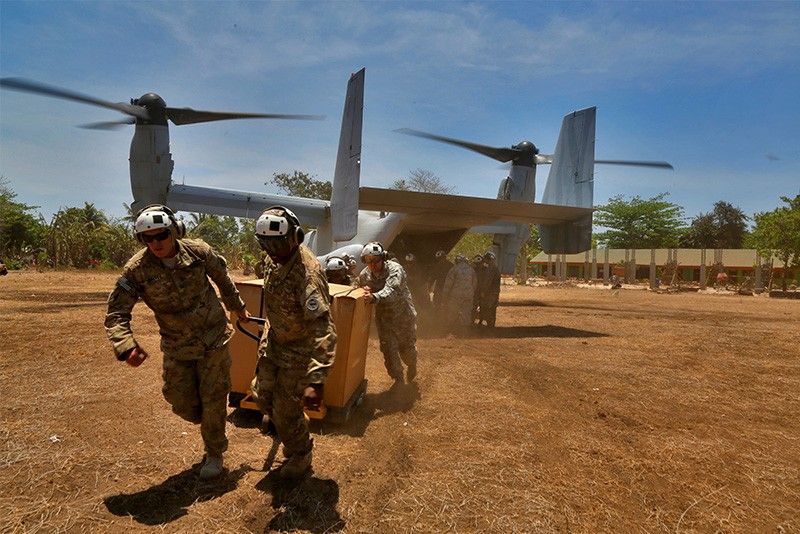 hilippine, Australian and U.S. service members participate in a cooperative health engagement during exercise Balikatan in Cagayancillo, Philippines April 10, 2016. The annual Balikatan exercises between the Philippines and the United States will go ahead in May. This will be the first military exercises between the Duterte administration.
U.S. Marine Corps/Jason W. Fudge/Released
With war games dropped, US-Philippines Balikatan shifts focus
MANILA, Philippines — The first US-Philippines Balikatan military exercises under the Duterte administration will focus on humanitarian assistance and disaster response, the Armed Forces of the Philippines (AFP) said.
The Presidential Commission on the Visiting Forces Agreement earlier announced that war games have been dropped from the annual exercises between Filipino and American troops.
"The focus of Balikatan has been shifted to, out of the guidance of the president following receipt of the memos that we got and the guidance of the secretary because it is always definite that we are going to experience so many disasters one after the other every year, we have focused the concept of Balikatan to address our capability together to address humanitarian assistance and disaster response," AFP spokesperson Brig. Gen. Restituto Padilla said in an interview with CNN Philippines' "The Source" on Tuesday.
The 10-day exercises, which will kick off in May, will also focus on counter-terrorism as the country battles Islamic militants in Mindanao.
Padilla noted that there have been a series of small exercises last year when Duterte took office but the Balikatan exercises this year would be the first one after his suggestion to cancel the drills.
There will be no more live-fire exercises this year as the joint military exercises will focus on humanitarian and civil assistance.
"There will be a few live-fire (exercises) focused only for small units inside camp. There won't be live fire outside of any military camp... All of these exercises will be held inside military installations," Padilla said.
During his visit to Vietnam on September last year, Duterte said that he wanted to the joint military exercises with US forces and called for the withdrawal of American troops.
The president said that he wants to establish new trade and commercial alliances with China and Russia. He also said that the war games with the US were something that Beijing does not want.
Earlier this year, the president threatened to abrogate the Visiting Forces Agreement if the US military will not stop unloading weapons in the country. US Ambassador Sung Kim was quick to clarify that that Washington is not building any weapons depot in the Philippines.
Duterte has been hostile toward the US following criticism against his anti-drugs campaign. The president, however, has not made a move that would permanently sever US-Philippines ties despite his rude remarks.