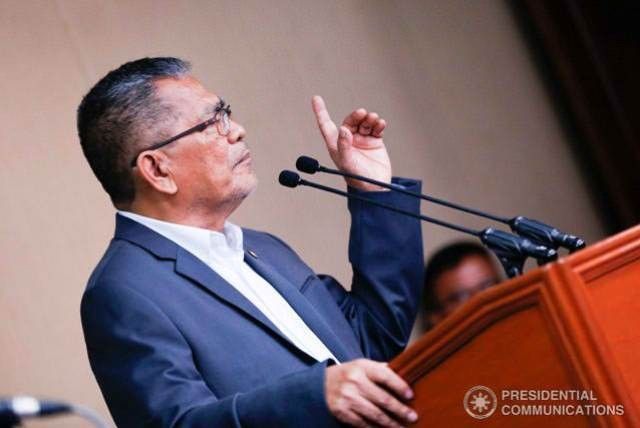 Interior Secretary Ismael Sueno has been fired by President Rodrigo Duterte due to "lack of trust and confidence."
PPD/Toto Lozano
Sueno answers corruption allegations of 3 DILG usecs
MANILA, Philippines — Dismissed Interior Secretary Ismael "Mike" Sueno claimed that three Department of the Interior and Local Government (DILG) undersecretaries conspired and misled President Rodrigo Duterte to dismiss him.
Earlier this week, Malacañang announced that Duterte dismissed Sueno due to "loss of trust and confidence."
This follows corruption accusations of three DILG undersecretaries — John Castriciones (operations), Jesus Hinlo (public safety) and Emilie Padilla (legislative liaison and special concerns).
In a document released Thursday, Sueno listed the charges against him and answered each allegation.
The former DILG secretary is being accused of purchasing seven brand new trucks for his trucking enterprise while in office. Sueno clarified that his daughter, Izah Jane Sueno, started a trucking business in 2011 with two trucks. She had a total of seven trucks in 2015.
In March 2017, Sueno's daughter sold her two trucks to purchase one new truck. Sueno stressed that her daughter's business was established in 2008, long before he was president.
Sueno also answered the Rosenbauer foreign loan agreement for the purchase of 76 fire trucks.
He claimed that it was the late DILG Secretary Jesse Robredo who signed the firs Rosenbauer fire truck agreement in April 2013.
Robredo passed away on Aug. 18, 2012. It was Mar Roxas who was the head of the agency in April 2013. Sueno later on clarified that Robredo signed the truck deal in 2012 but the fire truck were only delivered to the DILG in 2013.
Sueno also claimed that the Philippine government has not yet paid or reimbursed the foreign bank.
On the allegation that Sueno signed the second Rosenbauer loan, Sueno said that it was then Interior Secretary Senen Sarmiento, Roxas' successor, who signed the second delivery of 76 fire trucks in April 2016.
Sueno is also being accused of ordering the payment of the fire trucks despite the DILG Legal Department's contrary opinion on the matter. Sueno said that the legal department's contrary opinion was kept in secret by Hinlo.
"Glaringly, or based on the very document itself, it was Hinlo, who requested the said legal opinion... Sueno never knew of its very existence until the president confronted him about it," the document read.
The sacked DILG chief also released a document showing that Malacañang was aware of his trip to Austria for a factory inspection of Rosenbauer International AG and its fire trucks in connection with the Capability Building Program of the Bureau of Fire Protection.
On one of the documents released by Sueno showed that Rosenbauer International AG will shoulder his round-trip airfare to Austria, hotel accommodation and meals. The document was signed by Senior Deputy Executive Secretary Menardo Guevarra.
— Video by Cecille Suerte Felipe