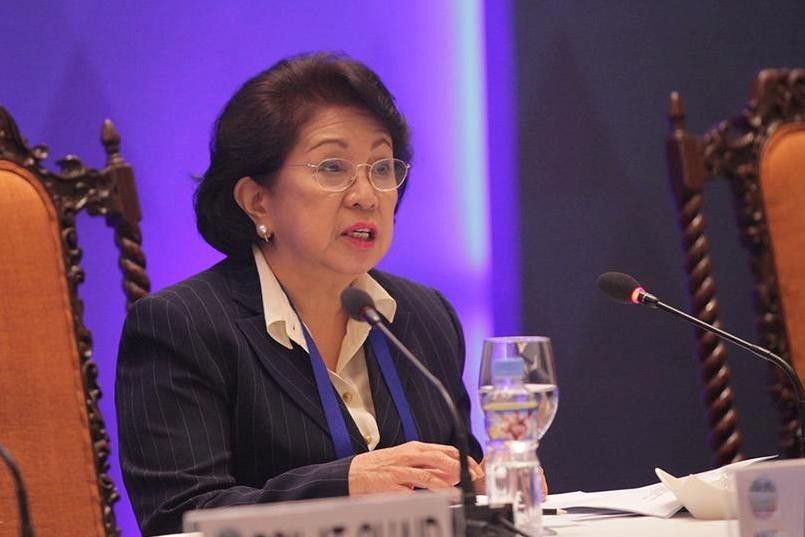 Ombudsman Conchita Carpio Morales served as an associate justice of the Supreme Court. In this photo, Morales speaks at a meeting of the Asia Pacific Economic Cooperation in 2015.
APEC/Released
SC right away junks disbarment case vs ombudsman
MANILA, Philippines — The Supreme Court en banc on Tuesday unanimously dismissed the disbarment complaint against Ombudsman Conchita Carpio Morales.
Last week, former Manila councilor Greco Belgica filed a disbarment petition against Morales for clearing former President Benigno Aquino III of any liability in the implementation of the Disbursement Acceleration Program.
Belgica alleged that Morales violated the Lawyer's Oath and that she lacked integrity and was biased when she dismissed the complaint against Aquino, who appointed her.
The 1987 Constitution states that the ombudsman may only be removed from office on impeachment for violations of treason, bribery, graft and corruption, other high crimes or betrayal of public trust. An impeachment case is processed through Congress.
In his complaint, Belgica said that he was not seeking to disbar or suspend the Ombudsman during her incumbency. He asked the high court to defer Morales' disbarment until her term ends on July 26, 2018.
Citing previous decisions on similar petitions, the SC stressed that "a public officer who under the Constitution is required to be a member of the Bar as a qualification for the office held by him/her and who may be removed from office only by impeachment cannot be charged with disbarment during the incumbency of the public officer.
The Ombudsman is part of the list of public officers who may only be removed by impeachment, the SC en banc said.
The high court added that Belgica's logic was faulty and clearly contravenes the principle that the Ombudsman cannot be charged with disbarment during her term.
Morales earlier said that she was ready to face her detractors, particularly Belgica, who filed the disbarment complaint against her.
"I have yet to know the grounds of the complaint...I am ready to meet head-on any complaint, anytime, anywhere. Wish them luck," Morales said.