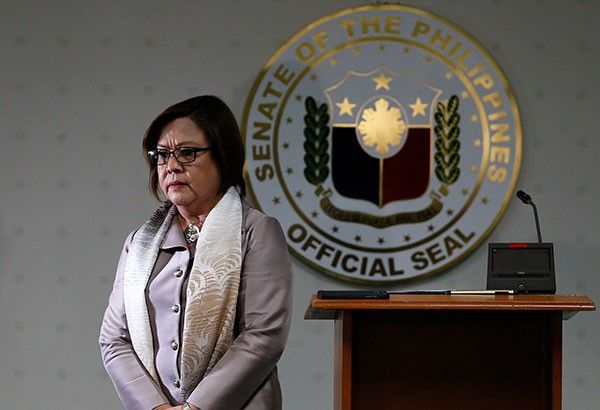 In this Aug.18, 2016, Sen. Leila De Lima prepares to read a statement at the Philippine Senate in Pasay City, Philippines. President Rodrigo Duterte linked her to the illegal drug trade and called her an "immoral woman." De Lima, for her part said, President Duterte, who also criticized the United Nations for condemning the spate of killings of suspected drug criminals in the country, is "abusing and misusing his executive power."
AP/Bullit Marquez, file
De Lima: EU Parliament's actions not an interference
MANILA, Philippines — Sen. Leila de Lima on Friday said that the call of the European Parliament for her release as well as to investigate unlawful killings "does not interfere" with the country's affairs.
In a statement, De Lima said that the initiative the European legislators took is an "aggregate assertion of the universal values of truth, justice and humanity."
"This latest action from an international body (following similar statements from other reputable global organizations) is but a tangible proof that the rest of the world do care about what's happening in our country today," De Lima said.
The UN and international organizations have declared adherence to the principle of non-interference in the internal affairs of sovereign states. While "interference" is an argument used by countries assailed by international bodies over human rights abuses, intervention for humanitarian reasons and criticisms over human rights situations should remain uncontested.
On Thursday, the European Parliament adopted a joint resolution calling on the Philippine government to treat De Lima fairly and stop the killings in President Rodrigo Duterte's war on drugs.
De Lima is currently facing charges for her alleged involvement in the illegal drug trade at the New Bilibid Prison while she was Justice secretary. The accusations are based on testimonies from high-profile inmates saying she collected drug money for 2016 election campaign. She has repeatedly denied the allegations.
De Lima also urged the public to courageously resist an environment that propagates lies and impunity.
"When will civil society and our citizenry muster enough courage to say, and say it loudly, that summary executions are never right?" She added.
De Lima also said that she is deeply heartened by the European chamber's statement.