LP senators: Drug raps vs De Lima 'illegal'
February 18, 2017 | 3:29pm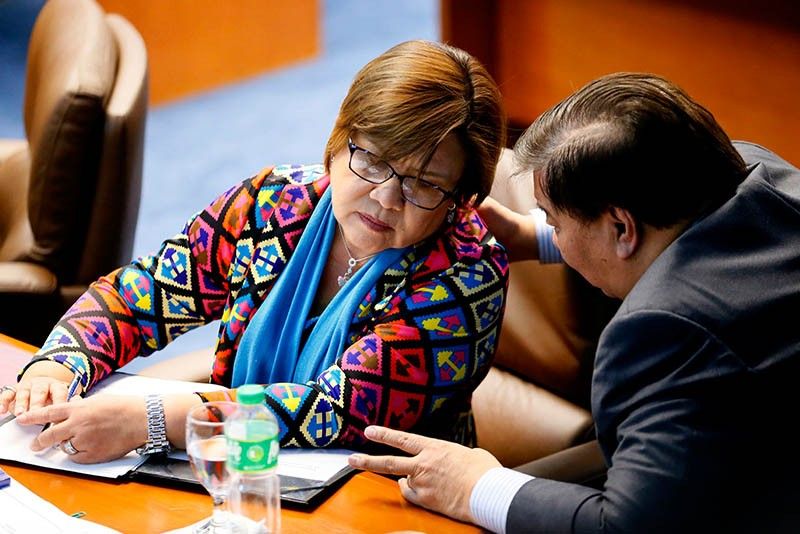 MANILA, Philippines - Liberal Party (LP) senators reacted negatively to the filing of charges against their party mate Sen. Leila de Lima over her alleged complicity in the illegal drugs trade at the New Bilibid Prison.
In a joint statement, Senate President Pro Tempore Franklin Drilon, Sen. Francis Pangilinan and Sen. Benigno Aquino IV described the move as "illegal."
"We reiterate that an arrest based on trumped-up charges is illegal," the three LP senators said.
On Friday, the Department of Justice (DOJ) filed three separate drug charges against De Lima and seven others with the Muntinlupa Regional Trial Court (RTC), which may lead to the former justice secretary's arrest and detention without bail.
In the complaint, De Lima and other respondents were accused of violating Section 5 in relation to Section 26 (B) and Section 28 (criminal liability of government officials and employees) of Republic Act 9165 or the Comprehensive Dangerous Drugs Act of 2002.
The LP senators questioned the ruling of the DOJ since De Lima has not yet filed her counter-affidavit to air her side of the story. They appealed for total impartiality in the dispensation of justice.
"Senator De Lima has been pre-judged before any of the charges were filed as no less than the President vowed to destroy her in public and was sure De Lima would land in jail before any case was filed," the senators said.
Drilon, Pangilinan and Aquino also asked Justice Secretary Vitaliano Aguirre II, whom they described as President Rodrigo Duterte's "alter ego," to inhibit from any and all cases filed against De Lima.
According to them, the Ombudsman, not the RTC, has primary jurisdiction over cases against public officers "cognizable" by the Sandiganbayan. Violation of RA 9165, they said, should fall under "other offenses committed by public officials" stipulated in the Sandiganbayan Law.
"We maintain that if this warrant of arrest is served, it would be a clear violation of legal proceedings and is therefore a violation of her (De Lima) Constitutional right to due process," the LP senators said. - Kristine Daguno-Bersamina