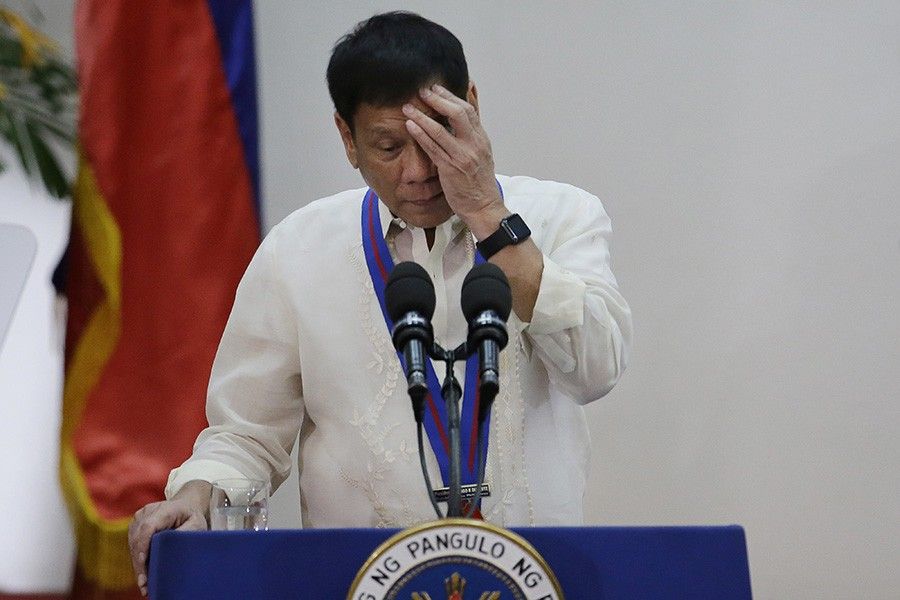 President Rodrigo Duterte earlier denied the claim of former Sen. Francisco Tatad that he has cancer.
AP/Aaron Favila, File photo
Palace says Duterte's break not health-related
MANILA, Philippines - Why is President Rodrigo Duterte not seen in public lately?
His spokesman, Ernesto Abella could not provide specifics about his recent activities but claimed that the week-long break was not health-related.
"You have to understand that his schedules are really brutal and anybody would need to rest," Abella said in a press briefing Thursday.
"I'm not saying that he is resting right now. But in the past quiet days, probably was. But he also had a number of activities in Davao," he added.
Abella said the president had meetings in his hometown but did not elaborate.
"I am not saying that he took a health-related break. I said he is in Davao. And if he is resting there, then that's also part of his – why he's there. But it's not a health-related break," he added.
"The president…has all the usual afflictions. But, however, you know, he doesn't have anything extraordinary. He's in pink of health considering his age," Abella said.
Duterte, who usually has two to three engagements per day, also went on a week-long hiatus last month.
In a newspaper column, former Sen. Francisco Tatad claimed to have received reports that the president had traveled to China to meet with doctors of the Fuda Cancer Hospital in Guangzhou.
The president denied that he has cancer and called Tatad a "monster" and an "idiot." In jest, Duterte admitted going to a hospital in China to undergo circumcision.
Duterte has not been visible lately, his latest public appearance being his visit to earthquake victims in Surigao City last Sunday.
The president had one engagement in Davao City Thursday but it was not open to the media.
He was scheduled to meet with Nikolay Patrushev, Secretary of the Security Council of the Russian Federation, in Panacan. Details of their discussion were not available as of press time.
"I think it's a closed meeting. I think basically it's a courtesy call," Abella said.
Duterte previously admitted that he has spinal problems, migraine and Buerger's disease, an ailment caused by smoking.