Live simply, Duterte tells BOC employees
February 9, 2017 | 12:00am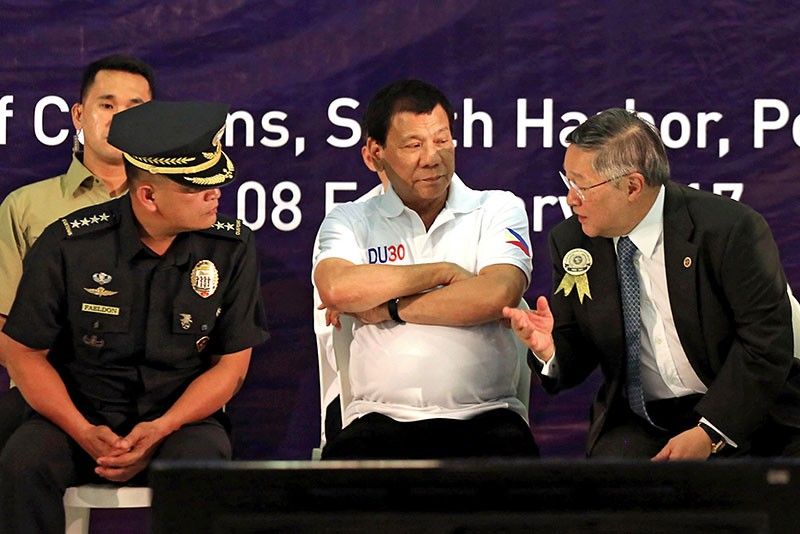 MANILA, Philippines - Live simply.
This was President Duterte's message yesterday to employees of the Bureau of Customs (BOC), an agency he once labeled one of the most corrupt in government.
By living simple lives, employees would be able to strengthen their revenue collection efforts, the President said during the BOC's 115th anniversary celebration in Manila.
"The secret really there is do not crave for things you cannot afford. Do not dream of things which are beyond your reach," he said.
He pointed out that BOC revenues would allow him to acquire equipment that can address security threats like the communist insurgency and terrorism.
"(Customs) Commissioner (Nicanor) Faeldon, you have your hands full. You have the communist front confronting us. I terminated the ceasefire talks because they went overboard. Then you have the drug front and the coming of the IS (Islamic State). They will come, I am sure," he said.
"That's the bigger problem. I would need money to buy the equipment and the things they would need to keep this country in order."
Duterte directed the BOC to step up efforts to attain their revenue targets.
"As the BOC is at the frontline of our campaign against smuggling and illegal drugs, I encourage you to beef up your customs enforcement operations," the President said.
He urged the agency to continue to find ways to improve its operations, simplify procedures and centralize operations, particularly in areas of trade facilitation and border control so that they can keep hitting and exceeding their targets in the coming years.
Before assuming the presidency, Duterte threatened to abolish the BOC, the Bureau of Internal Revenue and Land Transportation Office, agencies that he described as the "most corrupt" in government.
"With the combined efforts of its leadership, its employees, the private sector and the Filipino people, I am hopeful that the Bureau of Customs will no longer be tagged as among the most corrupt agencies in the coming years," he said.
In jest, the President vowed to increase the salaries of customs personnel by P1 million.
"I'm the 16th president. That would be the duty now of the 25th president to implement my promise," he said.
Duterte asked the BOC to continue collaborating with its foreign counterparts by exchanging information and finding more avenues of cooperation.
"You have my full support in developing the BOC's law enforcement capabilities. And so you can conduct these operations more effectively and efficiently," the President said.
He cited the installation of closed-circuit television cameras in strategic locations around the BOC building in Port Area, Manila to prevent illegal activities.
"Revenues give us the means to run government and provide crucial services to our people. As the money collected by the Bureau of Customs counts for a significant chunk of government earnings, we have to be relentless in our drive to maintain a credible, efficient and effective Customs bureau," he said.