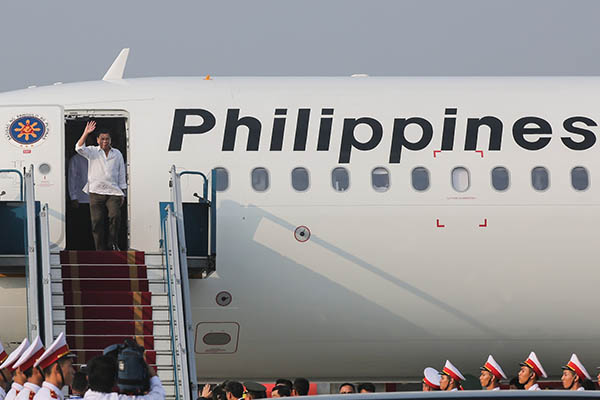 President Rodrigo Duterte arrives at the Noi Bai International Airport in Vietnam on Sept. 28, 2016. Robinson Niñal/PPD
Duterte admits going to hospital in China, getting heart check-up
MANILA, Philippines — President Rodrigo Duterte admitted Monday going to a hospital in China recently and having a heart check-up but his officials were quick to dismiss his statements as mere jokes.
In a newspaper column published last month, former Sen. Francisco Tatad claimed to have received reports that Duterte had traveled to China to meet with doctors of the Fuda Cancer Hospital in Guangzhou.
Duterte confirmed that he indeed went to China but for another purpose.
"Totoo nagpunta ako ng China. Totoo nagpunta ako ng hospital. Nagpatuli ako (It's true I went to China. It's true I went to the hospital. I underwent circumcision," the president said during the launch of the Bureau of Internal Revenue's tax campaign in Pasay Monday.
"Sabihin mo sa kanya. Nagpatuli ako uli… bumalik eh. (Tell him I underwent circumcision. It returned)," he added, apparently referring to the foreskin of the male reproductive organ.
Duterte then narrated that he was circumcised in the province using the "pukpok" or the traditional method.
He said boys from the province aged five to six line up to be circumcised every summer.
"Pagkatagal bumalik. Kaya pumunta ako, Tatad. Sabihin mo totoo iyan. Pinaputol ko 'yan, 'yan malinis, no dangling ano. T******i** mo."
Duterte then badmouthed Tatad, calling him an "idiot" and gago (fool) who is using his column to redeem himself
"You know this guy, Tatad, he read the Proclamation 1081. Hindi nahiya ang g****, kapal ng mukha niya (This fool is shameless)," the president said.
"Then slowly he redeemed himself by writing saying that I went to China," he added.
"Staying with Marcos for so many years and now he talks as if he were a saint."
In the same speech, Duterte revealed that he had his heart checked because he was not feeling well.
"I was late. Pardon me. Nag-EKG ako. I was not feeling well. I said, 'masakit man ang puso ko (My heart is aching)," Duterte said, referring to the electrocardiogram, a procedure for heart diseases.
Duterte said a certain "Dra. Del Rosario" from Cardinal Santos Medical Center told him his heart is not suffering from ailments.
"Baka ano ka lang sa EKJ,'" he said, referring to extrajudicial killings.
Presidential Communications Secretary Martin Andanar said the president's statements about his heart check-up was just a joke.