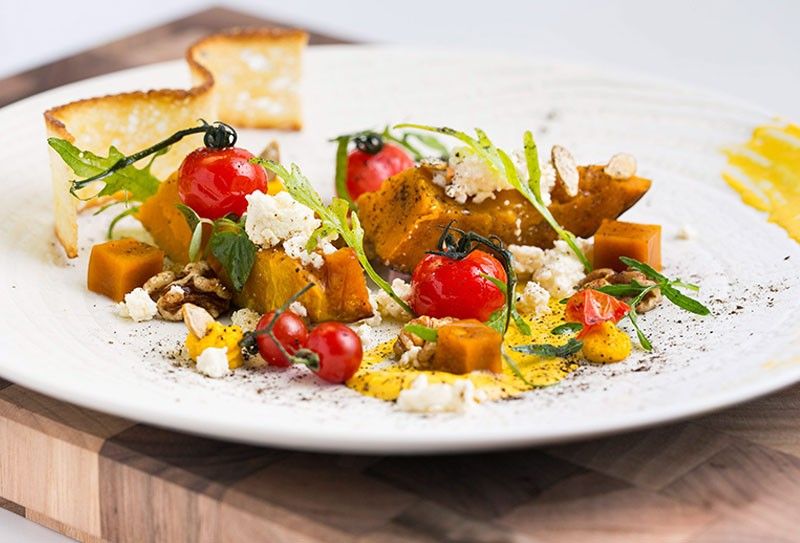 FOOD FIT FOR A QUEEN: Salad at the Conrad is a favorite of the Miss Universe candidates.
What's on the menu for Miss U bets?
MANILA, Philippines – What does a woman eat to have a figure fit to become the most beautiful in the universe?
Unlike reed-thin models, they don't watch the portions too much, but the 86 Miss Universe contestants go for healthy fare, according to Thomas Jakobi, executive chef of Conrad Manila where the contestants are billeted.
"Miss Universe candidates helped themselves with daily breakfast buffet at Conrad Manila's Brasserie on 3, our all-day dining restaurant that overlooks the beautiful Manila Bay," he said in an email interview.
The eclectic mix of hearty farm-to-table dishes include compotes like apple-star anise, pear-vanilla and pineapple-cinnamon; traditional Bircher muesli; and the candidates' hands-down favorite, the organic three-egg white omelet served with sprouts and tomatoes.
"But we noticed that for breakfast, their favorites were on the healthy side like the fresh international fruits," the chef revealed.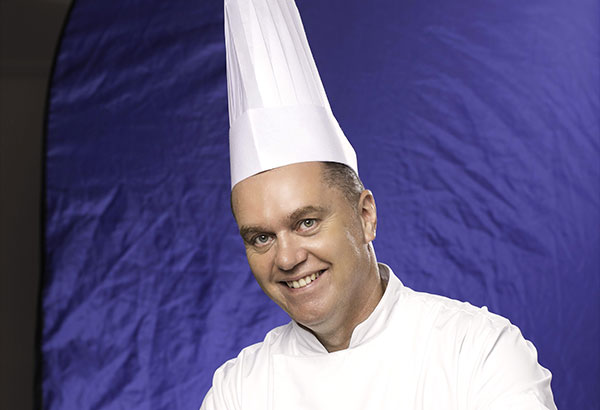 Chef Thomas Jakobi
"They were also interested in the local fruits, seeds, nuts, several kinds of yogurts. They also had a choice from our freshly squeezed fruit juices, vegetable juices, flavored iced teas, and our wheat grass shots."
On occasions when Miss Universe officials held meetings at the restaurant's private dining rooms, the hotel served "a la carte dishes, mostly light and healthy with fresh fruit juices and tea."
During interviews with the media at the C Lounge, the hotel laid out a balance of light and hearty sandwiches, salads, and its signature afternoon set.
The traditional tea service consists of finger sandwiches, scones with clotted cream, cakes and vanilla éclairs, with a choice of teas. The C Lounge's "unique" tea spread includes "sustainable tuna 'sisig-style'" as well as ceviche of lapu-lapu with a coriander-mango dip. The traditional scones have been reimagined with walnuts and green tea.
"Some Miss Universe candidates also held pocket interviews and shoots at China Blue by Jeremy Leung," said Jakobi. The restaurant with the blue chandeliers and panoramic bay views serves modern Chinese cuisine fused "artfully curated by Chinese celebrity chef, Jeremy Leung."
He said the hotel also fully complied with the contestants' dietary requirements including: no spice or condiments; gluten-free; vegan and vegetarian; lactose-free dairy, and no crustacean.
He said that with the buffet spread at Brasserie on 3, "candidates were happy to choose food that conforms with their dietary restrictions."
"For lunches and dinner buffets, we also noticed that they favored our freshly prepared salads, vegetables, pasta, fish, and crustacean and everything else in our Living Kitchen concept of healthy and balanced food."
But what's the Philippine experience without a taste of the fatty bits, the unctuous sauces, and the in-your-face flavors of Filipino food?
Happily, the contestants had a taste of that, too, at the hotel. Quintessential dishes included bulalo, sinigang, kare-kare and lechon, which were part of the Brasserie buffet. Candidates from Latin American countries felt especially at home with the hotel's kinilaw, said Jakobi. "It's similar to ceviche, a seafood dish popular where they came from."
Indeed, Miss Universe Peru Valerie Piazza said in a video prepared by the Miss Universe Organization that she could eat ceviche "every day of my life."
She added, "It's very healthy because it's cooked only with lemon." The ceviche in Peru is combined with onions, sweet potato and corn.
The choice of healthy eats, familiar eats, and sinful local favorites went well with the contestants. "We're happy to have pleased a lot of the candidates with this spread," he said.
"It had been a most exciting period since we were officially named to be the home of these 86 beautiful women around the world."
Jakobi, a German national, trained in acclaimed hotels and resorts in Europe, Middle East, and Asia before coming to the Philippines to join Conrad Manila.
The menu he designed for the hotel is described as "intuitive," which is meant to tease the Filipino palate with intriguing flavors and "exquisite textures."