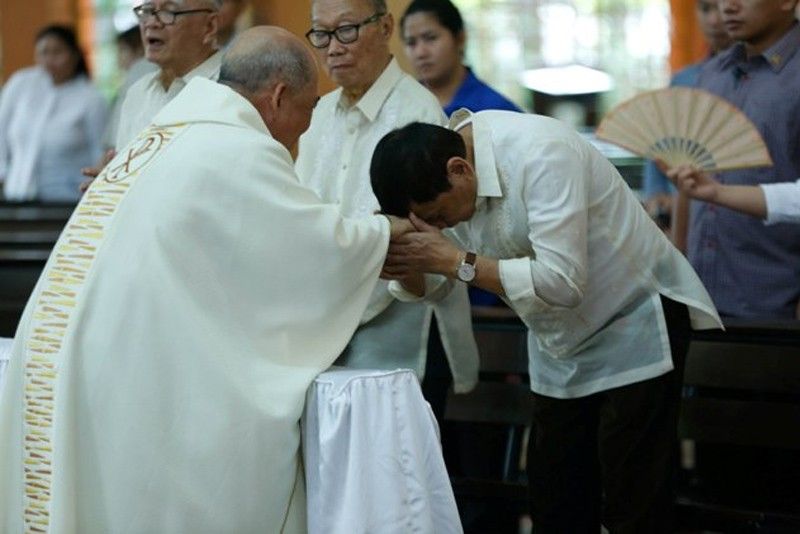 In this Aug. 27, 2016 file photo, President Rodrigo Duterte greets Davao Archbishop Romulo Valles while attending a 50th wedding anniversary rite at St. Francis of Assisi Parish in Davao City.
PPD/Karl Norman Alonzo
Duterte hopes church would realize 'truth'
MANILA, Philippines — A day after hurling vulgar tirades at bishops, a sober President Duterte asked the public to ignore his outbursts as he expressed hopes that the Catholic Church would "come to terms with the truth."
Duterte, who has accused the Catholic clergy of hypocrisy and immorality, said there are things that the Church has to realize, including the plight of the poor.
"I'm not really…Huwag kayo mag ano diyan sa outburst ko. Ganun talaga ang pagkatao ko (Do not take my outbursts seriously. That's the way I am)," the president said during his visit to housing units for survivors of Super Typhoon Yolanda in Tacloban City on Wednesday.
"I sincerely hope (they) come to terms with the truth," he added.
Duterte narrated how some priests refused to give final blessings to the dead who belong to poor families. According to him, some priests refuse to bless the dead if they reek as poor families cannot afford embalming services.
Duterte's tone was a complete departure from hi fiery rhetoric last Tuesday, when he described the Roman Catholic Church, which has been critical of his war on drugs, as "full of s**t."
During his meeting with families of the 44 policemen who died during the 2015 Mamasapano clash, Duterte enumerated old issues involving Catholic clergymen including corruption, sexual abuse, homosexuality, illicit affairs and insensitivity to the plight of the poor.
Duterte dared members of the Catholic Bishops Conference of the Philippines to resign if he is proven right about the scandals that rocked the Church. He also expressed readiness to step down if he is proven wrong about the allegations.
Duterte also launched personal attacks against bishops, including former Novaliches bishop Teodoro Bacani Jr., whom he accused of having two wives. The president also claimed that priests do not brush their teeth when hearing confessions and have dirty hands when giving communion.
The president claimed that bishops have been lording over the country for so long even if they are teaching about Christ who lived a simple life.
The Catholic Church, the religious group of more than 80 percent of Filipinos, has voiced out concerns over the spate of killings linked to Duterte's drug crackdown and maintained that drug users should be reformed, not killed.
More than 6,000 people believed to be involved in narcotics have been killed since Duterte assumed the presidency last June 30.