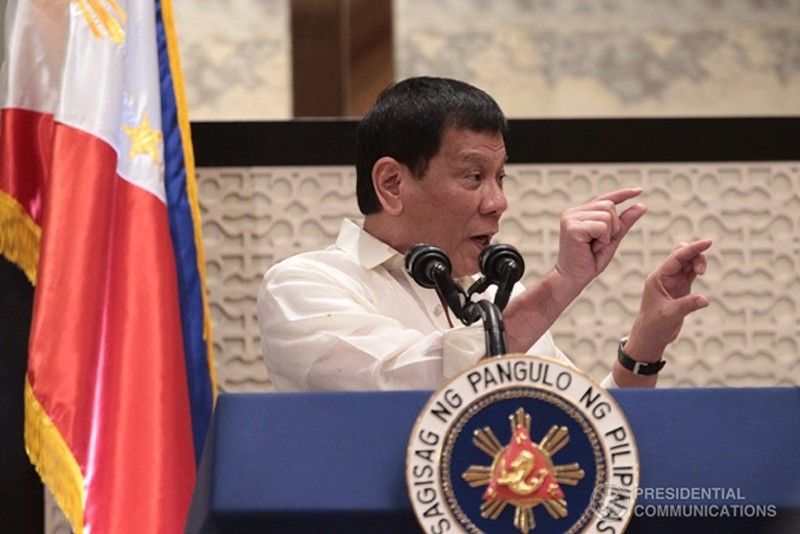 In this Nov. 26, 2016 photo, President Rodrigo Duterte gestures as he delivers his keynote address during the San Beda College of Law Alumni Homecoming at the Shangri-La Hotel in Taguig City.
PPD/King Rodriguez
Defending the drug war, Duterte chastises bishops
MANILA, Philippines — President Rodrigo Duterte on Thursday dug up old controversies including the so-called Pajero scandal and clergy sexual abuse in his latest tirade against the Catholic Church, which has been raising concerns over the spate of killings linked to his war on drugs.
Duterte said the religious group of more than 80 percent of Filipinos, has no moral ascendancy to criticize his narcotics crackdown because it also has its own share of sins.
"You expose me, fine. I expose you. Why? When you commit mistakes, it's okay but when we do, no? B***s***. That's stupid," the president said during the oath taking of newly promoted police officials at Malacañan.
"What is your moral ascendancy in the Philippines? Religion? What is the meaning of it? Hindi kayo nakakatulong, daldal kayo nang daldal (You do not help us. You just keep on talking)," he added.
Duterte cited the issue involving bishops who allegedly asked former President Gloria Macapagal-Arroyo to provide them luxury vehicles.
"Remember you asked vehicles from Gloria? Knowing fully well that the policemen have no vehicles. You had Pajero, you sons of b******," the president said.
"You were given vehicles knowing that there is a principle of separation between Church and State. It was sheer, purely graft and corruption because you did not deserve it. You cannot use property or money for your comfort. That is not for you but for the government but you had the gall," he added.
In 2011, then Philippine Charity Sweepstakes Office (PCSO) chairperson Margarita Juico revealed that some Catholic bishops got Pajero sports utility vehicles supposedly in exchange for their support for Arroyo.
Juico eventually apologized to the Senate after it was learned that the bishops did not get Pajeros but utility vehicles, which were then used to conduct humanitarian missions. The bishops returned the vehicles to the PCSO, with one of them admitting to have committed a lapse of judgment when he asked Arroyo for a vehicle as a birthday gift in 2009.
Duterte also questioned the supposed failure of the church to explain how donations given during masses were used.
"What did the church do? The Catholic Church earns millions every week all throughout the Philippines. There are many churches. Where is the money of the people?" the president said.
"We explain how we use our funds to the people. You? Priests and bishops, you wear fancy clothes, you have vehicles. Do you have a house, even with just five rooms, for rehab? What did your church do?" he added.
"You count money instead of going around the neighborhoods, explaining to the people why they should not be in that industry because they will die. Now you want the killings to end? All you have to do is to preach because most of the people here are Catholics."
Earlier, the Catholic Church announced that it would work with local governments to establish rehabilitation centers. One of the church-initiated programs aimed at addressing the drug problem is the Sanlakbay Para sa Pagbabagong Buhay, which was launched last October.
Duterte also cited the clergy sex abuse hounding the Catholic Church as well and the illicit affairs of some priests. The president revealed last year that he was sexually molested by a priest when he was young.
"You asked for it. If you want a showdown, then let's have a showdown. You mend your ways. If you cannot even give justice to the small boys that you have molested in the past, you do not have that moral ascendancy to lecture (me) on what to do. Sanctity of life? You're enjoying your worth," the president said.
"When we were young, I talked to cabinet members. When we were making confessions to you, we were being molested," he added.
Duterte also scored alleged homosexual acts happening inside seminaries and the alleged failure of the Church to improve the plight of its faithful.
"What will you do with the homosexuality in your seminaries? What have you done to the children there? Did you investigate us? Mga le**e kayo (You fools)," he said.
"You are in palaces while your faithful are in squatters areas and then you talk about sanctity? Look at your mirror."
Duterte encouraged the public to read "Altar of Secrets," a book by the late journalist Aries Rufo published in 2013 that discussed the corruption, sexual abuses and other controversies that rocked the Philippine Catholic Church.
Last Wednesday, Duterte said priests should try shabu so they can understand the seriousness of the drug problem.