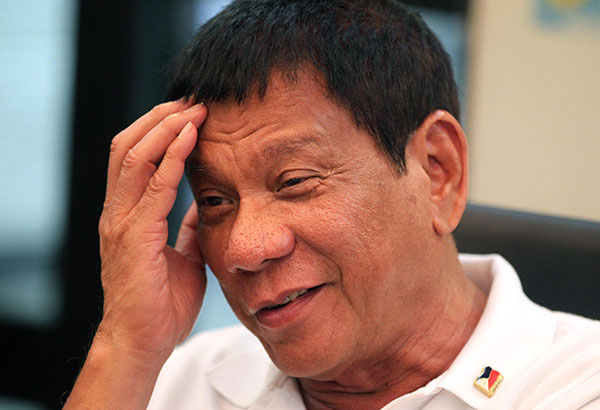 President Rodrigo Duterte made the admission even as he said in his speech before some 7,000 members of the Filipino community here that he had no record of how many people he had killed, and that it was better if they just look at the records of funeral parlors. File photo
Duterte: I killed 3 people, but EJK just BS
SINGAPORE – President Duterte admitted yesterday killing three people when he was mayor of Davao City – all of them hostage-takers.
"I killed about three of them… I didn't really know how many bullets from my gun went through their bodies," he said, citing a hostage-taking incident that was covered by the media and which he said had endangered the victims' lives.
In an interview before flying back to Manila after a two-day visit here, Duterte warned he would behead drug traffickers, but denied he was involved in extrajudicial killings or EJK.
"It happened and I said I cannot lie about it," he said, referring to the hostage situation. "(But) killing people kneeling down with their hands tied at the back, that's all bulls**t."
He dismissed critics' portrayal of him as a trigger-happy mayor who would kill any criminal that crossed his path.
Duterte made the admission even as he said in his speech before some 7,000 members of the Filipino community here that he had no record of how many people he had killed, and that it was better if they just look at the records of funeral parlors.
He said the news that he killed drug personalities was true. He pointed a finger at news crawlers on the BBC before cursing the British TV network.
The President's statements came on the same day that the White House expressed unease over his claim that he had personally killed criminals.
A remorseless Duterte said there is no need to apologize for his strong approach to fighting illegal drugs, and reiterated there would be no letup in the bloody war.
"For as long as there are drug lords, this campaign will go on until the last day of my term, and until all of them are killed, may I emphasize that," he said as he warned drug dealers, "I would not have any second thoughts about cutting your head off… You have already destroyed so many… Should I allow it to continue? And be like the Latin American states?"
Death penalty ally
With his plan to restore the death penalty in the country, Duterte has found an ally in Singapore, an island city-state that has been tough on drug traffickers who face the death penalty.
According to Foreign Affairs Secretary Perfecto Yasay Jr., Duterte discussed with Prime Minister Lee Hsien Loong and President Tony Tan Keng Yam how Singapore, which has a parliamentary form of government, uses its tough laws to maintain peace and security.
"We were both aware of how the lords and operators of this illicit or illegal trade are ruthless and they will not hesitate to eliminate and neutralize anybody, including law enforcers and agents of the state, who will come in their way (and) would prevent them from pursuing this illicit trade," Yasay said.
"There was a consensus that this is the kind of method that you should adopt. There can be no compromise on this, that toughness must be there and, in fact, it was emphasized by our President, that because of this toughness that we have shown, this also had somehow immediately resulted in a positive impact," he added.
Although there was no explicit support for the reimposition of death penalty in the country, Yasay said the leaders "were very clear" on the matter about toughness in dealing with criminal activities.
"They volunteer the information that this is one of the strongest justifications that they have in imposing the death penalty to certain crimes, including crimes related to illegal drugs," he explained.
"And, in response, we told them that learning from the experience of Singapore, we are also, among other things, considering the reimposition of the death penalty insofar as the Philippines is concerned," the foreign affairs secretary said.
Enforcement & rehabilitation
Discipline and strict implementation of laws, which in the case of Singapore meant meting out the death penalty for drug traffickers, have become effective ways to tackle the drug problem.
Yasay said the President and his key officials are encouraged by Singapore's strategy, which boosts the Philippine leader's push for Congress to start debates on the reimposition of death penalty for heinous crimes and drug-related cases.
Both countries also agreed on the need to rehabilitate drug suspects with emphasis also on the need to respect the rule of law in relation to anti-drug police operations.
"The effect insofar as the drug addicts are concerned, because of this toughness, is to surrender so that they can now be the subject of a vigorous effort of rehabilitation and make them useful, bring them back to society as useful citizens," Yasay said.
"Now, there was also a mention on the part of the Singaporean leaders that they will continue to be tough. This is the reason why they also have continued to make sure that anyone caught in the illicit drug trade with a minimum amount of drugs will be subject to the death penalty," he said.
"We are considering this kind of action on the part of illegal drugs. That's why there are talks in the Philippines right now of restoring the death penalty on these kinds of criminal activity and other kinds of activities as well."