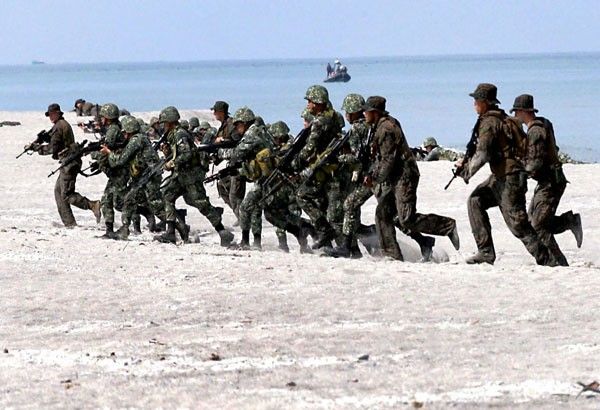 Fewer drills with US but EDCA, Balikatan to stay
MANILA, Philippines -- The Balikatan exercise and the Enhanced Defense Cooperation Agreement between the Philippines and the United States will stay but some bilateral military drills will stop, Defense Secretary Delfin Lorenzana said Monday.
"Yung mga Balikatan na lang (only the Balikatan will remain). So, yearly, it will continue. What will remain are drills on counterterrorism, humanitarian response, special operations on counterterrorism, engineering projects, civic action," Lorenzana told reporters in Malacañang.
Lorenzana said the PHIBLEX amphibious exercises involving Marines and the Cooperation Afloat Readiness and Training (CARAT) drills with the US Navy would be discontinued.
"Practically he (President Duterte) approved all our recommendations," the Defense chief said.
'EDCA will remain'
With regard to EDCA, Lorenzana said the agreement would not be abrogated.
"It (EDCA) will remain," he said.
Last month, Duterte hinted at dropping EDCA, a deal that provides the US greater access to Philippine bases.
The president, who has been at odds with the US over his brutal war on drugs, said Americans can forget about the deal if he stays long enough in office.
"I said 'separate,' separate, yes. You have the EDCA. Well, forget it if I stay here long enough," the president said in a press briefing on Oct. 25.
Duterte said he only wants to see Filipino soldiers in the country.
"I do not want to see any military man of any other nation except the Filipino soldiers. That's what I want. That's the long and short of it. I want an independent policy wherein I won't by subservient to anyone," he added.
Duterte had called for a review of EDCA, noting that the agreement did not have the signature of a Philippine president. The agreement was signed by then US Ambassador to the Philippines Philip Goldberg and then defense secretary Voltaire Gazmin two years ago.
Agreements are usually signed by authorized representatives of their governments.
The tough-talking Duterte also declared last month that the joint military drills between the Philippines and the US would end under his term. He also announced that he is "separating" from the US in terms of military and the economy but later on clarified that he is not severing ties with the superpower.