(The Philippine Star) - September 30, 2016 - 12:00am
MANILA, Philippines - Two years after announcing that she had stage four cancer of the lungs, former senator Miriam Defensor-Santiago passed away yesterday at the age of 71.
Her husband, former interior and local government undersecretary Narciso Santiago Jr., said she died peacefully in her sleep early yesterday morning.
Santiago was rushed last Sept. 2 to St. Luke's Medical Center in Global City, Taguig and has since been confined at the hospital due to complications of her cancer.
Last Sunday, she was transferred to the intensive care unit until she succumbed at 8:52 a.m. yesterday.
Santiago was admitted to the ICU of the Makati Medical Center last June after contracting pneumonia.
Her wake is at the Immaculate Conception Cathedral in Cubao, Quezon City.
In spite of the severity of her ailment, the news still came as a surprise to many, considering that just a few months ago, the late senator announced that she had beaten cancer.
Santiago herself felt that she was well enough to make another bid for the presidency in the May 9, 2016 elections.
A team of doctors was regularly handling the case of Santiago, including one of the world's most distinguished oncologists from the Memorial Sloan Kettering Cancer Center in New York.
After undergoing treatment, Santiago's doctors said that her cancer was under control and on that advice, she felt she was well enough to run for president.
She ran under her own People's Reform Party and chose former senator Ferdinand Marcos Jr. as her runningmate.
Right before and during the campaign, Santiago still showed signs of weakness, oftentimes requiring the assistance of her staff to walk.
She skipped the March 20 presidential debate to undergo a clinical trial for an unnamed cancer-treatment pill.
Santiago said she joined the international clinical trial to gain free access to the medication, which would otherwise reportedly cost P500,000 every three weeks. The trial required Santiago to report for outpatient radiation treatment at the hospital daily for a short period.
Mystery at first
As early as January of 2013, Santiago went on an indefinite medical leave from the Senate due to what she said was chronic fatigue syndrome.
What was ailing the senator was clearly a mystery to her at the time because she also said that she was suffering from hypertension and Vitamin D deficiency.
Her ailment was serious enough to prevent her from assuming her seat as a judge in the International Criminal Court. Santiago was elected to the ICC in 2011, making her the first Filipino and the first Southeast Asian from a developing country to be elected to the post.
When she found out about her cancer, Santiago informed the ICC that she could no longer assume her seat as judge and subsequently gave this up so that the body could elect her replacement.
Santiago was clearly unfazed when she received news about her cancer and even hinted to reporters during her announcement that she was planning to make another bid for the presidency.
She first ran for president in the 1992 elections, which she lost in a tight race with Fidel Ramos. Santiago made another bid for the presidency six years later.
After failing in her first bid for the presidency, Santiago joined the Senate in 1995. She lost in her bid for reelection in 2001 but returned to the Senate in 2004. Santiago was reelected in 2010 for her last term as senator.
Prior to becoming a senator, Santiago had a stint in government as commissioner of the then Bureau of Immigration and Deportation and secretary of agrarian reform.
But before she joined the executive branch, Santiago served as a Quezon City regional trial court judge from 1983 to 1987.
Santiago also became a legal officer of the United Nations High Commissioner for Refugees in Geneva, Switzerland, a legal consultant of the Philippine embassy in Washington and a professional lecturer of the University of the Philippines College of Law.
In November 2003, Santiago's youngest son Alexander died from a self-inflicted gunshot wound.
She is survived by her husband and her eldest son, Narciso Santiago III.
Senate President Aquilino Pimentel III said that necrological rites would be held at the Senate if her family wishes.
The Philippine flag at the Senate building is flown at half-staff in honor of Santiago.
Outstanding student
Santiago consistently excelled as a student, graduating as class valedictorian in elementary and high school and magna cum laude in college at UP, where she was also Collegian editor before the First Quarter Storm.
Her brilliance as a student was further demonstrated when she finished her undergraduate degree in political science in only three and a half years and even recorded an average grade of 1.1 in her last semester. In UP, the highest grade is 1.0.
She constantly craved knowledge and even after graduating from law school, went on to take up further studies here and overseas.
Santiago received her master of laws as a Dewitt fellow at the University of Michigan with an average grade of "A."
She then received her doctor of juridical science as a Barbour Scholar and DeWitt Fellow also at the University of Michigan, which she fulfilled in six months, with an "A" average.
This was not enough for Santiago, who went on to take up a master of arts in religious studies at the Maryhill School of Theology in Quezon City.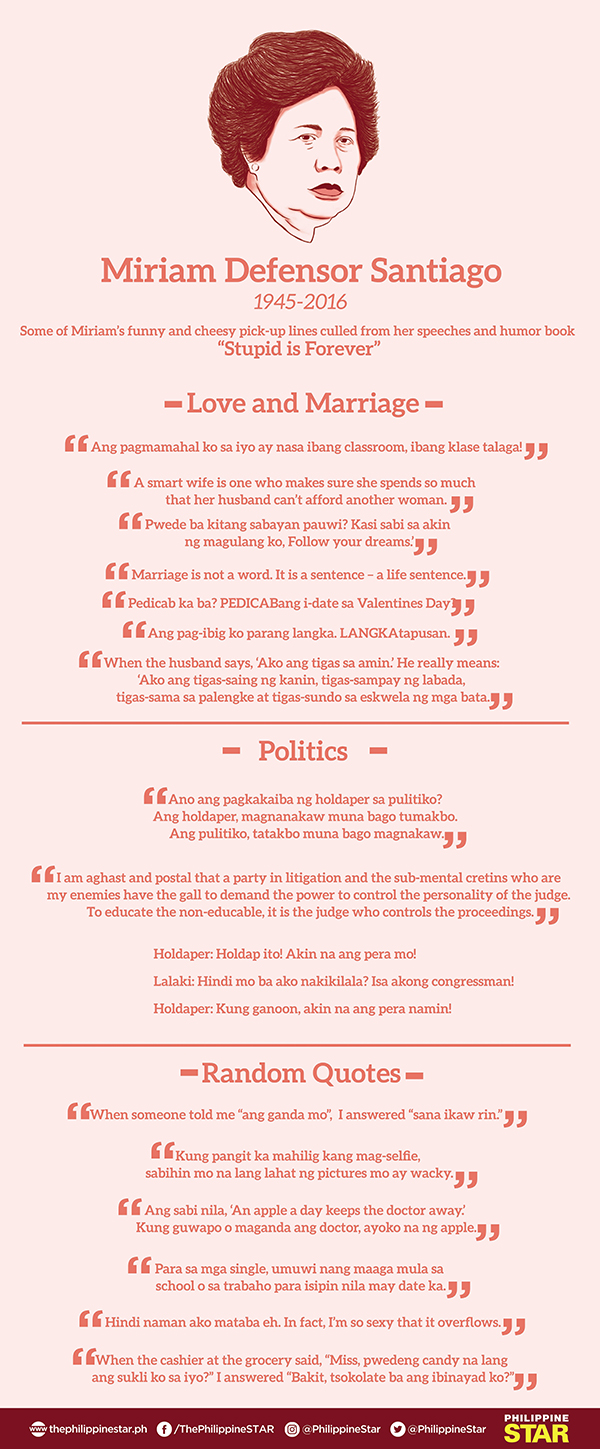 Feisty but funny
Love her or hate her, Santiago always drew the spotlight because of her quotes, which were as scathing as they were humorous.
Among her most famous quotes was during the impeachment trial of former president Joseph Estrada, when she said that she would jump headfirst from a helicopter in Rizal Park if the President gets removed from power.
Asked by reporters about her statement after Estrada was impeached, Santiago responded with the now famous "I lied! Hahaha."
Known for her strong stance against graft and corruption, Santiago was also remembered for saying "I eat death threats for breakfast" back when she was immigration commissioner.