Duterte to insist on drug war in meeting with Obama
(Philstar.com) - August 31, 2016 - 4:33pm
MANILA, Philippines (UPDATED 5:25 p.m.) — President Rodrigo Duterte said Wednesday he was ready to defend his bloody crackdown on illegal drugs, which has sparked U.S. and international concerns, when he meets with President Barack Obama on the sidelines of an Asian summit next week.
Duterte said he would demand that he be allowed to first explain the context of his crackdown before engaging Obama in a discussion of the widespread deaths. The two will meet for the first time on the sidelines of the annual summit of the Association of Southeast Asian Nations and Western leaders in Laos.
Nearly 1,800 suspected drug dealers and users have been killed since July 1, and U.S. Deputy National Security Adviser Ben Rhodes said in Washington Monday that Obama plans to raise U.S. concerns over the killings with Duterte.
"He (Obama) can raise any topic at all. I am ready to talk to him," Duterte told reporters at the Ninoy Aquino International Airport Terminal 2 in Pasay City.
"They must understand the problem first before we talk about human rights," Duterte added. "I would insist, 'Listen to me. This is what the problem is.' Then we can talk. No problem."
Speaking at Manila's international airport, Duterte warned more than 120 Filipino workers who returned after they were laid off in Saudi Arabia to stay away from illegal drugs.
"Avoid drugs at all costs because it could cost your life too," Duterte said, adding that more than 3 million Filipinos are drug addicts.
Criticism by the U.S. government, U.N. rights experts and human rights groups over the drugs killings have provoked angry outbursts from Duterte, who, at one point, threatened to withdraw the Philippines from the U.N.
Duterte said that the world body and the U.S. have failed to prevent genocidal killings in Africa and the Middle East but criticize his crackdown, which targets hardcore criminals who destroy Philippine society.
The U.S. has expressed concern over the extrajudicial killings and urged Duterte's government to ensure law enforcement efforts comply with human rights obligations.
"We are concerned by these detentions, as well as the extrajudicial killings of individuals suspected to be involved in drug activity in the Philippines," U.S. State Department spokeswoman Elizabeth Trudeau said. "We strongly urge the Philippines to ensure its law enforcement efforts comply with its human rights obligations."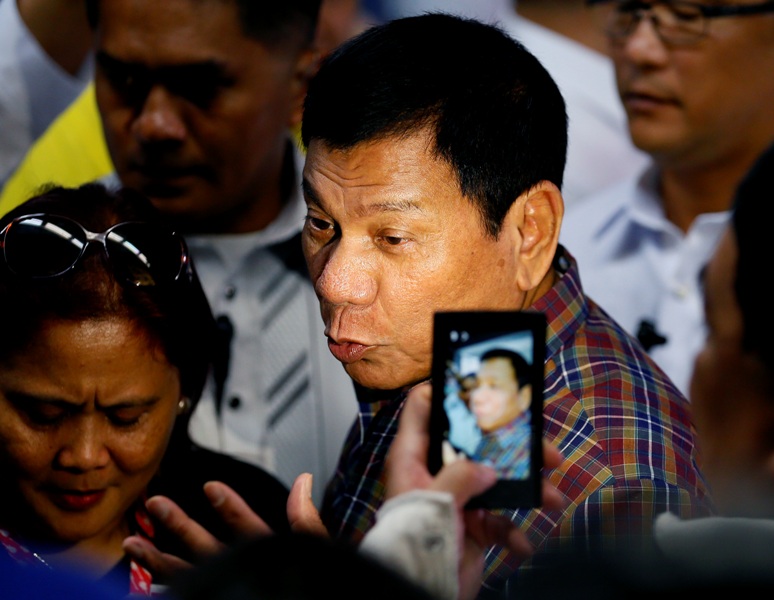 President Rodrigo Duterte talks to the media after welcoming Overseas Filipino Workers who were repatriated back to the country Wednesday, Aug. 31, 2016 at the Ninoy Aquino International Airport in Pasay City, Philippines. AP/Bullit Marquez
She added: "We believe in rule of law. We believe in due process. We believe in respect for universal human rights. We believe, fundamentally, that those aspects ensure and promote long-term security."
Duterte has had an uneasy relationship with America and has said he will chart a foreign policy that is not dependent on the U.S., his country's longtime treaty ally. Duterte has also tried to repair relations with China that have been strained over escalating territorial disputes in the South China Sea.
Duterte said he does not intend to raise other topics during his meeting with Obama.
"At this time, I'm talking to China and China wants to talk to me bilateral. It's good and if it's to the advice of my team, the military, the police and these guys, then good work," the president said.
Obama's Deputy National Security Adviser Ben Rhodes has said that the West Philippine Sea row may also be raise during the meeting between Duterte and Obama.
"I think we'll want to review the state of play as it relates to our treaty alliance in the situation in the South China Sea in that dialogue with the new president of the Philippines," the White House official said in a press briefing last Tuesday.
Last month, a Hague-based tribunal invalidated China's territorial claim in the South China Sea but the Chinese government refused to recognize the ruling and even called it "illegal."
The tribunal acted on a 2013 case filed by the Philippines against China's claim, which covers about 90 percent of the resource-rich South China Sea. — Bullit Marquez (Associated Press) and Alexis Romero (STAR)