Duterte: Correct historical injustice, pass Bangsamoro Law
MANILA, Philippines — President Rodrigo Duterte on Monday pushed for passage of the Bangsamoro Basic Law, legislation that would implement the Comprehensive Agreement on the Bangsamoro signed by the government and the Moro Islamic Liberation Front in 2014.
Duterte, the first president from Mindanao, said that conflict in parts of Mindanao is the result of a historical injustice that the country must correct.
He said the Muslim and Lumad peoples of Mindanao had been around and had their own cultures before colonizers came to the Philippines, and this has not been sufficiently recognized by the central government n Manila, a theme that he repeatedly spoke about during the presidential campaign.
"This is an imperialism thing," he said.
"Kayong mga kapatid kong Moro, you know I am a mixed blood. Intindihin nalang natin ito. We cannot return to you all nung mga nakuha ng mga Amerikano, Espanol, pati ng mga Pilipino, yung mga kapitalista," he said.
He urged Congress, however, to give the BBL a chance.
"P," he said, although acknowledging that perceived issues with the constitutionality of the measure to create a new autonomous region had contributed to the legislature's failure to pass it. He said that Congress can at least define the Bangsamoro territory.
"And when the federal system comes, isali mo na sa package including si [Moro National Liberation Front Nur] Misuari. That is the only solution for Mindanao. Nothing else. Believe me."
Duterte, who earlier announced a unilateral ceasefire with the Communist Party of the Philippines-New People's Army-National Democratic Front, said: "To our Muslim brothers, the Moro country, members of the CPP-NPA-NDF, all of us want peace."
A faction of the MNLF has met with the leadership of the MILF and both parties have agreed to work on a common roadmap for peace in conflict-affected parts of Mindanao. The MNL signed a final peace agreement with the government in 1996, but its leaders have said that the agreement has yet to be fully implemented.
The signing of the CAB had initially caused worries that the peace agreements with the MNLF would be set aside and critics of the Bangsamoro Basic Law claimed that it was not inclusive since it would only benefit the MILF.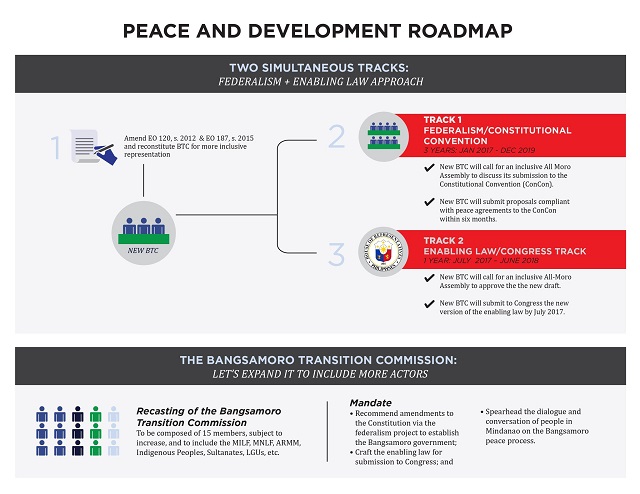 Image by Office of the Presidential Adviser on the Peace Process
The proposed area, as envisioned, would hold parliamentary elections after a transition period that would have been led by the MILF. — Video editing by RP Ocampo