7 crime gang suspects killed in Pampanga
CAMP OLIVAS, Pampanga, Philippines – Police gunned down seven suspected members of a gang involved in robbery and kidnap-for-ransom operations during a running gun battle yesterday through three towns here.
Chief Supt. Aaron Aquino, Central Luzon police officer-in-charge, said the suspects belonged to the Jimboy Santos group, which was responsible for several robbery and kidnapping cases in various provinces in Central Luzon. ?The identities of the suspects were not immediately available.
The latest killing of seven crime suspects in Pampanga added to the nine suspected drug pushers killed in separate gun battles with police officers on Sunday in various parts of Southern Tagalog, Taguig City and North Cotabato.
The drug-related deaths have now reached 51 after the May 9 elections.
The death toll increased as president-elect Rodrigo Duterte prepares for his inauguration as the 16th president of the republic on June 30.
The incoming president included in his campaign platform the eradication of crime and illegal drugs within six months of his presidency.
In Pampanga, Aquino said the running gun battle started in Magalang town, involving the suspects on board a Mitsubishi Montero with license plate PQC 877 and a Mitsubishi Adventure with plate ABJ 1722.
The suspects engaged members of the police Highway Patrol Group and the Criminal Investigation Group that were following the vehicle of the gunmen. ?Investigators said the Montero was cornered in Barangay Pulong Cutud in Angeles City, where more police officers were waiting to intercept the suspects. Two suspects were killed in the area.
The Adventure sped toward the Pandakakai resettlement in Mexico town where the responding policemen killed the five other suspects.
In a related development, the six suspected drug dealers were reportedly gunned down in a shootout with policemen in Rizal and Laguna last Sunday, police said.
Supt. Chitadel Gaoiran, spokesperson for Cavite, Laguna, Batangas, Rizal and Quezon (Calabarzon), said two suspected drug pushers were killed in Rodriguez, Rizal; one drug pusher was also gunned down in Cainta, Rizal; one in Batangas City, one suspect each in Majayjay and San Pablo City in Laguna.
Gaoiran identified two of the fatalities as Gerardo Bismar and Felipe Eliponga, both suspected drug pushers in Rodriquez, Rizal that were killed in a shootout with arresting policemen after an entrapment operation in Barangay San Isidro.
Police undercover agents shot dead a drug pusher and arrested another during another entrapment operation over the weekend in Taguig City.
Alin Kamad, also known by the aliases of Arnel and Teng Kamad, sustained gunshot wounds in the chest and the left breast.
He was declared dead on arrival at the Taguig-Pateros District Hospital in Taguig City.
Arrested was Kamad's companion Jin Garfil, 18.
Kamad yielded a caliber .45 pistol, a caliber .38 revolver and several sachets containing white crystalline substance, while Garfil yielded three sachets containing 10.6 grams of shabu worth P50,000.
Senior Supt. Ronald Lee, head of the Criminal Investigation and Detection Group in the National Capital Region (NCR), said a police undercover agent set up a meeting to buy five grams of shabu worth P8,500 from Kamad.
Supt. Tom Ibay, CIDG-NCR deputy chief, the police agent and the two suspects met at No. 2 Macopa St., Panam Village, Barangay Pinagsama. Kamad, however, sensed that it was an entrapment operation.
The suspect pulled out a gun and a shootout broke out with the undercover policeman. Kamad suffered gunshot wounds while Garfil surrendered. Garfil is now under custody of the CIDG-NCR Southern Field office in Fort Bonifacio, Taguig City.
In North Cotabato, unidentified gunmen killed in an ambush late Sunday two suspected drug dealers in Alamada town.
The victims, Jojo Vicente and Joel Songcayaoun, were riding on a motorcycle when they were attacked in a secluded area in Barangay Marabuhay in Alamada.
The gunmen who ambushed the victims fled before policemen and barangay volunteer watchmen arrived at the crime scene.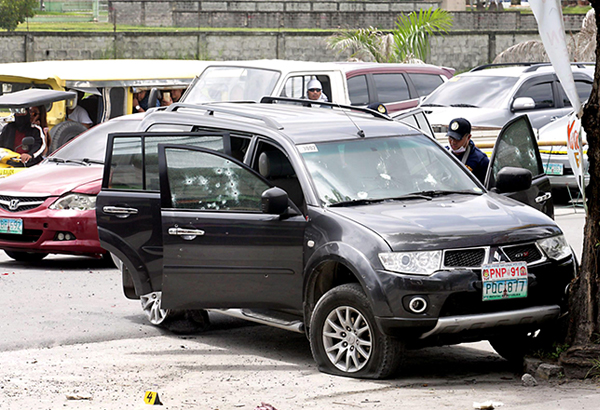 A police prober inspects the bullet-riddled vehicle used by a robbery and kidnap ring in Pampanga yesterday.
MICHAEL VARCAS
Next PNP chief
The incoming chief of the Philippine National Police (PNP) Chief Supt. Ronaldo dela Rosa would give himself three to six months to stop the proliferation of illegal drugs or he would resign from his post.
When asked by The STAR what he will do if he fails to meet the target set by Dutrete, Dela Rosa said he has no business staying as head of the PNP.
"I will vacate my post, I will surrender and I will tell him (Duterte) I cannot do it and please release me, let me go," said Dela Rosa, who even sang the line from the song "Please Release Me."
"I am giving 100 percent of myself. What I can offer to the public is a clean heart and a clean conscience that I am not connected with any syndicate with vested interest. Pulis probinsyano lang ako," he added.
Dela Rosa was chosen by Duterte to replace PNP chief Director General Ricardo Marquez.
He noted that all the police commanders whom he will appoint will only be on a "temporary status" since they have to meet the target set by Duterte.
"After three months we will evaluate their performance if they measure up to the expectation of the public and on the standard that we will be setting up. I am giving myself three to six months," he noted.
He pointed out that commanders who will fail to meet the target will be immediately relieved.
The Central Luzon police will focus on illegal drug suspects once Duterte assumes office.
Chief Supt. Aaron Aquino, officer-in-charge of Police Regional Office 3, said he is coordinating with PRO 3 Regional Intelligence Division, Regional Anti-Illegal Drugs Special Operations Task Group and Philippine Drugs Enforcement Agency3 (PDEA3) to get a new list of drug lords, drug pushers and users. With Non Alquitran, Ed Amoroso, Arnell Ozaeta, Ric Sapnu, John Unson, Ric Sapnu