Aquino hit for 'disappointingly predictable' reaction to Lumad killings
MANILA, Philippines — A dispatch from an international human rights organization criticized on Wednesday President Benigno Aquino III for his inadequate response to the killing of members of Lumad tribes in Mindanao.
Human Rights Watch researcher Carlos Conde said Aquino's answer on the question about the recent Lumad killings was "disappointingly predictable," announcing no measures to protect the indigenous people nor investigations into the incidents.
Aquino said in a forum on Wednesday that there was "no campaign to kill anybody in this country," defending the Armed Forces of the Philippines from accusations of involvement in the Surigao killings.
"The Aquino administration has a responsibility to hold accountable whoever might be responsible for these and other abuses in Mindanao," Conde said.
"The government needs to make clear that the military, paramilitaries and the companies that underwrite the projects linked to these human rights violations will no longer enjoy impunity," he added.
On August 18, soldiers in Bukidnon allegedly killed five members of a Lumad family, including children aged 13 and 17. Earlier this month, suspected paramilitary men killed the director of a tribal school in Surigao del Sur.
While finding the government's response cold, the rights group said Filipinos have expressed "visceral anger, venting their frustration on social media at what they perceived as a fundamental government failure to protect one of the country's most vulnerable communities."
The hashtag #StopLumadKillings continued to trend on top of the Twitter chart on Wednesday—a development the group called a rare instance in which a human rights issue has captivated the Philippines's cyberspace.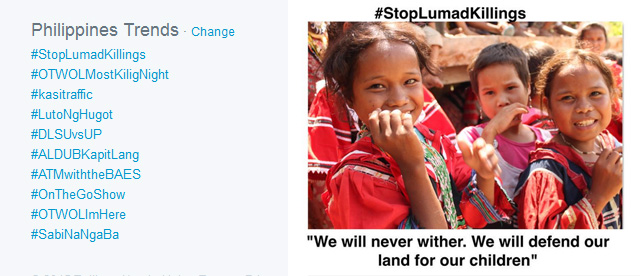 Twitter trends chart for the Philippines on Wednesday, with #StopLumadKillings leading other topics. Philstar.com/screenshot
The Commission on Human rights has condemned the bloodbath and called for the disarming of paramilitary forces suspected to be behind the crimes. The military denied the accusation.