Omicron variant
January 19, 2022 | 1:59pm
+ Follow Story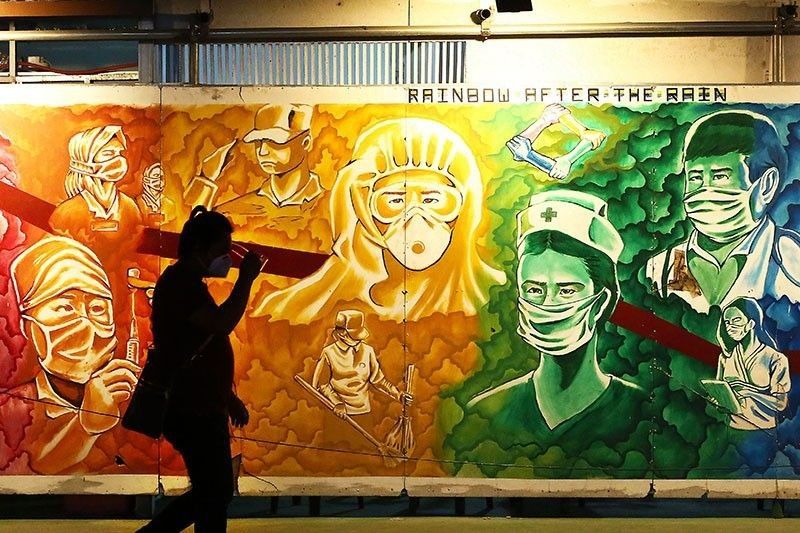 January 19, 2022
The Philippines reports the detection of 492 additional cases of the hyper-transmissible Omicron variant of COVID-19.
Of the total, 332 are locals, while 160 are returning overseas Filipinos.
This brings the total number of Omicron cases in the country. — Gaea Katreena Cabico
January 19, 2022
France's daily reported new coronavirus cases broke a new record on Tuesday with an average of over 300,000 a day in the past week, with the headline figure approaching half a million.
The latest data issued by Public Health France showed that there were 464,769 new cases in the last 24-hour period as the Omicron variant of Covid-19 spread unabated.
A day earlier, 102,144 people had tested positive for the virus. — AFP
January 18, 2022
China's postal service has ordered workers to disinfect international deliveries and urged the public to reduce orders from overseas after authorities claimed mail could be the source of recent coronavirus outbreaks.
China Post on Monday published a statement ordering workers to disinfect the outer packaging of all international mail "as soon as possible" and requiring employees handling foreign letters and packages to receive booster vaccine shots.
The postal service also asked the public to reduce purchases and deliveries from "countries and regions with a high overseas epidemic risk" and said domestic mail should be handled in different areas to prevent cross-contamination. — AFP
January 14, 2022
Preliminary data from a trial shows AstraZeneca's COVID-19 vaccine increased antibodies against the coronavirus Omicron variant for a booster dose.
The British-Swedish pharmaceutical reports that the response against both Omicron and Delta variants was seen in those who received the booster while initially vaccinated with either the AstraZeneca shot or another mRNA vaccine.
January 11, 2022
Omicron is now the dominant COVID-19 variant in the Philippines says Health Secretary Francisco Duque III, citing results of the latest genome sequencing on January 3.
The newest "variant of concern" has surpassed the Delta variant, believed to be behind the second wave of the pandemic in March last year.
Omicron is even more transmissible than the Delta variant.
FULL STORY: Omicron dominant COVID-19 variant in latest genome sequencing — DOH
January 9, 2022
More than 150,000 people have died after catching coronavirus in the United Kingdom, the government said Saturday, in a tragic milestone for one of the worst affected countries in Europe. Prime Minister Boris Johnson posted a message on Twitter saying: "Coronavirus has taken a terrible toll on our country and today the number of deaths recorded has reached 150,000."
January 2, 2022
Britain's health minister insisted Saturday reimposing coronavirus restrictions in England would be "an absolute last resort" and that the country must "try to live with Covid".
The country is among those in Europe hardest hit by the pandemic, registering nearly 149,000 deaths. It counted almost 163,000 new cases Saturday, a slight dip after days of unprecedented daily tallies.
The UK government, which has responsibility for health policies in England only, has so far refused to curb socialising and large events, unlike the rest of Britain.
Northern Ireland, Scotland and Wales have all rolled out new rules since Christmas limiting gatherings, as the Omicron variant fuels an unprecedented nationwide surge in infections. — AFP
December 30, 2021
A COVID "tsunami" threatens to overwhelm healthcare systems, the WHO said Wednesday, as record surges fuelled by the Omicron variant dampened New Year celebrations around the world once again.
Governments are walking a tightrope between anti-virus restrictions and the need to keep societies and economies open, as the highly transmissible variant drove cases to levels never seen before in the United States, Britain, France and Denmark.
The blistering surge was illustrated by AFP's tally of 6.55 million new infections reported globally in the week ending Tuesday, the highest the figure has been since the World Health Organization declared a COVID-19 pandemic in March 2020.
"I am highly concerned that Omicron, being more transmissible, circulating at the same time as Delta, is leading to a tsunami of cases," said WHO chief Tedros Adhanom Ghebreyesus. — AFP
December 29, 2021
The World Health Organization says the risk posed by the Omicron variant is still "very high" after COVID-19 case numbers shot up by 11% globally last week.
Omicron is behind rapid virus spikes in several countries, including those where it has already overtaken the previously-dominant Delta variant, the WHO says in its COVID-19 weekly epidemiological update.
"The overall risk related to the new variant of concern Omicron remains very high," the UN health agency said. — AFP
December 27, 2021
The Department of Health confirms the fourth case of the Omicron variant in the Philippines.
The patient is a 38-year-old female from the United States who arrived at NAIA on December 10 via Philippine Airlines flight PR 127.
The DOH says the patient was exposed to friends in the United States whom they met a day before departure for the Philippines.
December 26, 2021
Omicron has become the dominant strain of coronavirus in Portugal where more than 10,000 daily Covid-19 cases had been registered Saturday, the national health agency says.
Portugal, one of the countries with the highest Covid-19 vaccination rates worldwide, has begun inoculating children over five years old.
"The Omicron variant is already dominant in Portugal, accounting for 61.5 percent of cases on December 22," the General Directorate of Health says. — AFP
December 25, 2021
The UK announces a new record number of virus cases fulled by the Omicron variant.
The government reported 122,186 new cases in the last 24 hours, more than 2,000 higher than Thursday's figure.
The UK is among the worst hit countries in Europe with a virus death toll of 147,857. — AFP
December 23, 2021
Two studies from Britain show COVID-19 infections with Omicron are less likely to result in hospitalization compared to the Delta variant, the latest research confirming a trend first identified in South Africa.
The preliminary studies -- one paper from Scotland and the other from England -- were cautiously welcomed by experts, who nonetheless stressed that any advantage in milder outcomes could still be negated by the new strain's heightened infectiousness, which may still lead to more overall severe cases.
"We're saying that this is qualified good news -- qualified because these are early observations, they are statistically significant, and we are showing a reduced risk of hospitalizations," Jim McMenamin, a co-author of the Scottish research, tells reporters on a call. — AFP
December 22, 2021
The United States may soon lift its travel ban on several southern African nations imposed soon after the Omicron coronavirus variant was first reported, President Joe Biden says.
"I'm considering reversing it, and I'm going to talk with my team in the next couple of days," he says in response to a question from a reporter, after saying there was some evidence of cases dropping off in South Africa. — AFP
December 21, 2021
The fast-spreading Omicron variant is now the main coronavirus strain in the United States, accounting for 73.2% of new cases over the past week for which data is available, health authorities reported Monday.
The spike, which was tallied by the Centers for Disease Control and Prevention, is based on data for the week ending on Saturday. During the prior week period, Omicron accounted for only 12.6% of US cases.
Omicron already constitutes more than 90 percent of new US cases in the Pacific Northwest and much of the US South and parts of the Midwest, the CDC indicated.
The news comes ahead of a speech by US President Joe Biden on Covid on Tuesday. White House press secretary Jen Psaki has already said he does not plan on "locking the country down" in response to the surge.
"This is a speech outlining and being direct and clear with the American people about the benefits of being vaccinated, the steps we're going to take to increase access and to increase testing." — AFP
December 17, 2021
US President Joe Biden warns of a "winter of severe illness and death" for those unvaccinated against COVID-19, as the G7 called the Omicron variant the biggest threat to global public health.
The stark words came as Britain saw more than 88,000 Covid-19 infections, a second consecutive record daily number, prompting France to impose "drastic" new limits on travel to the UK.
Scientists remain uncertain how dangerous the highly mutated Omicron variant is, but early data suggests it can be more resistant to vaccines and is more transmissible than the Delta variant. — AFP
December 16, 2021
The lightning spread of Omicron in Europe and elsewhere has added a sense of urgency to an EU summit Thursday, with leaders struggling to present a united, bloc-wide approach.
Projections that the mutated and highly infectious Covid strain could be dominant in the EU as early as next month have pushed the issue to the top of the agenda and ignited fears of a health crisis.
The summit will also tackle other big topics pressing hard on EU capitals, in particular the Russian military build-up that could presage an invasion of Ukraine.
That risk dominated a get-together on Wednesday between EU leaders and their neighbouring eastern European counterparts, including Ukrainian President Volodymyr Zelensky. — AFP
December 15, 2021
The Philippines detects two imported cases of the Omicron (B.1.1.529).
The Department of Health says the cases were detected from 48 samples sequenced on December 14.
December 15, 2021
The World Health Organization Tuesday warns Omicron was spreading at an unprecedented rate and urges countries to act as drug maker Pfizer says its coronavirus pill was effective against the variant.
Dutch primary schools will close early as Europe battles a fresh wave of infections and hospital admissions, while British Prime Minister Boris Johnson faced a major parliamentary test seeking to impose fresh Covid curbs.
Omicron, first detected by South Africa and reported to the WHO on November 24, has a large number of mutations, setting alarm bells ringing since its discovery. — AFP
December 14, 2021
Norway announces new COVID-19 curbs less than a week after tightening restrictions amid the spread of the Omicron variant and soaring case numbers and hospital admissions.
The move came after Norway's health authority warned the country could record between 90,000 and 300,000 daily coronavirus cases and up to 200 hospital admissions per day in three weeks without more measures.
Norway has registered record numbers of cases and hospital admissions in recent days, detecting 958 Omicron infections on Monday, of which 472 were in the capital Oslo. — AFP
December 13, 2021
UK Prime Minister Boris Johnson on Monday says at least one person infected with Omicron had died, as the country began an ambitious booster programme against the variant.
"Sadly, at least one patient has been confirmed to have died with Omicron," Johnson, who on Sunday warned of a "tidal wave" of infection from the mutation, tells reporters. -- AFP
December 13, 2021
The World Health Organization says the Omicron coronavirus variant is more transmissible than the Delta strain and reduces vaccine efficacy but causes less severe symptoms according to early data.
The Delta variant, first identified in India earlier this year, is responsible for most of the world's coronavirus infections.
But South Africa's discovery of Omicron -- which has a large number of mutations -- last month prompted countries around the world to impose travel bans on southern African countries and reintroduce domestic restrictions to slow its spread. — AFP
December 13, 2021
UK Prime Minister Boris Johnson warns of a looming "tidal wave" of Omicron, and brought forward a target to give over-18s a booster jab by one month to the end of December.
"No-one should be in any doubt: there is a tidal wave of Omicron coming," he says in a televised address, after the country's medical advisers raised the Covid Alert Level due to a "rapid increase" in infection from the variant.
Johnson, under pressure because of claims he and staff flouted Covid restrictions last Christmas, calls the spread of the mutation "an emergency", as Omicron was doubling every two to three days. — AFP
December 11, 2021
The Department of Health logs 356 new COVID-19 cases on Saturday, Dec. 11, 2021, with four laboratories failing to submit data.
The total reported cases have reached 2,836,360.
The health agency says it has yet to detect the Omicron variant in the Philippines, although it expects that it would arrive sooner or later.
Related data are available daily on Philstar.com's COVID-19 Dashboard.
December 8, 2021
There is no indication that Omicron causes more severe disease than previous Covid variants, and existing vaccines should protect people who contract it against the worst outcomes of the disease, a top WHO official tells AFP Tuesday.
"We have highly effective vaccines that have proved effective against all the variants so far, in terms of severe disease and hospitalisation, and there's no reason to expect that it wouldn't be so" for Omicron, Michael Ryan, the World Health Organization's emergencies director, tells AFP in an interview, stressing that more research was needed. — AFP
December 6, 2021
Russia has registered its first two cases of the new Omicron variant of the coronavirus in its nationals returning from South Africa — where the variant was first detected — the country's health agency says on Monday.
"Two citizens who returned to Russia from South Africa have been diagnosed with the Omicron coronavirus strain," the Rospotrebnadzor health agency says in a statement.
The agency says that all Russians returning from South Africa and its neighbouring countries are tested at the border and placed in special observatories. — AFP
December 6, 2021
South African President Cyril Ramaphosa on Monday urges citizens to get vaccinated as the country battles an unprecedented surge in cases driven by the new Omicron variant.
The number of daily infections rose five-fold in the space of a week, from 2,828 on November 26 to 16,055 last Friday.
About a quarter of tests for coronavirus have been positive, compared to just around two percent of those tested a fortnight ago.
"We are experiencing a rate of infections that we have not seen since the pandemic started," Ramaphosa warns in his weekly newsletter. — AFP
December 4, 2021
The new Omicron variant of COVID-19 could slow the global economic recovery, just as the Delta strain did, IMF chief Kristalina Georgieva says.
"A new variant that may spread very rapidly can dent confidence and in that sense, we are likely to see some downgrades of our October projections for global growth," she says at a Reuters event.
In its most recent World Economic Outlook, the fund projected global growth of 5.9% this year and 4.9 percent in 2022, but the United States and other major economies suffered sharp downward revisions after the spread of the Delta variant "caused some friction," Georgieva says. — AFP
December 4, 2021
The emergence of the Omicron variant of the coronavirus is the "ultimate evidence" of the danger of unequal vaccination rates around the world, the head of the Red Cross says.
In an interview with AFP during a visit to Moscow, Francesco Rocca, the president of the International Federation of Red Cross and Red Crescent Societies, also raises concerns about the politicization of migrants and for the plight of civilians in Afghanistan as winter approaches.
Asked about the global approach to vaccinations, the head of one of the world's largest humanitarian groups say more needed to be done to fight rampant vaccine inequality.
December 3, 2021
City officials say at least 17 people who came down with COVID-19 after a Christmas party gathering over 100 guests in Oslo last week are suspected of having the Omicron variant.
"So far 60 people have tested positive (for Covid) with PCR tests, and four with antigen tests. Seventeen are probably Omicron, but that has yet to be confirmed. So far, one case is confirmed to be Omicron after sequencing," the city of Oslo says in a statement.
Between 100 and 120 people -- all of whom were vaccinated, and one of whom had recently travelled to southern Africa -- had gathered last Friday for a Christmas party organised by their employer. — AFP
December 3, 2021
Australia on Friday reports a student with no history of foreign travel had tested positive for the Covid-19 Omicron variant, the country's first detected case of community transmission.
The case, detected in the country's largest city Sydney, comes despite a ban on non-citizens entering the country and restrictions on flights from southern Africa, where the variant was first detected.
New South Wales Health says "the case has no overseas travel history or links to people with overseas travel history" but stressed that further investigations and contact tracing were underway. — AFP
December 3, 2021
The state of New York has confirmed five cases of the coronavirus Omicron variant, Governor Kathy Hochul says Thursday, bringing the total number of US detections of the new strain to eight.
"New York State has confirmed five cases of the omicron variant," Hochul says in a Twitter post aimed at reassuring residents of the nation's fourth most populous state that the detections were not unexpected.
"Let me be clear: This is not cause for alarm. We knew this variant was coming and we have the tools to stop the spread," she says.
"Get your vaccine. Get your booster. Wear your mask." — AFP
December 2, 2021
French authorities said Thursday they had confirmed the first case of the COVID-19 Omicron variant on the mainland, a man in his 50s who recently returned from Nigeria.
The ARS health agency for the Paris region said the man had not been vaccinated against the virus and showed no COVID symptoms when tested upon his arrival on November 25.
His wife, also unvaccinated, tested positive for COVID and sequencing is underway to determine if she too has the Omicron variant, and their family has been placed in quarantine, the agency said.
Previously the only confirmed Omicron case on French territory was detected on its Indian Ocean island of Reunion, though government spokesman Gabriel Attal said Wednesday that 13 suspected cases were currently being studied.
The country is facing a fifth wave of surging cases since the pandemic emerged last year, and three hospitals in northeast France have implemented emergency protocols because beds are filling rapidly with COVID patients. — AFP
December 2, 2021
The WHO warns Wednesday that a "toxic mix" of low rates of immunisation and testing were fanning new Covid-19 variants as Europe's top official said it was time to "think about mandatory vaccination".
The Omicron variant, first reported to the World Health Organization by South Africa a week ago, has spread rapidly across continents, darkening economic forecasts and deepening fears of another difficult winter in the northern hemisphere.
"Globally, we have a toxic mix of low vaccine coverage, and very low testing — a recipe for breeding and amplifying variants," says WHO chief Tedros Adhanom Ghebreyesus, reminding the world that the Delta variant "accounts for almost all cases". — AFP
December 1, 2021
Nigeria, Africa's most populous country, confirms its first cases of the new Covid-19 variant, among three passengers who had arrived from South Africa.
"Genomic surveillance has now identified and confirmed Nigeria's first cases of the B.1.1.529 SARS-CoV-2 lineage, now known as the Omicron variant," says the head of Nigeria's Centre for Disease Control, Ifedayo Adetifa.
Contact tracing and "follow up to ensure isolation... have commenced," Adetifa says. — AFP
December 1, 2021
Brazil's health regulator on Tuesday reports the discovery of two "preliminary" cases of the Omicron coronavirus variant in a traveler from South Africa, where it was first detected, and his wife.
Positive samples from the two Brazilians will now be sent for further laboratory analysis for confirmation, the Anvisa regulator says in a statement.
If confirmed, they would be the first Omicron cases in Latin America. — AFP
November 29, 2021
The 13 reported cases of Covid-19 at the Portuguese football club Belenenses, whose league match against Benfica was called off at the weekend when their team was reduced to just six players, are probably linked to the Omicron variant, Portugal's national health institute announced Monday.
If confirmed, the cases would be the first in Portugal linked to the new coronavirus strain.
The health institute added that one of Belenenses players had recently travelled in South Africa, where the Omicron variant was first identified.
Dozens of nations from Europe to Asia have suspended travel from South Africa and its neighbours since South African scientists flagged Omicron on November 25.
The World Health Organization has labelled Omicron a variant of concern, saying it poses a "very high" risk globally, while scientists are still assessing its virulence. -- AFP
November 29, 2021
Japan will reinstate tough border measures, barring all new foreign arrivals over the Omicron Covid variant, Prime Minister Fumio Kishida announces Monday, just weeks after a softening of strict entry rules.
"We will ban the (new) entry of foreigners from around the world starting from November 30th," Kishida tells reporters.
Japan's borders have been almost entirely shut to new overseas visitors for most of the pandemic, with even foreign residents at one point unable to enter the country. — AFP
November 29, 2021
Britain's government on Sunday defends the pace and scale of its response to the new Omicron strain of Covid-19 as officials reported a third case of the emerging variant, and warned of more to come.
Health Secretary Sajid Javid says mandatory mask-wearing would return to shops and public transport in England on Tuesday, but told families to plan for Christmas "as normal", despite new rules to combat Omicron.
Also effective Tuesday, the government's website is instructing all passengers entering the UK to take a PCR test for Covid-19 two days after their arrival, and to self-isolate until the receive a negative result. — AFP
November 28, 2021
Health officials said Sunday they had detected the Covid Omicron strain in Australia for the first time in two passengers who were tested after flying into Sydney from southern Africa.
The eastern state of New South Wales' health authority said it had conducted urgent genomic testing and confirmed the new strain was present in the two people who landed in Sydney on Saturday.
Both passengers came from southern Africa and arrived in Australia on a Qatar Airways flight via Doha, NSW Health said in a statement.
They tested positive for Covid shortly after arriving, leading to an urgent analysis for possible infection by the heavily mutated Omicron strain. — AFP
November 28, 2021
The US praised South Africa Saturday for quickly identifying the new COVID strain called Omicron and sharing this information with the world — a barely veiled slap at China's handling of the original outbreak of the novel coronavirus.
Secretary of State Antony Blinken spoke with South Africa's international relations and cooperation minister, Naledi Pandor, and they discussed cooperation on vaccinating people in Africa against COVID-19, the State Department said.
"Secretary Blinken specifically praised South Africa's scientists for the quick identification of the Omicron variant and South Africa's government for its transparency in sharing this information, which should serve as a model for the world," the statement said.
First under Donald Trump and now under President Joe Biden, the United States has repeatedly criticized China as not being forthcoming on the origins of the coronavirus, which was first detected in December 2019 in the Chinese city of Wuhan before spreading around the world. It has now killed nearly 5.2 million people. — AFP
November 27, 2021
Australia bans flights from nine southern African countries on Saturday, tightening its borders to prevent the entry of the new Covid-19 Omicron variant.
Non-Australians who visited South Africa, Zimbabwe and several other nations in the past fortnight will also be barred from Australia, Heath Minister Greg Hunt says.
Citizens and residents travelling from the listed countries will have to quarantine for 14 days. — AFP
November 27, 2021
The EU health agency warns that the Omicron variant poses a "high to very high" risk to Europe,
The European Centre for Disease Prevention and Control (ECDC) notes in a threat assessment report that there was still "considerable uncertainty related to the transmissibility, vaccine effectiveness, risk for reinfections and other properties of the Omicron variant."
However, the overall risk that Omicron posed to the European Union and European Economic Area (Iceland, Liechtenstein and Norway) was "high to very high." — AFP
Follow this page for updates on the new COVID-19 variant, dubbed Omicron and originally detected in South Africa. Photo courtesy of the The STAR/Miguel de Guzman