Food and food security
+ Follow Story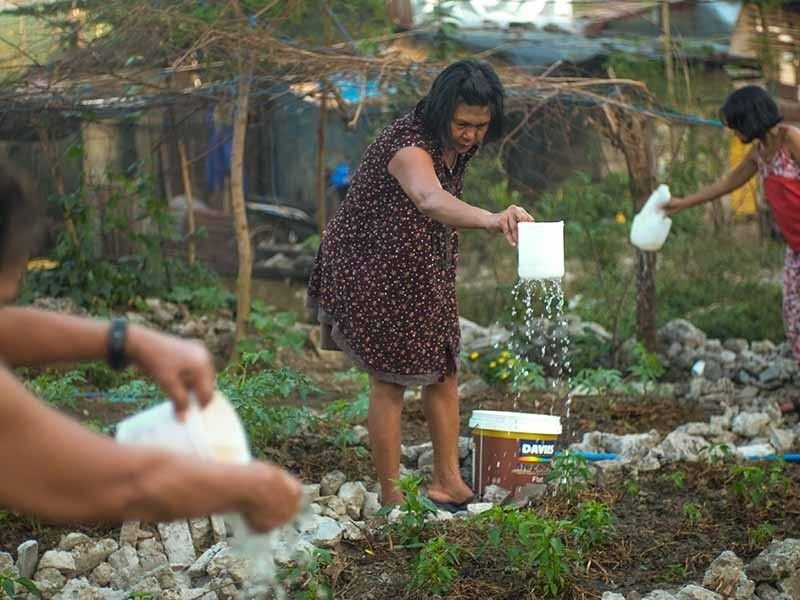 August 23, 2021
Rice farmer Donald Amokaha spends his days weeding a temporary plot outside the city of Makurdi, on the fringes of the Benue river in Nigeria's agricultural heartland.
Two hours drive away into the countryside, Amokaha has a swathe of prime farmland, but it lies abandoned. Fear of attacks forced him to leave earlier this year.
"I usually cultivate rice, millet and sesame seeds on 100 hectares of land in Guma... but this year, I ran," Amokaha told AFP. "I ploughed 40 hectares but was unable to plant."
Amokaha is only one of a growing number of farmers who are fleeing violence in Nigeria's crop-growing Middle Belt.
The agricultural heartland, like Nigeria's northwestern states, is in the grip of years-long tit-for-tat violence between nomadic herders and farmers — a feud that has sharpened as climate change intensifies competition for water and land.
While insecurity is rooted in that herder-farmer conflict, the crisis in northwest Nigeria has spiralled into broader criminality with mass abductions for ransom, cattle theft and banditry.
The rural exodus is a key factor in driving up the cost of food in Africa's most populous country, hitting its tens of millions of poor. — AFP
August 2, 2021
The government should focus on empowering communities towards providing their nutritional needs and not on promoting Golden Rice, a genetically modified rice meant to address Vitamin A Deficency, NGO Southeast Asia Regional Initiatives for Community Empowerment (SEARICE) says in a release.
SEARICE says the Department of Agriculture's decision to allow the commercialization of Golden Rice was done without proper public constultation. It also says the supposed benefits of the beta carotene in the rice are marginal.
"Before it reaches the table only a marginal concentration of beta-carotene is retained in the grain after milling, storage, washing and cooking. Additionally, for the beta-carotene to be absorbed by the body, as it is fat-soluble, it is dependent on the availability of a whole range food sources to targeted populations experiencing chronic nutrition insecurity," the group says.
It says it would be better to reform food systems to allow communities to plant a variety of crops that will help them address their nutritional needs instead of focusing on one crop.
"Golden Rice is yet another hit-or-miss relying on the benevolent innocence of its proponents. It fails to recognize and intentionally avoids upsetting political and social structures that are the very reasons why food, nutrition and livelihood insecurity persist with the historically neglected agricultural sector and rural communities. We have to redirect state resources to their needs, tackle agrarian reform and create spaces for sustainability and community empowerment," Cid Ryan Manalo, SEARICE program manager for policy, says in the release.
July 15, 2021
Travelers arriving in Cuba can now bring in food, medicine and other essentials without paying customs, the government said Wednesday in a concession to angry and unprecedented street protests.
Prime Minister Manuel Marrero said there would be no limit placed on these goods coming in and the change will be in effect until the end of the year.
Cubans took to the streets in droves on Sunday in an explosion of anger over economic hardship marked by shortages of food, electricity and other essentials.
One of the protesters' demands was for people arriving in Cuba to be able to bring in food, medicine and personal hygiene items from abroad without paying customs duties. — AFP
July 9, 2021
World hunger rose steeply in 2020, with six times more people living in "famine-like conditions" than in 2019, rights group Oxfam said Friday.
The coronavirus pandemic has exacerbated existing crises sparked by conflict and climate change — the "three lethal Cs" — according to the group.
"Since the COVID-19 pandemic began, vulnerable communities around the world have been sending a clear, urgent and repeated message: 'Hunger may kill us before coronavirus'. Today, deaths from hunger are outpacing the virus," it said in a statement.
Oxfam calculates that 11 people a minute are likely dying from acute hunger, compared to seven people a minute from Covid-19.
The group identified places including Yemen, the Central African Republic, Afghanistan, South Sudan, Venezuela and Syria as countries where existing food crises had been worsened by the onset of the pandemic and its economic consequences.
"Mass unemployment and severely disrupted food production have led to a 40 percent rise in global food prices, the largest increase in more than a decade," Oxfam said. — AFP
July 7, 2021
North Korea is facing a food shortage of around 860,000 tons this year, the UN's Food and Agricultural Organization forecast, warning the country could experience a "harsh lean period" as early as next month.
The impoverished country, which is under multiple sets of international sanctions over its nuclear weapons and ballistic missile programs, has long struggled to feed itself, suffering chronic food shortages.
Last year, the coronavirus pandemic and a series of summer storms and floods added yet more pressure on the flagging economy, and Pyongyang admitted last month it was tackling a "current food crisis".
North Korea is projected to produce a "near-average level" of 5.6 million tons of grain this year, according to the FAO report, which had a reference date of Monday.
That is around 1.1 million tons short of the amount needed to feed its entire population, the report added, and with "commercial imports officially planned at 205,000 tons", North Korea will likely face a food shortage of around 860,000 tons. — AFP
Follow this thread for issues surrounding food and food security. Hunger and malnutrition.
"Hunger and malnutrition are pervasive problems that affect millions of people in the world today, especially in developing countries," the Food and Agriculture Organization says on its website.
The global population is seen to rise to around 7 billion-9.2 billion, which will mean a 60-percent increas in demand for food production, FAO also says.
As things stand, around 842 million are suffering from chronic hunger.
Photo: Women water their community garden as early as 6 a.m. on March 10, 2021. Geela Garcia for Philstar.com