Food and food security
September 18, 2023 | 12:46pm
+ Follow Story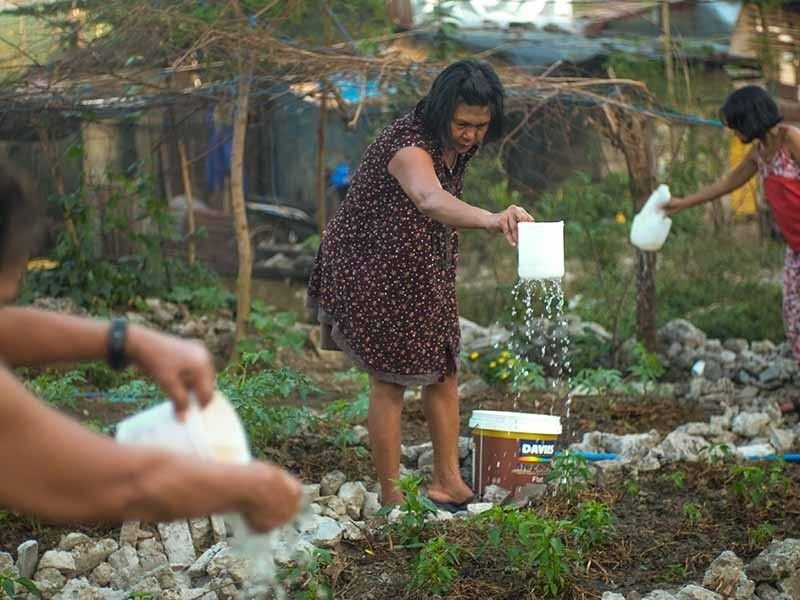 September 18, 2023
Around 50 beneficiaries of Walang Gutom 2027: Food Stamp program of the Department of Social Welfare and Development gather in Tondo, Manila on Monday to replenish their electronic benefits transfer card for the month of September.
Around 3,000 low-income families are listed among the pilot beneficiaries of the program. — PTV
June 14, 2023
Hundreds of thousands of locusts have descended on crops in northern Afghanistan, under the helpless gaze of farmers and their families already stalked by famine.
In the village of Kandali in northern Balkh, one of eight affected provinces in the country's breadbasket, a staggering swarm of grey insects has amassed on a fallow wheat field.
After feasting on the harvest they laid eggs to hatch anew next spring, continuing a cycle of destruction in a nation where nine in 10 families already struggle to afford food, according to the UN.
"They eat everything that is green: wheat, peas, sesame," Baz Mohammad, the representative of Kandali village, told AFP. — AFP
April 25, 2023
Hundreds of thousands of people stream in each month to the Daily Bread Food Bank in Toronto, its chief executive says, as galloping inflation continues to squeeze Canadians' grocery budgets.
"We are absolutely in a food crisis in this country and certainly in the city of Toronto," Neil Hetherington said in a recent AFP interview.
His organization saw the number of people using its services double during the Covid-19 pandemic to an average of 120,000 per month, which continued to rise to a record 270,000 in March.
Of the newcomers to the 128 food banks across the Toronto area affiliated with Daily Bread, many have full-time jobs but still can't seem to make ends meet, Hetherington said as volunteers sorted through donations at its depot in a suburb of Toronto.
Although overall inflation has cooled to 4.3 percent in March from a peak of 8.1 percent last June, food inflation remains stubbornly high at around 10 percent year over year.
Hetherington noted that accommodations -- both rentals and homes for sales -- are also out of reach of many Canadians after a jump in real estate prices last year, compounding cost-of-living woes. — AFP
April 7, 2023
Nearly a million young children in Africa's Sahel region will face severe acute malnutrition this year amid high food prices, conflict and climate change, UNICEF warned Friday.
"An estimated 970,000 children under 5 from West Africa's three central Sahel countries (Burkina Faso, Mali and Niger) will face severe wasting this year", the UN children's agency said in a statement.
The three countries are poor, landlocked and fighting jihadist insurgencies.
Niger is expected to face the highest burden, with 430,000 children estimated to be affected, a 14-percent decrease on the 2022 total thanks to government efforts.
In Mali, 367,000 children are forecast to face severe wasting, up more than 18 percent from last year.— AFP
March 20, 2023
The House Committee on Agriculture and Food will resume on Tuesday its inquiry into the alleged hoarding of agriculture products, seen to have induced the skyrocketing of prices of onion and other farm products, House Speaker Martin Romualdez said in a statement on Sunday.
Romualdez promised to jail anyone who will lie before the panel, chaired by Quezon 1st District Rep. Mark Enverga.
Lawmakers are working to unmask the unscrupulous financiers and traders behind the onion and vegetable cartel.
They cited in contempt and detained three officials of Argo International Forwarders Inc. for refusing to cooperate with the investigation. — Philippine News Agency
February 28, 2023
Shoppers inspect vegetables at a huge market in Sale, near the Moroccan capital Rabat, but exploding prices mean they are keeping their eye on what they spend ahead of Ramadan.
"Everything's more expensive," said Khadija El Asri, a resident of the down-at-heel neighbourhood of Sidi Moussa.
"These last three weeks, I've bought less vegetables and meat than usual."
Dozens of handcarts and boxes of produce line the market street, where the buzz of mopeds mixes with the sound of heated negotiations between struggling shoppers and squeezed merchants.
Inflation is adding extra pressure just as Morocco prepares for Ramadan, the Islamic fasting month which starts in late March. Night-time feasting means consumption tends to increase during the holy month. -- AFP
February 28, 2023
German chemicals giant Bayer said Tuesday it quadrupled its net profit in 2022, in part thanks to higher prices and strong demand for its glyphosate-based weedkillers.
Net profit climbed to 4.15 billion euros ($4.3 billion), up from 1.0 billion a year earlier, the Leverkusen-based group said in a statement.
Sales rose by 8.7 percent to 50.7 billion euros, in line with analyst expectations.
"2022 was a very successful year for Bayer despite the challenging environment," said outgoing CEO Werner Baumann.
The results were boosted by record sales in the company's agricultural division, up more than 15 percent year-on-year to 25 billion euros.
Bayer said this was "in particular thanks to higher prices" for herbicides across all regions, at a time when "supply for glyphosate-based products was tight". -- AFP
February 8, 2023
One in three children worldwide does not have access to clean drinking water while at school, impacting their health and ability to learn, the United Nations said Wednesday.
"Globally, almost one in three schools has no drinking water from an improved source," the UN cultural agency UNESCO said in a new report.
"One in three schools worldwide has no basic sanitation," meaning a toilet and sewage system, the agency found, while "almost half of schools do not have handwashing facilities with water and soap".
Clean drinking water and handwashing facilities are key to protecting children against the likes of Covid-19, parasites, respiratory illnesses and diarrhea, said school health and nutrition expert Emilie Sidaner, who oversaw the report.
Schools without clean drinking water cannot prepare meals for students, contributing to child malnutrition, she told AFP. -- AFP
January 4, 2023
Public anger has been growing for months in Egypt over a severe dollar crunch and soaring food prices. But for many a money-saving tip from a state body has been the last straw.
As families have struggled to purchase household staples, an Egyptian government agency praised an alternative, cheap protein source -- "chicken feet, good for the body and the budget".
The advice drew widespread scorn on social media while lawmaker Karim al-Sadat slammed it as "divorced from the reality of the crisis".
The anger reflects the hardships of many in the Arab world's most populous nation, which recently had to ask for a $3 billion loan programme from the International Monetary Fund.
"The bread I used to buy for one Egyptian pound now costs three," said Rehab, 34, at a Cairo bakery, asking not to be named in full.
"My husband makes 6,000 pounds ($242) a month, which used to last us all month but now runs out in 10 days."
In a country heavily reliant on food imports, prices have also shot up for staples such as cooking oil and legumes, putting the financial squeeze on many of Egypt's 104 million people. -- AFP
November 27, 2022
BPO Industry Employees' Network distributed pandesal in Cubao, Quezon City while gathering signatures for a petition to President Ferdinand "Bongbong" Marcos Jr. to act to raise workers' wages and lower the prices of basic goods.
Unions and workers'organizations also staged a motorcade from Monumento in Caloocan to Balintawak market in Quezon City to hold a short program and also collect signatures.
The parade of motorcycles then headed to the Quezon Memorial Circle to again hold a short program and to reiterate their calls ahead of Bonifacio Day on November 30, when bigger protests are planned.
September 13, 2022
There's no crunch or crackle, but crickets are on the menu at one Bangkok pop-up serving fusion bug burgers, demonstrating the latest way to incorporate the protein-rich meat into food -- direct from Thailand's farms.
Already catching headlines as a meat alternative, the edible insect market is expected to grow into a billion-dollar global industry in the coming years with many adopting creepy-crawlies into their diets as a result of climate damage.
Thailand's Bounce Burger is the newest cricket kid on the block with its cricket-beef burgers, sausages, cricket balls and even power bars and cookies.
"Crickets don't have to be on street vendor's stalls that are served only with soy sauce," said Poopipat Thiapairat, co-owner of Bounce Burger Restaurant.
"They can be burgers, bakery, soft cookies or even paprika seasoning used to flavour french fries -- these are all possible." -- AFP
August 31, 2022
Nearly 150 cats bound for slaughterhouses have been rescued by police in eastern China, an international animal welfare organization said.
The animals were crammed into rusty cages when they were found by police in the eastern city of Jinan in Shandong province, Humane Society International (HSI) said in a statement Tuesday.
A gang placed sparrows in cages as bait and used a remote control to shut the traps as soon as each cat entered, an activist with local animal rights group VShine said.
"It was shocking to see the state they were in, many of them emaciated and crying out," an activist, who only offered their last name Huang, said in a statement to HSI.
"Our discovery of dozens of live sparrows used as bait to lure the cats was also a big shock."
Most of the rescued felines are believed to have been household pets and have been sent to local animal shelters, the statement added. — AFP
August 24, 2022
China's autumn harvest is under "severe threat" from high temperatures and drought, authorities have warned, urging action to protect crops in the face of the country's hottest summer on record.
The world's second-largest economy has been hit by record temperatures, flash floods and droughts this summer -- phenomena that scientists have warned are becoming more frequent and intense due to climate change.
Southern China in particular has recorded its longest sustained period of high temperatures and sparse rain since records began more than 60 years ago, the agriculture ministry said.
Four government departments issued a notice on Tuesday urging the conservation of "every unit of water" to protect crops.
"The rapid development of drought superimposed with high temperatures and heat damage has caused a severe threat to autumn crop production," the statement said.
-- AFP
August 10, 2022
Rainwater everywhere on the planet is unsafe to drink due to levels of toxic chemicals known as PFAS that exceed the latest guidelines, according to a new study by Stockholm University scientists.
Commonly known as 'forever chemicals' because they disintegrate extremely slowly, PFAS (per- and polyfluoroalkyl substances) were initially found in packaging, shampoo or makeup but have spread to our entire environment, including water and air.
"There is nowhere on Earth where the rain would be safe to drink, according to the measurements that we have taken," Ian Cousins, a professor at the university and the lead author of the study published in Environmental Science and Technology, told AFP.
A compilation of the data since 2010 that his team studied showed that "even in Antarctica or the Tibetan plateau, the levels in the rainwater are above the drinking water guidelines that the US EPA (Environmental Protection Agency) proposed", he said. -- AFP
August 8, 2022
In the dust bowl of Kenya's drought-stricken north, the people of Purapul are edging closer to starvation, surviving on nothing but wild berries as their children waste away from hunger.
Loka Metir knows the bitter fruits make her children sick, further weakening their frail condition. But it hasn't rained properly in three years, and there's simply nothing else to eat.
"This is the only way to survive," the mother of five told AFP in Purapul, a scattering of thatch huts a two-day walk from the nearest town in the bone-dry Marsabit county.
At least 18 million people across the Horn of Africa are facing severe hunger as the worst drought in 40 years devastates the region.
Over four million are in Kenya's often-forgotten north, a number that has climbed steadily this year, as the crisis struggles to attract national attention in the midst of a hard-fought — and expensive — election campaign.
Nearly 950,000 children under five years and 134,000 pregnant and breastfeeding women in Kenya's remote arid regions are acutely malnourished and need aid, according to government figures from June.
Hunger in the three hardest-hit counties, including Marsabit, borders on famine. — AFP
July 24, 2022
As the war in Ukraine pushes up wheat prices and a weaker peso raises the cost of imported edible oil, many Philippine bakers are shrinking the size of a popular breakfast roll to cope with higher inflation.
The slightly sweet and pillowy soft "pandesal", which Filipinos often dunk in coffee or stuff with cheese, used to weigh 35 grams at Matimyas Bakery, a breadmaker in suburban Manila.
But as the cost of local and imported ingredients soared in recent months, co-owner Jam Mauleon gradually reduced the size of the roll -- known as the "poor man's bread" because it is cheap -- to around 25 grams to avoid raising the 2.50 peso (about $0.04) price.
She feared that even a slight increase would send cash-strapped customers in her neighbourhood to a rival bakery five blocks away.
"We had to reduce the serving size to survive," Mauleon told AFP, as children, workers and retirees arrived early to buy rolls baked in a brick oven that morning. -- AFP
June 19, 2022
Looking at the sacks of wheat stacked in Imad Abdullah's small home, no one would guess that Sudan's food security is hanging by a thread after an October coup and Russia's invasion of Ukraine.
But the wheat farmer fears that the grain will soon rot, after his country's cash-strapped government backed out of promises to purchase it at incentivising prices.
"It has been two months since I harvested the wheat and I can't store it in the house anymore," said Abdullah, pointing to the large sacks filled with ripened wheat crammed into his small house in Al-Laota, in Gezira state, south of Sudan's capital.
He is one of thousands of farmers who have cultivated the grain as part of Sudan's largest agricultural scheme, named Al-Gezira.
When Abdullah harvested in March, he was promised 43,000 Sudanese pounds ($75) per sack — a price set by the government to encourage farmers to cultivate the grain.
"We used to sell the government our entire harvest. We never had to bring it home. We don't even have adequate storage places."
Sudanese officials have however declared in recent weeks that they will not be able to buy this season's entire harvest due to lack of funds.
Impoverished Sudan has for years been grappling with a grinding economic crisis, which deepened after last year's military coup prompted Western governments to cut crucial aid.
The October coup derailed a fragile transition put in place following the 2019 ouster of president Omar al-Bashir.
Over 18 million people, nearly half the Sudanese population, are expected to be pushed into extreme hunger by September, according to United Nations estimates.
Russia's invasion of Ukraine, both key grain suppliers, threatens to compound Sudan's existing food security troubles.
Wheat imports from both nations make up between 70 and 80 percent of Sudan's local market needs, according to a 2021 UN report — AFP
June 14, 2022
The UN's World Food Programme on Tuesday appealed for $426 million to stave off famine in South Sudan, where conflict and floods have placed millions at risk.
"We are already in a crisis, but we need to restore food assistance... to prevent people from falling into starvation and famine. To do so, we urgently require $426 million for the next six months," WFP's programme officer for South Sudan, Adeyinka Badejo, told reporters.
"South Sudan is facing its hungriest year since independence," Badejo warned from the capital Juba.
The reasons, she said, were accumulative -- "continuing sub-national conflict, climate crisis of three consecutive years of floods, and severe economic shocks exacerbated by the Covid-19 pandemic, and now the war in Ukraine."
The youngest country in the world, South Sudan has experienced chronic instability since becoming independent from Sudan in 2011. — AFP
December 23, 2021
Rice, black beans, oil, flour, pasta and sugar. It hardly sounds like a feast but without this 12-kilogram food parcel donation, Rita Maria De Souza would not have had enough to eat at Christmas.
In Brazil, hunger is affecting ever more families and NGO donations are vital with the holiday season fast approaching.
Almost a quarter of Brazilians suffer from food insecurity.
"It's not much but I will be able to share it with my family," De Souza, 59, told AFP from Duque de Caxias, a poor neighborhood in the north of Rio de Janeiro.
Widowed three years ago, she lives alone in a small brick house in the Morro do Garibaldi favela.
De Souza walks with a limp due to diabetes and struggles to eat an adequate diet.
"I need healthy food but it's not possible with what I earn," she said.
Unemployed for the last six years, her only income is a monthly 100 reais ($17) government allowance. — AFP
December 20, 2021
Nearly one in four people in Somalia are facing acute hunger as drought ravages the conflict-wracked country, following three seasons of poor rains and a fourth on the way, the United Nations warned Monday.
The crisis is expected to worsen, leaving 4.6 million people in desperate need of food aid by May 2022, the UN said, adding that the country had not seen a third consecutive failed rainy season in over 30 years.
Shortages of food, water and land for grazing have already forced 169,000 people to flee their homes, with that number projected to hit 1.4 million within six months, the UN said in a statement.
In recent years, natural disasters — not conflict — have been the main driver of displacement in Somalia, a war-torn nation that ranks among the world's most vulnerable to climate change. — AFP
October 7, 2021
Overfishing and harmful fishing practices are threatening small-scale fishers, prompting them to call on government to enforce policies for sustainable fishing.
"(We had plenty of catch) before. But now, not anymore because we see fishing boats using superlight even closer to the shore. This drives us, small fisherfolk, farther into the deeper part of the ocean. Meanwhile, the commercial fishers using superlight are able to catch fish inside our municipal waters," environmental group Oceana Philippines quotes Eric Sarcauga, a sardine fisher from Dinagat Islands, as saying.
As sardine stocks continue to deteriorate due to overfishing and harmful fishing practices, more fisherfolk have joined the call to the DA-BFAR to immediately implement the National Sardines Management Plan and ensure its adoption in the 12 Fisheries Management Areas of the country, Oceana said in a press release.
August 23, 2021
Rice farmer Donald Amokaha spends his days weeding a temporary plot outside the city of Makurdi, on the fringes of the Benue river in Nigeria's agricultural heartland.
Two hours drive away into the countryside, Amokaha has a swathe of prime farmland, but it lies abandoned. Fear of attacks forced him to leave earlier this year.
"I usually cultivate rice, millet and sesame seeds on 100 hectares of land in Guma... but this year, I ran," Amokaha told AFP. "I ploughed 40 hectares but was unable to plant."
Amokaha is only one of a growing number of farmers who are fleeing violence in Nigeria's crop-growing Middle Belt.
The agricultural heartland, like Nigeria's northwestern states, is in the grip of years-long tit-for-tat violence between nomadic herders and farmers — a feud that has sharpened as climate change intensifies competition for water and land.
While insecurity is rooted in that herder-farmer conflict, the crisis in northwest Nigeria has spiralled into broader criminality with mass abductions for ransom, cattle theft and banditry.
The rural exodus is a key factor in driving up the cost of food in Africa's most populous country, hitting its tens of millions of poor. — AFP
August 2, 2021
The government should focus on empowering communities towards providing their nutritional needs and not on promoting Golden Rice, a genetically modified rice meant to address Vitamin A Deficency, NGO Southeast Asia Regional Initiatives for Community Empowerment (SEARICE) says in a release.
SEARICE says the Department of Agriculture's decision to allow the commercialization of Golden Rice was done without proper public constultation. It also says the supposed benefits of the beta carotene in the rice are marginal.
"Before it reaches the table only a marginal concentration of beta-carotene is retained in the grain after milling, storage, washing and cooking. Additionally, for the beta-carotene to be absorbed by the body, as it is fat-soluble, it is dependent on the availability of a whole range food sources to targeted populations experiencing chronic nutrition insecurity," the group says.
It says it would be better to reform food systems to allow communities to plant a variety of crops that will help them address their nutritional needs instead of focusing on one crop.
"Golden Rice is yet another hit-or-miss relying on the benevolent innocence of its proponents. It fails to recognize and intentionally avoids upsetting political and social structures that are the very reasons why food, nutrition and livelihood insecurity persist with the historically neglected agricultural sector and rural communities. We have to redirect state resources to their needs, tackle agrarian reform and create spaces for sustainability and community empowerment," Cid Ryan Manalo, SEARICE program manager for policy, says in the release.
July 15, 2021
Travelers arriving in Cuba can now bring in food, medicine and other essentials without paying customs, the government said Wednesday in a concession to angry and unprecedented street protests.
Prime Minister Manuel Marrero said there would be no limit placed on these goods coming in and the change will be in effect until the end of the year.
Cubans took to the streets in droves on Sunday in an explosion of anger over economic hardship marked by shortages of food, electricity and other essentials.
One of the protesters' demands was for people arriving in Cuba to be able to bring in food, medicine and personal hygiene items from abroad without paying customs duties. — AFP
July 9, 2021
World hunger rose steeply in 2020, with six times more people living in "famine-like conditions" than in 2019, rights group Oxfam said Friday.
The coronavirus pandemic has exacerbated existing crises sparked by conflict and climate change — the "three lethal Cs" — according to the group.
"Since the COVID-19 pandemic began, vulnerable communities around the world have been sending a clear, urgent and repeated message: 'Hunger may kill us before coronavirus'. Today, deaths from hunger are outpacing the virus," it said in a statement.
Oxfam calculates that 11 people a minute are likely dying from acute hunger, compared to seven people a minute from Covid-19.
The group identified places including Yemen, the Central African Republic, Afghanistan, South Sudan, Venezuela and Syria as countries where existing food crises had been worsened by the onset of the pandemic and its economic consequences.
"Mass unemployment and severely disrupted food production have led to a 40 percent rise in global food prices, the largest increase in more than a decade," Oxfam said. — AFP
July 7, 2021
North Korea is facing a food shortage of around 860,000 tons this year, the UN's Food and Agricultural Organization forecast, warning the country could experience a "harsh lean period" as early as next month.
The impoverished country, which is under multiple sets of international sanctions over its nuclear weapons and ballistic missile programs, has long struggled to feed itself, suffering chronic food shortages.
Last year, the coronavirus pandemic and a series of summer storms and floods added yet more pressure on the flagging economy, and Pyongyang admitted last month it was tackling a "current food crisis".
North Korea is projected to produce a "near-average level" of 5.6 million tons of grain this year, according to the FAO report, which had a reference date of Monday.
That is around 1.1 million tons short of the amount needed to feed its entire population, the report added, and with "commercial imports officially planned at 205,000 tons", North Korea will likely face a food shortage of around 860,000 tons. — AFP
Follow this thread for issues surrounding food and food security. Hunger and malnutrition.
"Hunger and malnutrition are pervasive problems that affect millions of people in the world today, especially in developing countries," the Food and Agriculture Organization says on its website.
The global population is seen to rise to around 7 billion-9.2 billion, which will mean a 60-percent increas in demand for food production, FAO also says.
As things stand, around 842 million are suffering from chronic hunger.
Photo: Women water their community garden as early as 6 a.m. on March 10, 2021. Geela Garcia for Philstar.com