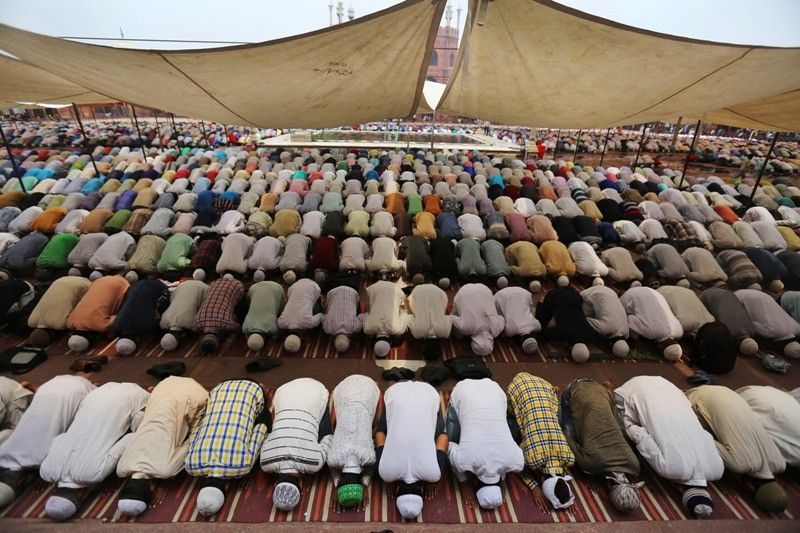 LATEST UPDATE: May 23, 2020 - 7:07pm
+ Follow Story
May 23, 2020
Indonesians are turning to smugglers and bogus travel documents to get around bans on an annual end-of-Ramadan exodus that could send coronavirus cases skyrocketing in the world's biggest Muslim majority nation.
Thousands are using any trick in the book to reach their hometowns in time for celebrations at the end of Islam's holy fasting month this weekend, a festival known as Eid al-Fitr. — AFP
April 24, 2020
Muslims around the world begin marking Ramadan under coronavirus lockdown on Friday with unprecedented bans on family gatherings and mass prayers, while a pushback in some countries has sparked fears of a surge in infections.
This year, the holy daytime fasting month will be a sombre affair for many across Asia, the Middle East and North Africa.
Widespread rules have been imposed banning praying in mosques or meeting relatives and friends for large "iftar" meals at dusk -- a centrepiece of the month-long fast. — AFP
June 5, 2019
The Army's 6th Infantry Division hosts an outdoor ceremony for more than a thousand worshipers in its parade ground in Camp Siongco in Datu Odin Sinsuat, Maguindanao facilitated by officers, among them Col. Markton Abo of the 38thInfantry Battalion, an ethnic Maguindanaon Muslim.
Major Gen. Cirilito Sobejana, commander of 6th ID, says he is thankful to local government units in the provinces of Sultan Kudarat and North Cotabato and in Maguindanao and Lanao del Sur, in Region 12 and BARMM, respectively, for cooperating with their Eid'l Fit'r security efforts.
The Eid'l Fit'r, one of two most important religious holidays in Islam, marks the culmination of the month-long Ramadan fasting season, lasting for one lunar cycle, or from 28 to 29 days. — The STAR/John Unson
May 28, 2019
About 18,000 bottles of bootleg alcohol were crushed by a steamroller in Muslim-majority Indonesia's capital as police warned tipplers off booze during the Ramadan fasting month.
Nearly 90 percent of Indonesia's 260 million people are Muslims who are advised to abstain from eating, drinking, smoking and sex between sunrise and sunset during Ramadan. — AFP
May 6, 2019
In a statement sent to media, Philippine National Police chief Oscar Albayalde extends "greetings of peace and goodwill to all our Filipino Muslim brothers and sisters" as they usher in Ramadan.
He says the Muslim holy month is an opportune time to reinforce unity and solidarity among Muslims, Christians and other Filipinos of different faiths towards the ultimate goal of just and lasting peace not only in Mindanao but in the entire country.
"Let me emphasize that the PNP fully supports all the government's peace initiatives in Mindanao thru the newly-ratified Bangsamoro Organic Law that constituted the Bangsamoro Autonomous Region in Muslim Mindanao," he says.
"We hope that this will eventually lead to a comprehensive plan that would address the root causes of poverty in predominantly Muslim areas in Mindanao. We must put an end to violence and bloodshed so that lasting peace will prevail in Mindanao, and government can harness all its resources towards the socio-economic development of all Muslim areas."
May 6, 2019
Vice President Leni Robredo extends her greetings to the Muslim community for the start of Ramadan.
"My warmest greetings to our Muslim brothers and sisters at the start of the holy month of Ramadan. May this time bring you closer to Allah, spiritual renewal, and peace."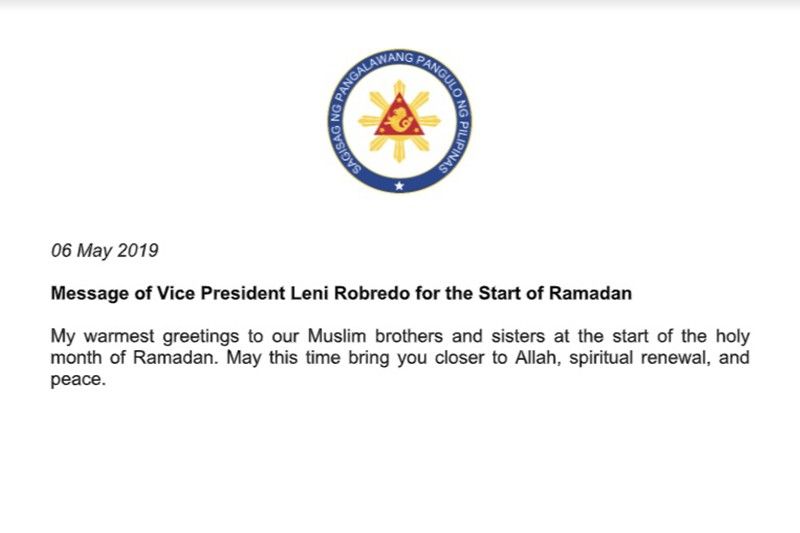 May 6, 2019
In his Ramadan message, President Duterte says his administration strives to unite all Filipinos, regardless of religion, cultural tradition and political belief.
"I join the Muslim Filipino community here in the Philippines and across the globe in celebrating their faith in Allah."
Monday marks the start of the holy month of Ramadan when Muslims fast from dawn until dusk. It is believed to be the month when the prophet Mohammed received from God the first verses of the Quran.
READ: President Duterte's message for the start of Ramadan @PhilippineStar @PhilstarNews pic.twitter.com/YkWUD7esXR

— Alexis B. Romero (@alexisbromero) May 6, 2019
Here are major updates on the celebration of Ramadan this year.