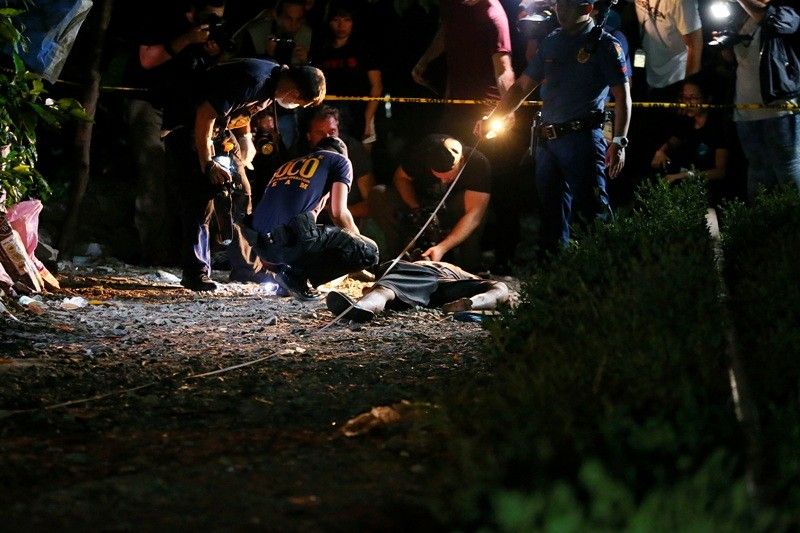 LATEST UPDATE: December 6, 2018 - 8:37am
LOCATION:
PHILIPPINES
UNITED STATES
+ Follow Story
December 6, 2018
The Commission on Human Rights expresses dismay over President Rodrigo Duterte's remark on implementing a harsher drug campaign.
"It is unfortunate that, as we celebrate the National Human Rights Consciousness Week and the 70th year of the Universal Declaration on Human Rights, which is founded on freedom, justice, and peace, the country is being confronted with the threat of a harsher, more violent drug campaign in the face of unresolved deaths, as well as other forms of human rights violations, allegedly linked to it," CHR spokesperson Jacqueline de Guia says.
" We urge the government to uphold the rule of law and respect human rights, as part of its sworn obligation to all Filipinos."
November 8, 2018
A new Social Weather Stations poll finds that 51 percent of Filipinos agree with the Philippine Drug Enforcement Agency's proposal for mandatory drug testing of students Grades 4 and up.
On the other hand, 36 percent disagree while 13 percent are undecided.
This yields a net agreement of +15, which SWS classifies as moderately strong.
In June this year, PDEA announced that it wants mandatory drug tests for teachers and students from Grades 4 and above. It dropped the plan a month later after a meeting with Department of Education officials, who said elementary students should not be subjected to mandatory drug testing.
DepEd chief Briones argued that drug testing should only be limited to secondary and tertiary students as mandated by the anti-illegal drugs law.
The SWS survey was conducted from Sept. 15-23, 2018 using face-to-face interviews of 1,500 adults nationwide: 600 in Balance Luzon, and 300 each in Metro Manila, Visayas, and Mindanao. The poll has sampling error margins of ±3 percent for national percentages, and ±6 percent each for Metro Manila, Balance Luzon, Visayas, and Mindanao.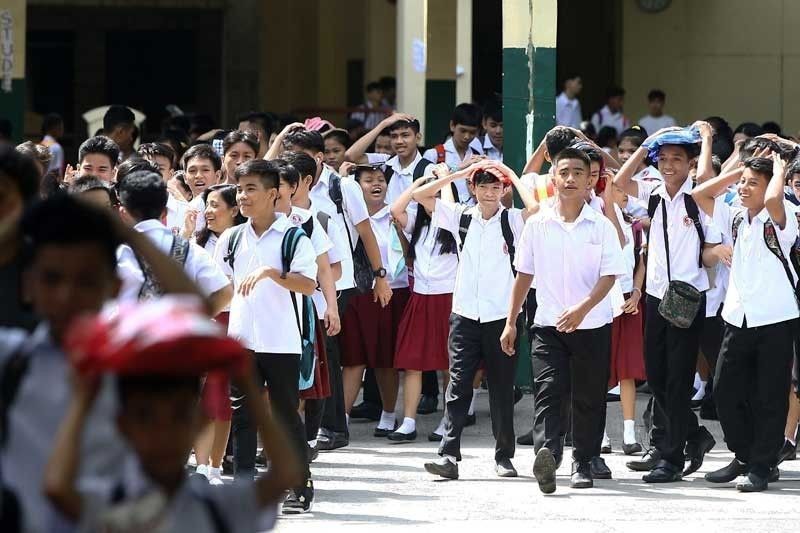 November 6, 2018
Human Rights Watch urges the Philippine government to create an independent commission which will investigate the role of police officers in the killings of drug suspects.
The human rights watchdog made the statement after Chief Superintendent Debold Dinas, chief of the Philippine National Police for the Central Visayas region, stated in an interview on Oct. 31, 2018, that some of the hitmen responsible for these killings were "most likely… retired military or police officers or there are active police officers."
He made the admission following a series of killings in Cebu City and elsewhere in the central Philippines that bore similarities to the "drug war" murders that began after President Rodrigo Duterte took office in July 2016.
"The admission by a senior police official that police officers are working as hitmen for drug syndicates is yet more evidence of Philippine government complicity in 'drug war' killings," Brad Adams, HRW's Asia director. "Given the total failure of the police to stop these abuses, it's clear that any serious investigation of the police role in the war on drugs needs full independence."
November 2, 2018
Sen. Kiko Pangilinan urges the public to remember those who have disappeared, were tortured and killed, victims of extrajudicial killings and fatalities in natural calamities as the nation prays for departed family and friends on All Souls' Day.
His message was released on Thursday, November 1.

"Let us remember them with our fervent prayers for justice that their loved ones seek, so that they may attain peace."

"Let this commemoration be also a commitment that we will carry on the task in making this world a better place for our children."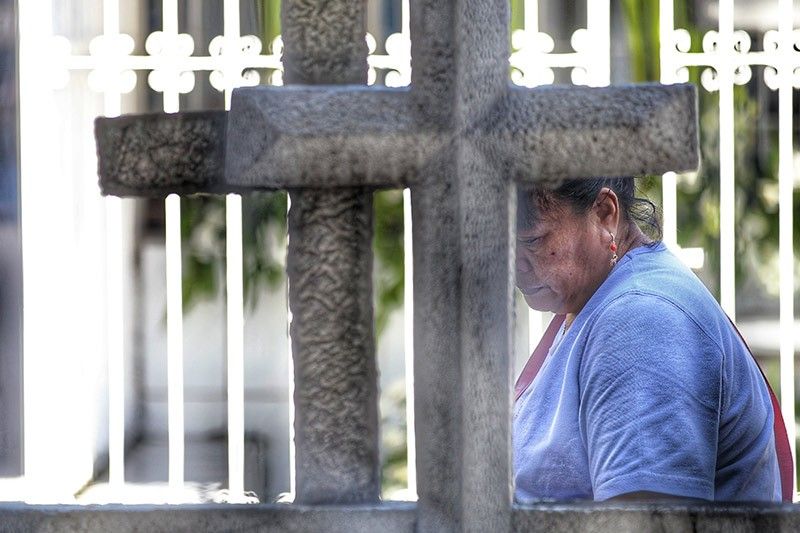 September 23, 2018
Satisfaction of Filipinos with President Rodrigo Duterte's drug war remains at very good with a net rating of +65 (78% satisfied and 13% dissatisfied), the latest SWS poll shows
This is 1 point above the very good +64 (75% satisfied, 12% dissatisfied) in March 2018. The survey was conducted from June 27-30, 2018 using face-to-face interviews of 1,200 adults nationwide.
Satisfaction with the administration's campaign against illegal drugs was at an excellent +76 when it was first surveyed in September 2016. It was highest in December 2017 at an excellent +77.
However, it has been at the +63 to +66 (very good) range since March 2017, reaching its lowest rating of +63 in September 2017.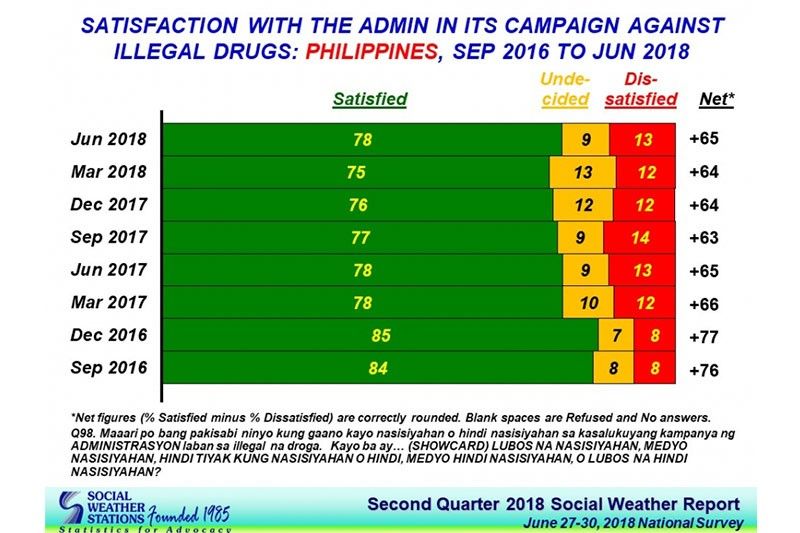 August 5, 2018
A radio report says a retired police officer included on the drug list was shot dead in Malate, Manila this afternoon.
Manila Police District spokesperson Superintendent Carlo Magno tells dzBB that retired Police Superintendent Roberto Palisoc, among the named police officers involved in illegal drugs by President Rodrigo Duterte, was dead-on-arrival after gunshots by an unknown assailant on the corner of Angel Linao and San Andres Streets in Malate.
Magno says initial reports showed that Palisoc sustained gunshot wounds on his back that caused his demise.
June 8, 2018
The Human Rights Watch calls out the Duterte government over the promotion of police officials who, it says, oversaw units implicated in extrajudicial killings linked to President Rodrigo Duterte's bloody war on drugs.
"The high-level promotions of two senior police officers who oversaw one of the drug war's bloodiest locales are a cruel affront to the families of victims. They underscore the importance of an International Criminal Court preliminary examination into the killings and the need for a parallel United Nations investigation to ensure accountability for those deaths," HRW says.
Former Caloocan City police chief Senior Superintendent Chito Bersaluna, who was sacked after the slay of teen Kian delos Santos by cops, confirmed on Tuesday that on May 9 he had been promoted to police chief of Bulacan. The previous day, Chief Superintendent Roberto Fajardo, who had been the chief of the Northern Police District, which includes Caloocan City, assumed his new role as chief of the PNP Highway Patrol Group.
"Caloocan City is part of Metro Manila's Camanava district, which many consider "ground zero" of the "drug war" in the capital. So many people have been killed there that in September 2017 then-Metro Manila police chief Oscar Albayalde sacked the entire Caloocan police force – a first. President Duterte suggested that many Caloocan officers were involved in the drug trade," HRW says.
June 1, 2018
The Human Rights Watch calls out the South Korean government over its donation of 49 Hyundai Elantras and 81 Starex vans to the Philippine National Police, saying the action neglects human rights abuses by cops, whose victims include South Korean businessman Jee Ick- joo.
READ: Bato cites killing of Jee Ick-joo, drug war probes as lowest points in his stint as PNP chief
South Korean Ambassador Han Dong-man described the donated vehicles as "a form of gratitude for the heroism of more than 7,000 Filipino soldiers during the Korean war in 1950." He added that their purpose is to "help maintain peace and order in Metro Manila."
"As a Manila resident, Ambassador Han should know better," HRW says, adding that the South Korean ambassador's comments disregards that Jee was a victim of the "Tokhang-for-ransom" scheme of uniformed men and that prosecution of his alleged killers has stalled.
"Assistance to the Philippines should benefit the anti-drug campaign's thousands of victims and their families, not those responsible for the abuses," it says.
May 30, 2018
Human Rights Watch says President Rodrigo Duterte's latest threat of summary execution of drug suspects should send a message to the International Criminal Court and the United Nations of the "dire need" for an inquiry into the killings.
"Philippine President Rodrigo Duterte has issued a fresh reminder as to why his murderous 'drug war' has earned United Nations and International Criminal Court scrutiny," it says.
Duterte remarked to detained drug suspects in Cebu province last week that if they would want to live longer they should stay in jail.
May 10, 2018
The Human Rights Watch calls out new Bureau of Corrections Director Ronald "Bato" Dela Rosa over his remarks to New Bilibid Prison jail guards this week to summarily execute imprisoned drug lords.
HRW says Dela Rosa must remember that the International Criminal Court has begun a preliminary examination into the drug war killings, and will likely consider any extension of that deadly campaign into Philippine prisons.
READ: Biggest controversies that troubled the PNP under Dela Rosa
It adds that any such killings will also likely add to growing momentum inside the United Nations for a separate inquiry.
"These developments suggest that sooner or later, Dela Rosa may be held to account for his ongoing role in the bloody campaign he continues to zealously endorse."
April 24, 2018
In a statement, the Missionary Benedictine Sisters of the Manila Priory and St. Scholastica's College condemn the continued killings linked to the government's brutal war on drug even after the change in command of the country's police force.
They also denounce the tirades hurled by President Rodrigo Duterte against international bodies and officials who have expressed concerns over these killings and who have declared their intent to investigate them.
April 24, 2018
The Human Rights Watch says fresh condemnation of President Rodrigo Duterte's drug war by the US State Department and the European Parliament shows that the government's "campaign of denial and distraction" to counter criticism against the crackdown on narcotics have failed.
It adds that the criticisms provide more support for the International Criminal Court's move in February to launch a preliminary examination into the killings "that senior Philippine government officials have incited and instigated, but refuse to acknowledge."
Reuters wins Pulitzers, the most prestigious awards in American journalism, in international reporting for its story on the methods of police killing squads in President Rodrigo Duterte's war on drugs and for feature photography documenting the Rohingya refugee crisis in Myanmar and Bangladesh.
In covering the deadly drug war in the Philippines, Reuters reporters Clare Baldwin, Andrew R.C. Marshall and Manuel Mogato "demonstrated how police in the president's 'drug war' have killed with impunity and consistently been shielded from prosecution," Reuters Editor-in-Chief Stephen J. Adler says.