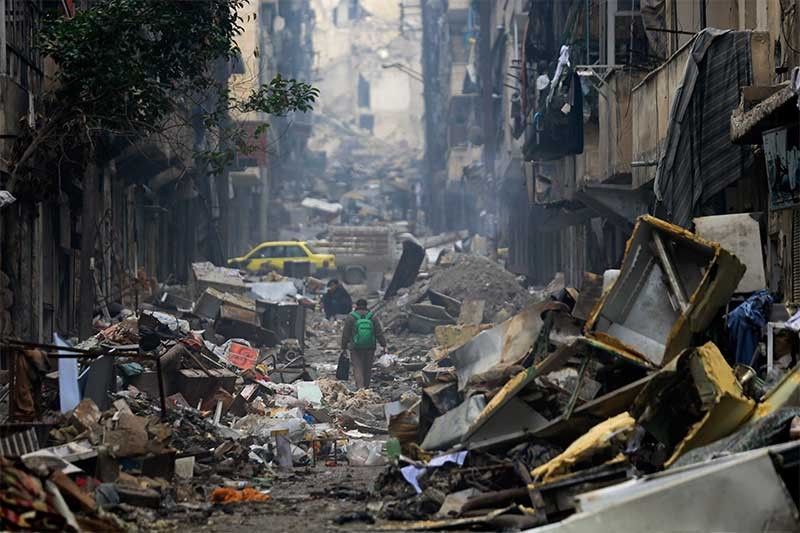 LATEST UPDATE: January 18, 2019 - 10:58am
+ Follow Story
January 18, 2019
Officials say the US-led coalition fighting the Islamic State group in Syria destroyed a command center in a mosque in the war-torn country.
The strike is another indication that IS has not been "beaten" in Syria, as US President Donald Trump claimed last month when he ordered the withdrawal of US forces from the country. — AFP
January 12, 2019
The U.S. military says it has started pulling equipment, but not troops, out of Syria as a first step in meeting President Donald Trump's demand for a complete military withdrawal.
The announcement fueled concern about how quickly the U.S. will abandon its Kurdish allies, amid contradictory statements recently by administration officials on an exit timetable. — AP
January 12, 2019
The official SANA news agency reports that Syrian air defences shot down Israeli missiles.
Most of the missiles fired by "Israeli military planes" were intercepted at around 11:00 p.m., the military source says. — AFP
January 5, 2019
A war monitor says jihadists gained ground from rebels in Syria's last major opposition bastion after four days of clashes that have killed more than 100 fighters.
Hayat Tahrir al-Sham, a jihadist-led alliance, seized more than 20 towns and villages from rival rebels in the northern province of Aleppo, the Syrian Observatory for Human Rights says. — AFP
January 3, 2019
US President Donald Trump has offered a rather stark take on the situation in war-wracked Syria, summing it up in two words -- "sand and death" -- while remaining vague about the timing of the withdrawal of US troops.
"So Syria was lost long ago. It was lost long ago. And besides that, I don't want -- we're talking about sand and death. That's what we're talking about," Trump says. — AFP
January 2, 2019
Almost eight years into Syria's devastating war, opponents of the regime are watching in dismay as President Bashar al-Assad's government looks set to secure its comeback at home and abroad.
Holed up in the last major rebel stronghold or unable to return home after fleeing abroad, they are frustrated to have been abandoned by the international community. — AFP
December 14, 2018
A war monitor says Kurdish-dominated forces backed by air strikes by a US-led coalition retook full control of a key jihadist hub in eastern Syria.
The Syrian Democratic Forces has secured Hajin, the largest settlement in what is the last pocket of territory controlled by the Islamic State group, the Syrian Observatory for Human Rights says. — AFP
December 14, 2018
The UN Security Council has approved a one-year extension of humanitarian aid deliveries across war-scarred Syria.
The move came despite reluctance from Russia, which called to amend the period to six months. — AFP
November 29, 2018
The UN Commission of Inquiry on Syria has urged the Security Council to press the Syrian government to provide information to families about the fate of those missing or detained during the seven-year war.
Following a closed-door informal meeting with council members, the commission chairman says it was crucial to push the government to give a full account after it began in May to release death notifications. — AFP
November 10, 2018
A Syrian woman liberated from captivity says Islamic State militants held her and more than two dozen other women and children in different hideouts for nearly three months.
She says they once kept them captive in a moving car for over 12 hours without knowing where they were headed.
Najwa Abu Ammar, from the southern Sweida province, says the militants didn't torture them but fed them sporadically and insulted and beat the children.
As her ordeal was about to end, Najwa Abu Ammar's 8-year-old was shot by IS militants during an operation by the Syrian military to liberate the hostages held since July. Her son Rafaat died in her arms.
His cousin Qusay, 13, was also shot and bled for five hours before he died. — AP
October 20, 2018
The Islamic State group has released six of 27 Druze hostages it seized during a deadly July attack in Syria's Sweida province in exchange for a prisoner swap and ransom, a monitor says.
"Two women and four children from the province of Sweida were released last night," Rami Abdel Rahman, director of the Syrian Observatory for Human Rights, a monitor group, says. — AFP
September 29, 2018
Syria's transport ministry says the main border crossing with Jordan had reopened to trade for the first time in three years, although there was no immediate confirmation from Amman.
"The Syrian transport ministry announces the opening of the Nasib border crossing, with trucks and transit vehicles beginning to cross the Syrian-Jordanian border," the ministry announced on its Facebook page.
Government troops retook the Syrian side of the crossing in July under a deal with rebel fighters brokered by Damascus ally Moscow. — AFP
September 14, 2018
Germany is ready to contribute to rebuilding Syria if a political solution was found for fair elections in the country, Foreign Minister Heiko Maas says.
Hours before the minister was due to meet his Russian counterpart Sergei Lavrov in Berlin, Maas appeared to answer a request made by Russian President Vladimir Putin in August for Europe to step up in reconstructing Syria. — AFP
September 8, 2018
A war monitoring group and rescue workers say at least four people have been killed in an intensifying government and Russian air campaign against the last rebel bastion in Syria.
The Britain-based Syrian Observatory for Human Rights describes the airstrikes as the "most intense" since August when government forces began targeting the southern edge of Idlib province, the rebel's last stronghold in Syria. — AP
September 8, 2018
Clashes between Kurdish forces and regime fighters in the divided northeastern city of Qamishli killed 18 combatants Saturday, the Kurdish forces and a war monitor say.
The rare flare-up in the Kurdish-majority city near the Turkish border saw 11 regime fighters and seven Kurds killed, the Kurdish security forces known as Asayesh say in a statement. — AFP
September 7, 2018
Activists and residents say warplanes have struck areas on the southern edge of the Syrian Idlib province, the rebels' last bastion, killing one and causing loud explosions and large plumes of smoke.
The airstrikes Friday come hours before presidents of Iran, Russia and Turkey meet in Tehran to discuss the war in Syria, with all eyes on a possible military offensive to retake bastion of Idlib.
Rami Abdurrahman, the head of the Britain-based Syrian Observatory for Human Rights, said a series of airstrikes struck a few villages in southwest Idlib and along the borders with the adjacent Hama province, targeting insurgent posts and killing a fighter. Abdurrahman said suspected Russian warplanes carried out the airstrikes.
Idlib province and surrounding areas are home to more than 3 million people. — AP
September 4, 2018
US President Donald Trump warns Syria against launching an attack on the country's last rebel stronghold with the help of Russia and Iran, saying the offensive could trigger a "human tragedy."
The United Nations and aid groups have warned that a full assault on Idlib could spark a humanitarian catastrophe on a scale not yet seen in Syria's seven-year-old conflict. — AFP
August 29, 2018
Israel renews its threat to attack Iranian military targets in Syria, after the two Muslim allies signed an accord on security cooperation.
"The accord concluded by (Syrian President) Bashar al-Assad and Iran constitutes a test for Israel: Our response will be loud and clear," Intelligence Minister Yisrael Katz says. — AFP
August 25, 2018
Human Rights Watch says at least 27 people are being held by the Islamic State group in southern Syria as it deplored the hostage-taking as a "war crime". — AFP
August 17, 2018
Saudi Arabia announces a $100 million contribution to a US-backed campaign to "stabilise" northeastern Syria, once a bastion of the radical Islamic State group.
The 88 million euro contribution is the biggest single cash injection yet for reconstruction efforts in areas formerly controlled by the jihadists. — AFP
August 17, 2018
Saudi Arabia says that it has contributed $100 million to northeast Syria for "stabilization projects" in areas once held by the Islamic State group and now controlled by U.S.-backed forces. — AP
August 11, 2018
Syrian air defences engaged an "enemy target" near the border with Lebanon west of Damascus overnight, state news agency SANA reports. - AFP
August 7, 2018
Macedonian police say they have arrested seven people on suspicion of terrorism for allegedly participating as fighters in the wars in Syria and Iraq.
The suspects, all Macedonian nationals aged between 23 and 41, were arrested in an overnight operation Monday to Tuesday on international warrants. They will be charged for "participation in a foreign army, police and paramilitary formations."
Under a Macedonian antiterrorism law, it is illegal to participate in any paramilitary group or armed conflicts abroad. If convicted, they face jail sentences of up to 10 years.
According to earlier Macedonian official estimates, about 130 Macedonian nationals have joined the Islamic State group and participated in wars in Syria. At least a dozen have been killed in fighting. — AP
July 25, 2018
A series of suicide bombings and attacks in southern Syria, including a suicide bomber who struck at a busy vegetable market, killed 38 people, state media report, blaming Islamic State militants for the carnage.
The attacks, the worst in recent months, were reminiscent of the horrific violence by the Islamic State group that spread mayhem across the country, already ravaged by the civil war. — AP
July 5, 2018
A Syria war-monitoring group and an opposition paramedics' organization say the Syrian government and the Russian air force have launched intense airstrikes on rebel-held areas in the southwestern province of Daraa.
The latest wave of attacks comes after a four-day calm had prevailed in the area as rebels negotiated with the Russians about how to end the violence. The airstrikes first resumed on Wednesday afternoon, after the talks collapsed. — AP
June 26, 2018
The Trump administration appears to be walking away from a pledge to enforce an arrangement to stabilize southwestern Syria as the Syrian military presses ahead with an offensive in the rebel-held area despite repeated U.S. warnings.
The offensive violates an agreement among the U.S., Russia and neighboring Jordan, whose monarch met with President Donald Trump on Monday. The nearly year-old agreement is intended to preserve the status quo in Syria's southwest, but recent public and private statements suggest the U.S. commitment is slipping. — AP
May 11, 2018
Syrian state media and a war monitor say opposition fighters and their families have left three southern suburbs of the capital Damascus, bringing the area under government control for the first time in years.
State news agency SANA says opposition fighters who decided to stay in the suburbs of Babila, Beit Sahem and Yalda will hand over the weapons and return to normal life.
The Britain-based Syrian Observatory for Human Rights said a total of 8,400 fighters and civilians left the area since May 3 and the last group left Thursday night.
SANA said police forces are getting ready to enter the area on Friday to guarantee security.
The Observatory said that Russian and Syrian police have already started entering the towns. — AP
May 11, 2018
Israel's U.N. ambassador is calling on the U.N. Security Council and the secretary-general to immediately condemn Iran's missile attack and demand that Tehran remove its military presence from Syria.
Danny Danon said in letters to the council and U.N. chief Antonio Guterres that "the international community must not stand idly by while a tyrannical regime attacks a sovereign nation and continues to threaten the very existence of a member-state of the United Nations."
Danon said "Israel is not interested in escalation, but under no circumstances will we allow Iran to establish a military presence in Syria whose purpose is to attack Israel and to deteriorate an already fragile situation in the region."
The Security Council, which is deeply divided over Syria, is highly unlikely to issue a statement and no council member has asked for a meeting on the missile attacks against Israel and Syria. Secretary-General Guterres urged "an immediate halt to all hostile acts" to avoid "a new conflagration" in the Middle East. — AP
May 10, 2018
The Russian military says Israel fired more than 70 missiles at Iranian facilities in Syria and that Syrian air defenses shot down more than half of them.
Israel says it struck dozens of Iranian targets overnight in response to a rocket barrage on Israeli positions in the Golan Heights. It was the biggest Israeli strike in Syria since the 1973 war.
The Russian Defense Ministry said in a statement that 28 Israeli F-15 and F-16 fighter jets launched about 60 air-to-surface missiles during the two-hour raid early Thursday. It says Israel also fired over 10 tactical surface-to-surface missiles.
Russia is a key ally of Syrian President Bashar Assad, and has been waging its own air campaign on his behalf since 2015. — AP
May 10, 2018
A Syrian war monitoring group says Israeli attacks on several sites in Syria have killed 23 fighters, including five Syrian soldiers.
The Britain-based Syrian Observatory for Human Rights says Thursday the overnight attacks struck several military posts for Syrian troops and Iranian-backed militias near the capital, Damascus, in central Syria and in southern Syria.
The head of the Observatory, Rami Abdurrahman, said five Syrian soldiers, including two officers, and 18 militia fighters were killed. Abdurrahman says it is not immediately clear if Iranians were among those killed.
He says the toll is likely to rise because some of the wounded are in critical condition.
The Observatory says the strikes targeted suspected locations of the Lebanese Hezbollah group, as well as areas where Iranian advisers are believed to be based. — AP
May 10, 2018
Syrian President Bashar Assad has accused U.S. President Donald Trump of saying one thing one day and the opposite the next, saying "I don't think in the meantime we can achieve anything with such an administration."
Assad spoke in an interview with the Greek Kathimerini newspaper published Thursday, before Israel carried out airstrikes in Syria in response to what it said was a cross-border rocket attack by Iranian forces.
He appeared to be referring to conflicting messages from the White House on how long it plans to keep American troops in Syria and its plans going forward.
Assad says wise Russian leadership has managed to avoid a full-blown conflict with Washington. He says: "I hope we don't see any direct conflict between these superpowers, because this is where things are going to be out of control for the rest of the world."
Both Russia and Iran have provided crucial military support to Assad's forces. — AP
April 30, 2018
Syrian TV is reporting a "new aggression," with missiles targeting military outposts in northern Syria.
The state-run television reported early Monday that the missiles targeted military outposts in the Hama and Aleppo countryside. It did not say who fired the missiles or whether there were any casualties or damage.
The news comes less than two weeks after a similar report of airstrikes on government military installations in the central Homs region and the suburbs of Damascus. But the military later said a false alarm had set off air defense systems.
Earlier this month, seven Iranian military personnel were killed in an airstrike on Syria's T4 air base, also in Homs.
Syria, Iran and Russia blamed Israel for that attack. Israel did not confirm or deny it. — AP
April 30, 2018
Syrian government forces briefly captured four villages east of the Euphrates River in the eastern province of Deir el-Zour on Sunday after rare clashes with U.S.-backed Kurdish-led fighters, before losing the area in a counteroffensive by the Kurdish-led force.
The area close to the border with Iraq has been the site of recent clashes between the two sides who had been focusing on fighting the Islamic State group. The IS had declared its caliphate in parts of Syria and Iraq.
Crossings into the east bank of the Euphrates in eastern Syria by government forces have been rare.
State news agency SANA said the villages were held by the U.S.-backed Syrian Democratic Forces, adding that they are close to the provincial capital, also called Deir el-Zour. The SDF said in a statement later that it regained control of the whole area it earlier lost. — AP
April 24, 2018
A UN official says international efforts to rebuild Syria once the civil war is over should center on agriculture to jumpstart the economy and quickly improve the livelihoods of the people, the Associated Press reports.
The senior official in the Food and Agriculture Organization says that in case of a return to peace the impact of providing funds for farming would yield almost immediate results.
FAO's Deputy Director General Daniel Gustafson says in an interview with The Associated Press ahead of an international Syria donors conference that "if you invest in that, you are going to get a quick return."
April 18, 2018
Russia's U.N. ambassador is rejecting a draft U.N. resolution on Syria proposed by the United States, Britain and France, calling it "untimely" and "unnecessary."
Vassily Nebenzia dismissed the attempt by the three Western allies who attacked alleged Syrian chemical sites to push for Security Council approval of a resolution calling for a political solution to Syria's seven-year conflict, for a new body to assess blame for chemical attacks and for humanitarian access.
Nebenzia said Tuesday there is no need for a new independent body to determine responsibility for chemical attacks because "they attributed the guilt, and they already punished the culprits."
He says Russian envoys were present when Security Council experts discussed the Western draft Monday "just to hear, but we said really this effort now is untimely." — AP
April 18, 2018
Syria's U.N. ambassador says a U.N. security team has visited the Damascus suburb of Douma to decide whether investigators from the international chemical weapons watchdog can visit the site of a suspected chemical weapons attack.
Bashar Ja'afari told the U.N. Security Council on Tuesday that the team arrived in Douma about 3 p.m. Damascus time. He said if the team decides "the situation is sound," the fact-finding mission from the Organization for the Prohibition of Chemical Weapons will start work there Wednesday.
Earlier, Syrian state TV had said the OPCW inspectors had reached the site.
Ja'afari says Syria's government has done "all that it can do to facilitate the work of this mission" and it's up to the U.N. security team and the OPCW to give a green light for the investigators to enter Douma.
Ja'afari says the OPCW mission has been working in Damascus, including listening to statements from some witnesses about the alleged incident. — AP
April 17, 2018
Syria's state news agency says inspectors from the Organization for the Prohibition of Chemical Weapons have reached the town of Douma to investigate reports of a suspected April 7 gas attack, the Associated Press reports.
The inspectors entered Douma on Tuesday after arriving in Syria on Saturday.
April 17, 2018
Syrian state-run television says Syria's air defenses have confronted a new "aggression," shooting down missiles over the area of Homs in the country's center.
It did not elaborate or say who carried out the airstrikes early Tuesday.
The Syrian Central Media run by the government said the missiles targeted Shayrat air base in Homs. — AP
April 16, 2018
President Donald Trump informs Congress in writing of his decision to order a US missile strike against Syria.
Under the War Powers Resolution, the president must keep Congress informed of such actions.
Trump's letter to congressional leaders cites the rationale he gave publicly Friday night when he announced that the US and allies Britain and France were firing missiles into Syria in response to an alleged poison gas attack on Syrian rebels near Damascus the previous week.
He writes that the targets were Syrian military chemical weapons-related facilities.
The president tells lawmakers that he acted to "promote the stability of the region, to deter the use and proliferation of chemical weapons, and to avert a worsening of the region's current humanitarian catastrophe."
April 15, 2018
US President Donald Trump on Saturday declared "Mission Accomplished" for a US-led allied missile attack on Syria's chemical weapons program, but the Pentagon said the pummeling of three chemical-related facilities left enough others intact to enable the Assad government to use banned weapons against civilians if it chooses, the Associated Press reports.
"A perfectly executed strike," Trump tweeted after US, French and British warplanes and ships launched more than 100 missiles nearly unopposed by Syrian air defenses. "Could not have had a better result. Mission Accomplished!"
April 15, 2018
Syrian-Americans express anger at the missile strike on their homeland as they celebrated their country's independence day at a rally in Pennsylvania.
The Morning Call of Allentown reports a crowd of about 50 Syrians chanted in Arabic and sang the Syrian national anthem at the annual event. They also sang the "Star-Spangled Banner."
The rally in Allentown is usually a celebration of Syria's independence. But the Syrian community, which is one of the largest in the U.S., is deeply divided about its feelings about Syrian President Bashar al-Assad.
April 14, 2018
British Prime Minister Theresa May says the need to act quickly and protect what she calls "operational security" led her to decide to join the allied strikes in Syria without a prior vote in Parliament.
She says she'll make a statement in Parliament on Monday explaining her actions. A spirited debate is expected. — AP
April 14, 2018
The Russian military says Syria's Soviet-made air defense systems have shot down all 12 cruise missile aimed at a Syrian air base.
The Russian Defense Ministry said that 12 cruise missiles have been launched at the Dumayr air base east of Damascus. It said that Syria's air defense assets have downed all of them. — AP
April 14, 2018
France's defense minister says its joint military operation with the U.S. and Britain against Syria targeted three sites and that Russia was informed ahead of time.
Defense Minister Florence Parly told reporters Saturday that the French military sent fighter jets from multiple bases in France and used missile-equipped frigates in the Mediterranean in the operation. Rafale fighter jets could be seen on a video posted overnight by the French presidential palace on Twitter. — AP
April 14, 2018
The spokeswoman for Russia's Foreign Ministry is denouncing the United States for launching airstrikes on Syria. She says the attacks hit a long-troubled country "that for many years has been trying to survive terrorist aggression."
In a statement Saturday on Facebook, Maria Zakharova is also taking Western media reports to task. — AP
April 14, 2018
Congressional leaders are supporting President Donald Trump's decision to launch airstrikes against Syrian President Bashar Assad in retaliation for an apparent chemical attack against civilians — although there are some reservations.
House Speaker Paul Ryan is praising Trump's "decisive action in coordination with our allies," adding, "We are united in our resolve." — AP
April 14, 2018
Defense Secretary Mattis: At this time 'no reports of losses' on part of US, allies in Syria strike.
He says no additional strikes on Syria planned: 'Right now this is a one-time shot.' — AP
April 14, 2018
President Donald Trump announced Friday that the U.S., France and Britain together launched military strikes in Syria to punish President Bashar Assad for his alleged use of chemical weapons against civilians and to deter him from doing it again.
Loud explosions lit up the skies over the Syrian capital, as Trump announced the airstrikes. — AP
April 13, 2018
President Donald Trump has put off a final decision on possible military strikes against Syria after tweeting earlier that they could happen "very soon or not so soon at all." The White House said Thursday he would consult further with allies.
Defense Secretary Jim Mattis warned such an attack carried the risk of spinning out of control, suggesting caution ahead of a decision on how to respond to an attack against civilians last weekend that U.S. officials are increasingly certain involved the use of banned chemical weapons. British officials said up to 75 people were killed. — AP
April 13, 2018
The U.N. Security Council has scheduled another emergency meeting Friday at Russia's request on the threat to international peace from possible air strikes on Syria by the U.S. and its allies.
Russia had requested a briefing by U.N. Secretary-General Antonio Guterres. But there was no briefing on the U.N. chief's schedule for Friday, which was released Thursday night.
It was not clear who might brief the Security Council.
China and Bolivia backed Russia's call for a briefing by Guterres.
The open meeting is scheduled at 10 a.m. EDT Friday
April 12, 2018
U.N. Secretary-General Antonio Guterres is stressing the need to prevent the situation in Syria from "spiraling out of control."
The U.N. chief expressed regret Wednesday that the U.N. Security Council has been unable to reach agreement on the issue of chemical weapons in Syria. — AP
April 11, 2018
Rebuffing Russian warnings against US military strikes in Syria, US President Donald Trump said Wednesday that missiles "will be coming" in response to Syria's suspected chemical attack that killed at least 40 people, the Associated Press reports.
"Russia vows to shoot down any and all missiles fired at Syria," Trump tweeted. "Get ready Russia, because they will be coming, nice and new and 'smart!' You shouldn't be partners with a Gas Killing Animal who kills his people and enjoys it!"
April 11, 2018
Trump administration officials are consulting with global allies on a likely military response to Syria's suspected poison gas attack near Damascus.
President Donald Trump has canceled a foreign trip to manage the crisis, which is testing his vow a year ago to stop Syrian President Bashar Assad from using chemical weapons against his own people.
Trump has spoken with other world leaders, and other U.S. officials say the U.S., France and Britain have been in extensive consultations about launching a military strike as early as week's end.
The officials say none of the three countries' leaders have made a firm decision. The officials are not authorized to discuss military planning by name.
A joint military operation, possibly with France in the lead, could send a message of international unity.
April 10, 2018
US President Donald Trump says he'll "forcefully" respond to an alleged chemical weapons attack in Syria.
Trump made the remark in the Cabinet Room of the White House during a meeting Monday evening with his top military leaders, including Defense Secretary Jim Mattis and the chairman of the Joint Chiefs of Staff, Gen. Joseph Dunford.
Officials are trying to determine whether Syrian President Bashar Assad's government was behind Saturday's suspected chemical weapons attack on rebel-held Douma, east of Damascus.
Trump says the attack "will be met and it will be met forcefully."
Trump said earlier that he would soon make a decision on how to respond, and against whom.
April 5, 2018
The White House says the US military mission to eradicate the Islamic State group in Syria is coming to a "rapid end" but offers no timetable for withdrawal.
President Donald Trump said Tuesday that he wants to bring troops home to start rebuilding the US.
White House spokeswoman Sarah Huckabee Sanders said Wednesday that the US and its partners remain committed to eliminating the small Islamic State group presence that continues in Syria.
Sanders says the administration will continue to consult with allies regarding future plans.
Trump discussed Syria in a meeting with his national security team on Tuesday.
April 2, 2018
A rebel faction trapped by government forces outside the Syrian capital agreed to evacuate to northern Syria on Sunday as reports swirled of a larger agreement that would have the government retake full control of the eastern Ghouta region after seven years of revolt.
Fighters from the Faylaq al-Rahman group left Douma on buses sent by the Syrian government to the rebel-held province of Idlib, SANA state news agency reported. Some 1,300 fighters, activists, and civilians signed up to leave the town, according to the Britain-based Syrian Observatory for Human Rights monitoring group.
It was the first organized evacuation of fighters from Douma, one of the earliest centers of the anti-government demonstrations that swept through the country in 2011. Security forces responded by putting the town and other suburbs around Damascus under siege, bombing hospitals and residential areas, and blocking the entry of food and medical relief.
Douma is a stronghold of the powerful Army of Islam rebel group. The town is one of the last around the capital to hold out against the government. — AP
March 30, 2018
The U.S. military says two coalition personnel have been killed and five were wounded by an improvised explosive device in Syria.
A U.S. military statement says the incident occurred on Thursday night and that the wounded personnel were being evacuated for further medical treatment.
Friday's statement did not say where the explosion occurred and did not state the casualties are Americans.
A Syrian official had told The Associated Press earlier that a roadside bomb exploded in the mixed Arab-Kurdish town of Manbij. Mohammed Abu Adel, the head of the Manbij Military Council, an Arab-Kurdish US.-backed group in the town, says the bomb went off hundreds of meters away from a security headquarters that houses the council just before midnight on Thursday.
The coalition statement said details pertaining to the incident are being withheld pending further investigation. — AP
March 30, 2018
A Syrian official says a roadside bomb has gone off in a tense, mixed Arab-Kurdish town not far from the border with Turkey.
Mohammed Abu Adel, the head of the Manbij Military Council, an Arab-Kurdish US.-backed group in the town, says the bomb went off hundreds of meters away from a security headquarters that houses the council just before midnight on Thursday.
A U.S. military official said on Friday an incident involving coalition forces was reported in Manbij but said no more information was available.
Col. Ryan Dillon said the coalition was still gathering information about the incident.
Manbij is under threat of a Turkish military operation. Ankara says Syrian Kurdish militiamen it views as "terrorists" and an extension of Kurdish insurgents inside Turkey is in control of the town. — AP
March 22, 2018
Syrian rebels and their families are expected to leave a besieged town in the eastern Ghouta suburbs of Damascus, in an evacuation deal that will see the town handed over to the government following years of bombardment.
Monther Fares, a spokesman for the rebel faction Ahrar al-Sham, says his group's fighters are preparing to leave. He says fighters are waiting for buses to arrive to take them and their families to other rebel-held areas in north Syria.
The government-controlled Military Media Center says 1,500 rebels and 6,000 civilians will leave Harasta on Thursday.
The deal is modeled after others that have had rebels surrender swaths of territory around the capital and other major cities to the government. The U.N. and human rights groups have condemned such arrangements as "forced displacement." —AP
March 21, 2018
The Israeli military confirmed Wednesday it carried out the 2007 airstrike in Syria that destroyed what was believed to be a nuclear reactor, lifting the veil of secrecy over one of its most daring and mysterious operations in recent memory.
Although Israel was widely believed to have been behind the Sept. 6, 2007, airstrike, it has never before commented publicly on it.
In a lengthy release, the military revealed that eight F-15 fighter jets carried out the top-secret airstrikes against the facility in the Deir el-Zour region, 450 kilometers (about 300 miles) northwest of Damascus, destroying a site that had been in development for years and was scheduled to go into operation at the end of that year. — AP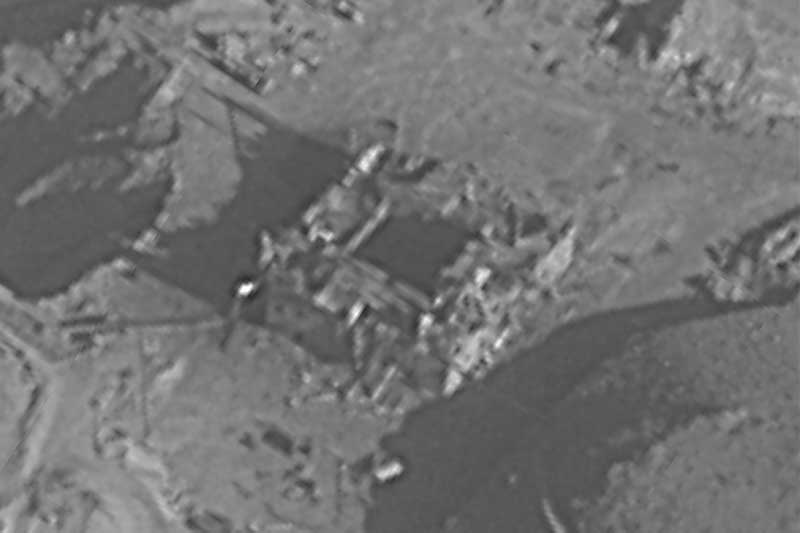 Eight Security Council nations say it's "imperative" that the U.N. body "immediately pursue decisive action" to achieve a cease-fire in Syria if U.N. member states, especially Russia and its ally Syria, don't implement a resolution demanding a cessation of hostilities.
A letter sent to all 15 council members on Monday expresses "profound concern" about the lack of implementation of the Feb. 24 resolution demanding a cease-fire throughout Syria without delay to deliver humanitarian aid and evacuate the critically ill and wounded.
It singles out Russia and Syria as key to implementation.
The letter was signed by France, Kuwait, Peru, Poland, Sweden, the United Kingdom, the United States and the Netherlands.
It says that implementing the resolution "could immediately save hundreds, if not thousands, of children, women and men who have suffered acutely during the past eight years of the brutal conflict in Syria."
___
12:10 a.m.
The U.N. human rights chief says the Syrian government's five-year siege of the Damascus suburbs of eastern Ghouta has involved "pervasive war crimes," use of chemical weapons and starvation as a weapon of war.
High Commissioner for Human Rights Zeid Ra'ad al-Hussein told an informal meeting of the U.N. Security Council late Monday that never before have military offensives against terrorism been used more often "to justify the unconscionable use of force against civilians than in the last few months in Syria."
Russia earlier blocked his planned address to a formal meeting of the council.
Zeid said "unlawful methods of warfare have been used by all parties" in Syria. But he singled out the Syrian government's claim that it makes every effort to protect civilians and dismissed it.
In his words, "When you are capable of torturing and indiscriminately killing your own people, you have long forfeited your own credibility."
___
11 p.m.
Western nations on the U.N. Security Council and their supporters have quickly organized an informal briefing by the U.N. human rights chief on Syria after a Russian-led protest blocked him from addressing a formal council meeting.
France's U.N. Ambassador Francois Delattre told reporters after a procedural vote that Russia called for prevented High Commissioner for Human Rights Zeid Ra'ad al-Hussein from addressing an open meeting in the council that he would deliver the same address at the informal meeting late Monday afternoon.
Delattre criticized Russia for refusing any discussion of human rights in the Security Council when rights violations in Syria "are at their very peak."
Russian deputy ambassador Gennady Kuzmin had argued that human rights have nothing to do with the council's mandate of ensuring international peace and security.
But Sweden's U.N. Ambassador Olof Skoog insisted that "human rights and peace and security are intimately linked."
And Britain's deputy U.N. ambassador Jonathan Allen said Russia "doesn't want the truth of ... the appalling human rights abuses taking place." But he said: "We mustn't let them silence us.
___
10:10 p.m.
The U.N. human rights chief has been blocked from speaking to the Security Council about the situation in Syria after Russia, backed by China and others, protested that the U.N. body charged with ensuring international peace and security should not be discussing human rights.
At the start of Monday afternoon's council meeting that was to be addressed by High Commissioner for Human Rights Zeid Ra'ad al-Hussein, Russia demanded a procedural vote on whether the meeting should be held.
Under council rules, nine "yes" votes are required.
After the issue was put to a vote, the result was 8 countries in favor, 4 against and 3 abstentions. So the meeting was canceled.
It was a very rare defeat on a procedural issue at an open council meeting.
But it reflected deep divisions at the Security Council over seven years of Syrian conflict that has involved President Bashar Assad's key ally Russia and Western nations including the U.S. and other supporters of the Syrian opposition.
___
10 p.m.
Turkey's president has vowed to expand military operations across northern Syria and even into neighboring Iraq after his forces drove Kurdish fighters from the northern Syrian town of Afrin.
President Recep Tayyip Erdogan said Monday that the two-month-long Afrin campaign was the "most important phase" of the military operation launched on Jan. 20, which is aimed at driving Syrian Kurdish forces out of areas along the border.
Turkey views the Syrian Kurdish militiamen as terrorists because of their links to Kurdish insurgents fighting inside Turkey.
Erdogan said Turkish troops and allied Syrian forces would now press eastward, toward the town of Manbij and areas east of the Euphrates River, including Ayn al-Arab, the Arabic name for the Kurdish town of Kobani. Those areas are controlled by U.S.-backed Syrian Kurdish forces, and U.S. troops are stationed there.
___
8:30 p.m.
The U.N.'s humanitarian coordinator in Syria is appealing for help to provide aid to tens of thousands of civilians affected by the fighting outside the Syrian capital and in the northern town of Afrin.
Ali al-Za'tari says the civilians are in "desperate need," and are "tired, hungry, traumatized and afraid."
Government forces are close to capturing the eastern Ghouta region outside Damascus, where they have waged a fierce monthlong air and ground campaign. Turkish troops and allied Syrian forces seized Afrin from Kurdish fighters on Sunday after a two-month offensive. The fighting in both places has killed hundreds of civilians and displaced tens of thousands.
Al-Za'tari says the U.N., the Syrian Arab Red Crescent and other partners are "fully mobilized to deliver aid on the spot," but require permissions and security guarantees.
The Syrian government has regularly blocked the delivery of aid to opposition-held areas.
___
8 p.m.
Syria has condemned Turkey's capture of the northern Syrian town of Afrin from Kurdish forces.
The Syrian Foreign Ministry, in messages sent to the U.N. Security Council and secretary general on Monday, called on Turkey to withdraw its forces immediately from Syrian territories.
Turkish troops and allied Syrian opposition forces seized Afrin from a Kurdish militia on Sunday after a nearly two-month military campaign.
The Syrian Foreign Ministry said the move was "illegal" and called it an invasion.
Turkey views the Kurdish forces as terrorists because of their links to Kurdish insurgents inside Turkey. Ankara denies it is invading or occupying Syrian land, saying it is only removing militants from areas along the border.
___
6:30 p.m.
Syrian President Bashar Assad's office has released videos showing the president driving himself to visit his forces at the battle for eastern Ghouta, just outside the capital, Damascus.
The videos, released late Sunday and early Monday, show the president calm and assured. Other drivers on the road give no indication of knowing who is behind the wheel of the Honda sedan.
Assad's forces in eastern Ghouta appear close to clinching one of their most significant victories against rebels in seven years of civil war.
As he drove, he narrated his route to the camera and gave his thoughts on the battle. He said the images of civilians crossing over by the thousands to government authorities in eastern Ghouta showed that his government was still popular with his people and still possessed the "legitimacy" to rule.
Eastern Ghouta has been under a crippling siege and heavy bombardment for weeks, with civilians packing into underground shelters. Some 1,500 civilians have been killed in the last month.
___
6:15 p.m.
The U.S. State Department says it is "deeply concerned" over the humanitarian situation following Turkey's capture of the town of Afrin in northern Syria from Kurdish forces.
Spokeswoman Heather Nauert said in a statement Monday that the offensive forced the majority of the predominantly Kurdish population of Afrin to evacuate from the town.
She said the U.S. calls on all parties to the conflict to allow humanitarian groups to access the displaced and develop a program for their safe and voluntary return.
Nauert said the fighting in Afrin has distracted from the fight against Islamic State militants, allowing the extremists to begin to reconstitute in some areas.
She said the U.S. is committed to its NATO ally Turkey and its security concerns, and is also committed to the fight against IS with its partners, the Kurdish-led Syrian Democratic Forces.
Nauert said U.S. officials have expressed their concern to Turkish officials about the situation in Afrin.
___
4:15 p.m.
Turkish President Recep Tayyip Erdogan says that after victory in Syria's Afrin region, his country will expand its military operations into other Kurdish-held areas in Syria as well as to Iraq's Sinjar region.
Speaking at a ceremony for judicial appointments in Ankara, Erdogan said troops would target the Syrian city of Manbij, as well as Ayn al-Arab, also known as Kobani, and other towns along the border to the east of the Euphrates River. Those areas are controlled by U.S.-backed Syrian Kurdish forces and U.S. troops are stationed there.
Erdogan said Turkish troops could also cross into Iraq to drive out Kurdish militants from the region of Sinjar, if the Iraqi government is reluctant to oust militants from the area. Turkey says the region is becoming a headquarters for outlawed Kurdish rebels who have been fighting an insurgency in Turkey's southeast since 1984.
Erdogan said "one night, we could suddenly enter Sinjar."
He insisted Turkey had no intention of "invading" Syria, saying it was merely clearing the border area of terrorists.
___
2:05 p.m.
Syria's Kurdish militia says a British woman who had joined their ranks to fight in the northern town of Afrin has been killed in a Turkish airstrike.
Nisrin Abdullah, spokeswoman of the Kurdish female militia known as YPJ, said on Monday that Anna Campbell was killed last Thursday.
She is the first foreign national to die in the battle for Afrin. She is also the first British female fighter and the eighth Briton to die fighting alongside the Kurdish militia in Syria. The Press Association says Campbell was 26 years old from Lewes, East Sussex.
Macer Gifford, a Briton who travelled with Campbell, said they arrived last May to eastern Syria, where they joined the U.S-backed Kurdish militia to fight against Islamic State militants. Gifford returned home after the fall of the city of Raqqa last summer.
Gifford told The Associated Press via Twitter that Campbell, an animal rights activist, "was a lovely girl. Very opinionated and determined."
He also says: "She loved the YPJ and the last I saw of her was her leaving to join them."
___
1:50 p.m.
Turkish Deputy Prime Minister Bekir Bozdag says Turkey does not aim to invade the Syrian town of Afrin and will hand it over to "its real owners."
Bozdag made the comments on Monday, a day after Turkish troops and Ankara-allied Syrian opposition forces captured Afrin.
The town was taken nearly two month after Turkey launched its offensive to clear Afrin and surrounding districts of a Syrian Kurdish militia that Ankara considers to be a "terrorist" group, allied with Turkey's outlawed Kurdish rebels.
Bozdag says" ''We are not invaders. The aim of our offensive is to clear the region of terror."
He says the Syrian Kurdish forces retreated from Afrin because "they were afraid ... you see this very clearly when you look at ammunition and weapons that they left behind."
He says the Kurdish fighters had left booby traps and other explosives inside Afrin.
___
1:35 p.m.
The European Union has slapped sanctions on a senior Syrian military officer and three scientists accused of links to the development and use of chemical weapons against civilians.
EU headquarters said on Monday that the four work at the Scientific Studies and Research Center, a Syrian government agency the EU says produces chemical weapons and missiles to deliver them.
The center has been under EU sanctions since Dec. 2011.
The move brings to 261 the number of people targeted by an EU travel ban and asset freeze over the crackdown on Syrian civilians and support for the government of President Bashar Assad or associating with certain government officials.
A further 67 entities — often companies, agencies and organizations — have had their assets frozen.
___
12:40 p.m.
A senior Syrian Kurdish official says Turkey's offensive on the Syrian town of Afrin is an "occupation" that endangers the rest of northern Syria.
Aldar Khalil, a leading Kurdish official, on Monday condemned Turkey for the assault and for raising the Turkey's flag in a Syrian town.
He says Turkish President Recep Tayyip Erdogan is seeking to spread his influence in Syria as a way of restoring the Ottoman empire's former influence.
He says: "The whole of northern Syria is in danger."
Turkish troops and Syrian opposition fighters allied with Ankara captured Afrin on Sunday, nearly two months after Turkey began its offensive on the enclave.
Erdogan, who first launched military operations in Syria in 2016, has repeatedly said Turkey will not allow a "terror corridor" along its border and has vowed to push eastward in Syria after Afrin, to prevent the Kurdish militia from linking up territories it controls in eastern and western Syria.
___
9:50 a.m.
The European Union's top diplomat is criticizing Turkey over its military offensive in a northern Syrian town and is calling on Ankara to ensure that fighting eases in the conflict-torn country.
EU foreign policy chief Federica Mogherini says: "I am worried about this."
Mogherini told reporters in Brussels on Monday that international efforts in Syria are supposed to be "aiming at de-escalating the military activities and not escalating them."
She urged Turkey, Russia and Iran to guarantee that conflict "de-escalation zones" are established as promised, to "guarantee that that is what happens on the ground."
Turkey's President Recep Tayyip Erdogan announced on Sunday the capture of the town of Afrin, previously controlled by the Kurdish militia known as the People's Defense Units, or YPG.
___
9:40 a.m.
Turkey's state-run news agency says a booby trap bomb reportedly left by Syrian Kurdish fighters in the northern Syrian town of Afrin has killed 11 people — seven civilians and four Turkish-backed fighters.
Anadolu Agency says the explosion occurred late on Sunday in a four-story building that Turkish-backed Syrian opposition forces were clearing for explosives.
Turkish troops and Syrian opposition fighters allied with Ankara marched into Afrin on Sunday, nearly two months after Turkey began its offensive on the enclave to drive out a Syrian Kurdish militia. Ankara considers the militia an extension of its own insurgency.
Kurdish officials and a war monitor say some pockets of resistance remain in the town of Afrin but the Kurdish militia, known as YPG, has largely withdrawn.
___
9:20 a.m.
A Syria war monitoring group says Turkish-allied militiamen are looting the northern Syrian town of Afrin after the Turkish military and allied Syrian fighters seized control of it.
The Britain-based Syrian Observatory for Human Rights said Monday the looting began on Sunday, after the Turkish and allied Syrian forces marched into the town center and raised their flags there — nearly two months after the offensive on the Kurdish enclave started.
The troops faced little resistance from the Kurdish militia, which withdrew, vowing a "new phase" of guerrilla tactics against Turkish troops and their allied fighters.
The Observatory, which monitors Syria's war through a network of activists on the ground, described extensive looting of shops, homes and cars in Afrin.
It's unclear what Turkey plans after the capture of Afrin. — AP