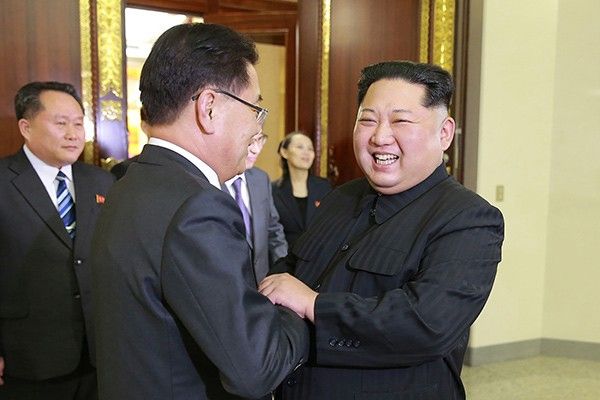 United States and North Korea
LATEST UPDATE: March 13, 2018 - 7:25am
LOCATION:
NORTH KOREA
UNITED STATES
+ Follow Story
March 13, 2018
Secretary of State Rex Tillerson says the first meeting between President Donald Trump and North Korean leader Kim Jong Un should take place at a "nice, neutral site."
He's suggesting China would not be an ideal place.
Tillerson says it should be held somewhere that "both parties will feel confident." But he says that doesn't mean China won't have a role in the broader process. Tillerson says China "is going to have a stake in how this all this all turns out." He says Russia, South Korea and Japan will as well.
Tillerson says the first meeting will be about Trump and Kim "getting a sense of one another" and determining whether there is the space and will to accomplish something together on the North's nuclear weapons program.
The United States formally concluded that North Korea ordered the murder of Kim Jong-Nam, a half-brother and potential rival to ruler Kim Jong-Un, with the VX nerve agent.
"This public display of contempt for universal norms against chemical weapons use further demonstrates the reckless nature of North Korea and underscores that we cannot afford to tolerate a North Korean WMD program of any kind," US State Department spokeswoman Heather Nauert said.
The finding triggered another layer of US economic sanctions against Pyongyang, just as South Korea reported that the regime is ready for talks to end a nuclear standoff.