Marcos Jr.'s appointees
+ Follow Story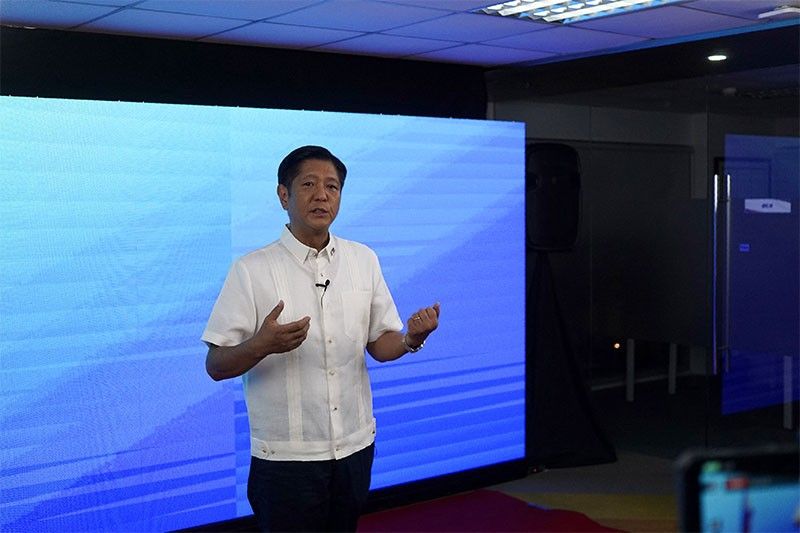 June 30, 2022
Outgoing Finance Secretary Carlos Dominguez III hands over the Department of Finance to outgoing Bangko Sentral ng Pilipinas governor Benjamin Diokno.
In a Twitter post, Dominguez says Diokno "is the best possible choice to succeed me as he possesses the skills, the insight, and the dedication to take on the demanding job of a Finance Secretary."
I officially handed over to incoming Finance Secretary @GovBenDiokno a DOF that has substantially contributed to the task of building the nation by initiating and tirelessly working for reforms that will prepare the PH for the new economy and sustain its post-pandemic recovery. pic.twitter.com/nmMcNraQpg

— Carlos Dominguez III (@SecSonnySays) June 30, 2022
June 29, 2022
President-elect Ferdinand Marcos Jr. chose outgoing Solicitor General Jose Calida as the new chairperson of the Commission on Audit.
Philippine National Bank President Jose Arnulfo has been chosen as GSIS chief.
June 23, 2022
Incoming Solicitor General Menardo Guevarra — currently justice secretary — says he met with the transition team of the OSG to have "an overview of the organization and operations of the office. they also gave me an idea about the handling of special cases of national importance."
"Lastly, we discussed matters that need immediate attention, such as the structural problems of the OSG building, the need to create additional legal divisions, and amendments to the OSG law to include retirement and survivorship benefits for state solicitors like those enjoyed by their judicial counterparts," he adds.
June 20, 2022
President-elect Ferdinand Marcos Jr. says he will take on the portfolio of agriculture secretary himself, at least for now, because of the urgency of the country's food issues.
June 17, 2022
Press Secretary-designate Trixie Cruz-Angeles says President-elect Ferdinand Marcos Jr. has named three more incoming Cabinet secretaries:
Ex-Senate President Juan Ponce Enrile as Presidential Legal Counsel-designate
Outgoing Justice Secretary Menardo Guevarra has as Solicitor-General-designate
Ret. General Jose Faustino Jr., (Ret.) who will assume Secretary of Department of National Defense (DND) on Nov. 13, 2022 after the one-year ban on the appointment of retired military officers under RA 6975
June 14, 2022
The Human Rights Watch urges President-elect Ferdinand Marcos Jr. to "ensure a transparent, inclusive process to select qualified and independent human rights experts as commissioners for the national Commission on Human Rights (CHR)."
"President-elect Marcos should appoint commissioners with proven track records of defending human rights," says deputy Asia director at Human Rights Watch Phil Robertson.
"Given the grave human rights situation in the Philippines, these new commissioners should be independent and strongly committed to fearlessly and impartially upholding the commission's mandate and duties."
June 9, 2022
Incoming Justice Secretary Crispin "Boying" Remulla says he had a very informative meeting with the team of outgoing SOJ Menardo Guevarra on Thursday morning.
LOOK: Outgoing Justice Secretary Menardo Guevarra met with incoming SOJ Boying Remulla at the department's office today. Remulla, after the meeting, said they might ask for a second meeting because problems at the DOJ are complicated. @PhilstarNews pic.twitter.com/SZo4gh5raa

— Kristine Patag (@kristinepatag) June 9, 2022
May 31, 2022
In accepting her nomination to head the Department of Tourism, Cristina Garcia-Frasco recalls she has seen how tourism, a major driver of Cebu's economy, was affected by the pandemic and how effective tourism governance can revive the industry.
She adds she is eager to support Marcos' vision to "revitalize tourism so it may significantly propel the Philippines' post-pandemic economic growth."
May 30, 2022
President-elect Ferdinand Marcos Jr.'s press secretary-designate Trixie Cruz-Angeles announces new Cabinet members:
Presidential Management Staff: Naida Angping

Department of Tourism: Mayor Christina Frasco

Department of Budget and Management: Amena Pangandaman

Department of Information and Communications Technology: Ivan John Enrile Uy

Department of Social Welfare and Development: Erwin Tulfo
— Kristine Joy Patag
May 26, 2022
President-elect Ferdinand Marcos Jr. says he picked former Rep. Anton Lagdameo (Davao de Oro) — a known close friend of his — to serve as Special Assistant to the President.
For the post of solicitor general, Marcos says he has yet to finalize his pick. — Kristine Joy Patag
May 26, 2022
President-elect Ferdinand Marcos Jr. announces more nominations to complete his Cabinet:
DPWH: Manny Bonoan
BSP: Felipe Medalla
DTI: Fred Pascual
May 26, 2022
Presumptive president Ferdinand Marcos Jr. names BSP Governor Benjamin Diokno for the position of finance secretary.
He has already agreed, Marcos adds. — Kristine Joy Patag
May 25, 2022
Lawyer Rose Beatrix "Trixie" Cruz-Angeles has accepted the nomination as press secretary of Ferdinand "Bongbong" Marcos Jr., presumptive president.
Cruz-Angeles will become head of the Presidential Communications Operations Office.
"I am grateful for the opportunity I am given to take part in the administration of President Bongbong Marcos as his Press Secretary. It is with humility that I accept the nomination and assume the responsibility of running the affairs of the PCOO," Cruz-Angeles says.
May 23, 2022
Bongbong Marcos, presumptive president-elect, says he tapped an "old friend," former Secretary Arsenio Balisacan to return to NEDA, saying they have the same thinking in policies.
It's still unclear whether Balisacan has accepted the offer. — Kristine Joy Patag
May 23, 2022
House Deputy Speaker and Rep. Boying Remulla (Cavite) says he has accepted the offer to be justice secretary in the Cabinet of incoming administration of presumptive president Bongbong Marcos. — The STAR/Edu Punay
May 18, 2022
OFW advocate and former DOLE Usec. Susan Ople confirms that Ferdinand "Bongbong" Marcos, Jr., presumptive president-elect, offered the post of secretary of the Department of Migrant Workers (DMW) during a meeting held last Friday.
Ople says Marcos "spoke about the need to get the new department up and running, and for it to care for our OFWs and also develop programs for their families especially the children of migrant workers."
She says that she is now discerning and consulting about the offer as she acknowledged "the enormity of the task and the challenges involved" in the newly-created department. — Kristine Joy Patag
May 13, 2022
Benhur Abalos, Bongbong Marcos' campaign manager, has accepted to lead the Department of the Interior and Local Government.

Vic Rodriquez, spokesperson of Marcos denies the veracity of list spreading on social media of possible Cabinet appointees.

He says so far only Sara Duterte, presumptive vice president-elect, for Department of Education and Benhur Abalos for DILG are confirmed. — Kristine Joy Patag
Follow this thread for appointments made by presumptive president-elect Ferdinand "Bongbong" Marcos Jr.
— Main photo: AFP/Ron Lopez