Economic impact of Ukraine-Russia crisis
+ Follow Story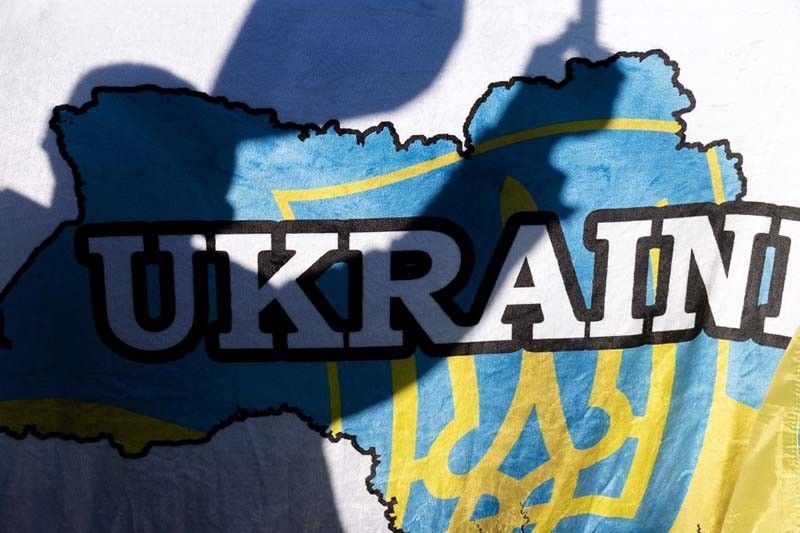 1 day ago
Ukraine tells an international conference Monday that it will cost an estimated $750 billion to rebuild the war-shattered country, a task President Volodymyr Zelensky says was the shared duty of the democratic world.
Speaking at the Ukraine Recovery Conference in Switzerland, the Ukrainian president and a long line of government ministers describe the massive destruction and towering needs since Russia launched its full-scale invasion on February 24.
"Reconstruction of Ukraine is not a local task of a single nation," Zelesnky says via video message.
"It is a common task of the whole democratic world," he says, insisting that "reconstruction of Ukraine is the biggest contribution to the support of global peace". — AFP
July 1, 2022
The United States blocked a US-based company worth more than $1 billion linked to Russian oligarch Suleiman Kerimov, saying the ally of President Vladimir Putin used it to funnel and invest shadowy funds.
The Treasury Department says that Kerimov, a billionaire active in Russian politics, secretly managed the Delaware-based Heritage Trust which put its money into a number of large public companies.
Heritage Trust, set up in 2017, brought money into the United States through shell companies and under-the-radar foundations established in Europe, Treasury Department officials say. — AFP
June 28, 2022
US President Joe Biden and his peers from the Group of Seven rich nations are seeking to tighten the economic screws on Moscow, even as soaring energy and food prices drive up global inflation.
"We will continue to provide financial, humanitarian, military and diplomatic support and stand with Ukraine for as long as it takes," the G7 say in a statement on the summit's second day. — AFP
June 27, 2022
The war in Ukraine could allow illegal drug production to flourish, while the opium market's future hinges on the fate of crisis-wracked Afghanistan, the United Nations warns.
Previous experience from the Middle East and Southeast Asia suggests conflict zones can act as a "magnet" for making synthetic drugs, which can be manufactured anywhere, the United Nations Office on Drugs and Crime (UNODC) says in its annual report.
The UNODC said the number of dismantled amphetamine laboratories in Ukraine rose from 17 in 2019 to 79 in 2020, the highest number of seized laboratories reported in any country in 2020. — AFP
June 26, 2022
Consumers should start cutting back on their energy use immediately, the bosses of France's three big energy companies urged Sunday, warning of social tensions next winter unless reserves are replenished.
"The effort has to be immediate, collective and massive," Patrick Pouyanne of TotalEnergies, Jean-Bernard Levy of EDF and Catherine MacGregor of ENGIE wrote in an op-ed piece in the JDD weekly.
The call came after the French government said this week it aimed to have its natural gas reserves at full capacity by autumn as European countries brace for supply cuts from major supplier Russia with the Ukraine war dragging on, and would build a floating terminal to receive more gas supplies by ship.
The three energy bosses said in the article that European energy production was further hampered by hydro-electric production suffering from drought. — AFP
June 23, 2022
The European Union's major institutions have banned lobbyists working for Russian interests from their premises in the latest measure against Moscow over the invasion of Ukraine, officials said on Thursday.
The 705-member European Parliament made the move already in early June and the European Commission, the bloc's executive arm, as well as the Council, which represents member states, have followed suit.
"We have been instructed that we should no longer receive people who represent a Russian interest," an EU official said on Thursday shortly before the start of an EU summit on aid to Ukraine.
The decision concerns all Russian interest representatives who are registered to have access to the premises of the institutions to meet with commissioners, their staff and elected MEPs.
The decision is part of the implementation of the sixth set of sanctions adopted by the European Union, which bans all business and public relations consultancy services. — AFP
June 23, 2022
Leaders at the upcoming G7 summit in Germany will announce new measures aimed at pressuring Russia over its invasion of Ukraine, a senior US official says.
"We will roll out a concrete set of proposals to increase pressure on Russia," the official says. US President Joe Biden flies Saturday to join the leaders of Britain, Canada, France, Germany, Italy, and Japan at the summit in Bavaria. — AFP
June 21, 2022
China's imports of oil from Russia rose 55 percent in May, customs data showed on Monday, with the West sanctioning fuel imports from Moscow over its invasion of Ukraine.
The world's second-biggest economy imported around 8.42 million tonnes of oil from Russia last month, surpassing its shipments from Saudi Arabia, as Beijing refuses to condemn Moscow's war.
Last week, President Xi Jinping assured Vladimir Putin of China's support on Russian "sovereignty and security," and Beijing has also been accused of providing diplomatic cover for Moscow by blasting Western sanctions and arms sales to Kyiv.
The customs data comes four months into the war, with other buyers avoiding Russian energy imports.
The number was also a spike from the 5.44 million tonnes China imported in May 2021, according to figures from the Customs Administration, and helped Russia overtake Saudi Arabia as China's main source of oil.
Earlier this month, Chinese state media said Beijing was willing to "intensify strategic coordination between the two countries". — AFP
June 15, 2022
Washington says it will continue to allow payments to Russia for energy products through December 5, to give European countries time to prepare for a near-total oil embargo in retaliation for Moscow's war on Ukraine.
The exemption from devastating US financial sanctions, which effectively severed Russia from most of the global financial system, was due to expire June 24.
The renewed carve-out will "align our regulations with the implementation timing of the European Union's ban on crude oil" from Russia, a Treasury spokesperson tells AFP.
"This license will provide for an orderly transition to help our broad coalition of partners reduce their dependence on Russian energy as we work to restrict the Kremlin's revenue sources." — AFP
June 9, 2022
Ukraine says that Moscow's invasion was responsible for a global grain crisis, dismissing Russian claims that Western sanctions on Moscow had sent prices soaring.
"We have been actively communicating, the president and myself, about the true cause of this crisis: it is Russian aggression, not sanctions," Ukraine's Foreign Minister Dmytro Kuleba says during a briefing with Ukrainian journalists released on social media. — AFP
June 7, 2022
A Fiji court on Tuesday handed a Russian superyacht to US authorities and said it can be removed from the Pacific nation, ending a contested eight-week stay.
The $300 million Amadea, linked by the United States to billionaire Russian politician Suleiman Kerimov, a target of sanctions, was impounded on arrival in Fiji in April at Washington's request.
Supreme Court President and Chief Justice Kamal Kumar on Tuesday dismissed an application lodged last week by the vessel's registered owners, Millemarin Investments, to delay execution of the court order.
Director of Public Prosecutions Christopher Pryde said the judge's ruling meant a US Justice Department warrant to seize the boat had been accepted.
"The decision acknowledges Fiji's commitment to respecting international mutual assistance requests and Fiji's international obligations," Pryde said in a statement. — AFP
June 7, 2022
Argentina's president vows to pursue a special tax on company profits boosted by the war in Ukraine, a phenomenon he described as an "immorality" given the inflationary pressure on poor households.
While millions were feeling the pain of rising food prices, the war also "benefits the few... who are gaining a lot," Alberto Fernandez says in an address.
"This is an immorality, an indecency, which as the State we cannot allow," he said, repeating his plan for a once-off special tax in 2022 on some companies with taxable profits of more than a billion pesos (some $8 million.) — Agence France Presse
May 31, 2022
Russia's Gazprom says Tuesday it had halted gas supplies to the Netherlands after Dutch energy firm GasTerra refused to pay in rubles following the Russian military offensive in Ukraine.
"Gazprom has completely stopped gas supplies to GasTerra due to non-payment in rubles," the Russian gas giant says in a statement. — AFP
May 30, 2022
Russian subscribers have lost access to streaming giant Netflix in the latest pullout of a Western company over the conflict in Ukraine.
The Netflix site and apps were no longer available from Friday and a Netflix spokesperson confirmed that subscribers no longer had access.
"This is the fulfilment of the withdrawal from the Russian market" announced in March, a Netflix spokesperson told AFP on Monday. — AFP
May 29, 2022
With a looming global food crisis exacerbated by the war in Ukraine, Putin says Moscow is "ready" to look for ways to ship grain stuck in Ukrainian ports, but demands the West lift sanctions.
"Russia is ready to help find options for the unhindered export of grain, including the export of Ukrainian grain from the Black Sea ports," Putin tells Macron and Scholz, the Kremlin says.
Putin says the difficulties in supplying grain to world markets were the result of "erroneous economic and financial policies of Western countries". — AFP
May 23, 2022
Austrian ex-foreign minister Karin Kneissl, who once danced with Russian President Vladimir Putin at her wedding, has quit a board position at Russian oil giant Rosneft, the company said Monday.
Kneissl has submitted a letter of resignation effective from Friday, Rosneft said in a statement.
The 57-year-old made headlines when she invited Putin to her wedding in 2018 and was photographed dancing with him during the event.
She left the Austrian government the following year and joined the board of Rosneft as an independent director in June last year.
Her resignation comes after Rosneft announced Friday that German ex-chancellor Gerhard Schroeder was leaving the board after five years, a day after Germany stripped him of official perks over ties with Russia.
On Friday, Kneissl told AFP that she intended to stay on for her one-year mandate but had told Rosneft in March that she would not seek a further term on the board.
Kneissl's personal website includes several interviews to RT, a Russian state-funded news organisation, the latest two days before Russia launched its military operation in Ukraine on February 24. — AFP
May 6, 2022
Hungarian Prime Minister Viktor Orban blasts European Commission head Ursula von der Leyen for "attacking" EU unity with a plan to ban Russian oil, saying it crosses a red line and has been sent back.
"The European Commission president, intentionally or unintentionally, has attacked the European unity that had been worked out," Orban says on state radio.
"From the first moment we made clear that there will be a red line... they have crossed this red line." — AFP
May 5, 2022
UN Secretary General Antonio Guterres says he is seeking talks to get Ukraine and Russian agriculture and fertilizer production back into world markets to help end a "three-dimensional" crisis the Ukraine invasion is causing for developing nations.
Russia's invasion of Ukraine and economic sanctions on Moscow have disrupted supplies of wheat and other food supplies from both countries and pushed up fuel and diesel prices to impact inflation, especially in developing nations.
Russia and Ukraine are top exporters of wheat, maize, rapeseed and sunflower oil while Russia is the world's top supplier of key fertilizers and gas.
"There is really no true solution to the problem of global food security without bringing back the agriculture production of Ukraine and the food and fertilizer production of Russia and Belarus into world market despite the war," Guterres said in a visit with Nigeria's President Muhammadu Buhari in the capital Abuja. — AFP
May 4, 2022
EU chief Ursula von der Leyen on Wednesday says the EU would impose a gradual Russian oil ban, as Brussels unveiled new sanctions to punish Russia for invading Ukraine.
"We will make sure that we phase out Russian oil in an orderly fashion," the EU chief tells a session of the European Parliament in Strasbourg.
"This is why we will phase out Russian supply of crude oil within six months and refined products by the end of the year," she adds. — AFP
May 4, 2022
EU officials late Tuesday handed over a draft plan to member states on a new package of sanctions to punish Russia for its invasion of Ukraine, but some members are jockeying to opt out of an oil embargo.
Several EU officials and European diplomats in Brussels told AFP there were divisions over the plan.
It was only adopted late at night due to the stance of one of the member states. — AFP
May 3, 2022
A fresh European Union sanctions package over Russia's invasion of Ukraine is set to include "more Russian banks" being pushed out of the global SWIFT network, the bloc's top diplomat Josep Borrell said Monday.
"In the banking sector, there will be more Russian banks that will leave SWIFT," the global banking communications system, Borrell said during a visit to Panama. — AFP
May 2, 2022
The EU will propose a phased out ban on Russian oil imports as part of a fresh round of sanctions against Russia for its invasion of Ukraine, sources said on Sunday.
The European Commission, which draws up sanctions for the bloc, is currently preparing a text that could be put to the 27 member states as early as Wednesday, diplomats said.
Several diplomats said the ban on oil was made possible after a U-turn by Germany, which had said the measure would do too much harm to its economy. — AFP
April 27, 2022
The world's largest drone maker DJI has said it will suspend all business operations in Russia and Ukraine, in a rare public move by a Chinese firm since Moscow's invasion of its neighbour.
"DJI is internally reassessing compliance requirements in various jurisdictions," the company said in a statement on Tuesday.
"Pending the current review, DJI will temporarily suspend all business activities in Russia and Ukraine." — AFP
April 26, 2022
Asian nations, like the rest of the world, are being battered by countervailing forces such as the war in Ukraine that are raising prices while holding back growth, the IMF said Monday.
"The region faces a stagflationary outlook, with growth being lower than previously expected, and inflation being higher," said Anne-Marie Gulde-Wolf, acting director of the IMF's Asia and Pacific Department.
The regional outlook, which follows the World Economic Outlook released last week, shows the growth forecast for Asia was cut to 4.9 percent, impacted by the slowdown in China, which is having ripple effects on other closely-linked economies.
Inflation is now expected to rise 3.2 percent this year, a full point higher than expected in January, she said. — AFP
April 22, 2022
Russia slaps travel bans on US Vice President Kamala Harris, Facebook chief Mark Zuckerberg and dozens of prominent Americans and Canadians in retaliation for sanctions imposed over Ukraine.
The Russian foreign ministry said the travel restrictions on 29 Americans and 61 Canadians — which also includes defence officials, business leaders and journalists from both countries — would remain in effect indefinitely.
The foreign ministry said the list was comprised of people responsible for the two countries' "Russophobic" policies. — AFP
April 22, 2022
Ukraine needs $7 billion a month to function amid the devastating "economic losses" inflicted by Russia, President Volodymyr Zelensky said Thursday.
That is an increase from Kyiv's previous estimate of $5 billion in monthly needs, and Zelensky told the leaders of the IMF and World Bank via video link, the "Russian military are aimed at destroying all objects in Ukraine that can serve as an economic base for life. That includes railroad stations, food warehouses, oil, refineries." — AFP
April 19, 2022
US Treasury Secretary Janet Yellen this week will call on her counterparts to ramp up the economic pain on Moscow over its invasion of Ukraine, an official says.
The conflict "has demonstrated the need for the world's largest economies to stand together to defend international order and protect peace and prosperity," the Treasury official tells reporters. — AFP
April 11, 2022
French banking group Societe Generale said Monday it was ceasing its activities in Russia and selling its stake in Russia's Rosbank, joining a Western corporate exodus following Moscow's invasion of Ukraine.
Societe Generale said in a statement that its withdrawal from Russia would cost it 3.1 billion euros ($3.4 billion). -- AFP
April 8, 2022
The European Union says it had approved an embargo on Russian coal and the closing of the bloc's ports to Russian vessels over the Ukraine war.
An official from the French presidency of the European Council said the moves spearhead a "very substantial" fifth round of sanctions against Moscow.
That package also includes a 10 billion euro ($10.9 billion) ban on exports to Russia, including high-tech goods, and the freezing of several Russian banks' assets. — AFP
April 8, 2022
The United Nations suspends Russia from the Human Rights Council, as US President Joe Biden called the atrocities continuing to emerge in Ukraine an "outrage" to humanity.
The diplomatic rebuke came as the G7, the European Union and Washington further tightened the economic screws on Moscow, spurred by the horrific images emerging in recent days from now-infamous towns like Bucha and Mariupol.
"Russia's lies are no match for the undeniable evidence of what is happening in Ukraine," Biden said in a statement, as he hailed Moscow's expulsion from the rights council. — AFP
April 7, 2022
British energy giant Shell warned Thursday that it would write off up to $5 billion (4.6 billion euros) on its exit from Russia, following Moscow's invasion of Ukraine.
Impairment from assets and additional charges relating to Russia activities were expected to be between $4 billion and $5 billion in the first quarter of this year, Shell said in a statement after the group had signalled its gradual withdrawal last month. -- AFP
April 6, 2022
The EU must impose oil and gas sanctions on Russia "sooner or later", European Council chief Charles Michel told the European Parliament on Wednesday.
He urged the measures on Russia's key exports after saying the deaths of civilians in parts of Ukraine were "war crimes" and "yet more proof that Russian brutality against the people of Ukraine has no limits". — AFP
April 6, 2022
The United States, in coordination with the G7 and European Union, will ban "all" new investments in Russia on Wednesday in its latest round of sanctions, a source says.
The joint measures, in response to Russia's invasion of Ukraine and alleged carrying out of atrocities, "will include a ban on all new investment in Russia, increased sanctions on financial institutions and state owned enterprises in Russia, and sanctions on Russian government officials and their family members," the source familiar with the sanctions tells AFP Tuesday.
Sources, who spoke on condition of anonymity, say the latest punishment of Russia's economy has been triggered by alleged evidence of executions and other atrocities committed against civilians in areas recently abandoned by Russian troops in the Ukrainian town of Bucha.
"We had already concluded that Russia committed war crimes in Ukraine, and the information from Bucha appears to show further evidence of war crimes," a source says. — AFP
April 2, 2022
China says it was not doing anything "to circumvent" sanctions imposed on Russia, following warnings from EU officials that any attempt to aid Moscow's war in Ukraine could damage economic ties.
In the clearest indication yet of Beijing's position on the matter, a foreign ministry official tells reporters: "We are not doing anything deliberately to circumvent sanctions imposed on Russia by Americans and Europeans."
But the statement, delivered after virtual talks between top EU and Chinese leaders on Friday, comes as Beijing holds to its stance of refusing to condemn the invasion by its ally Russia. — AFP
April 1, 2022
The United States hit a series of Russian tech firms with sanctions Thursday, including the nation's largest chip maker, in the latest punitive move against Vladimir Putin's "war machine."
The US Treasury said the sanctions targeted networks and technology companies that were "instrumental" to Russia's invasion of Ukraine.
Mikron, the largest Russian manufacturer and exporter of microelectronics, was among 21 entities and 13 individuals listed for penalties, including the blocking of any property in the United States. — AFP
March 28, 2022
Dutch brewer Heineken announces on Monday it is pulling out of Russia, becoming the latest Western firm to exit the country in the wake of Moscow's invasion of Ukraine.
The beer company had already halted the sale and production of its Heineken brand in Russia, as well as suspended new investments and exports to the country earlier this month.
"We are shocked and deeply saddened to watch the war in Ukraine continue to unfold and intensify," Heineken says in a statement.
"Following the previously announced strategic review of our operations, we have concluded that Heineken's ownership of the business in Russia is no longer sustainable nor viable in the current environment," the statement says. — AFP
March 23, 2022
EU member states are given the greenlight by Brussels to offer limited subsidies and cheap loans to companies impacted by the war in Ukraine and the wave of sanctions against Russia.
"We need to mitigate the economic impact of this war and to support severely impacted companies and sectors," EU competition chief Margrethe Vestager says. — AFP
March 20, 2022
Australia announced more sanctions against Russia over the invasion of Ukraine Sunday, immediately banning all exports of alumina and bauxite while pledging more weapons and humanitarian assistance.
The export ban aims to impact aluminium production in Russia, which relies on Australia for 20 percent of its alumina.
It comes just days after Canberra sanctioned oligarch Oleg Deripaska, who owns a stake in Queensland Alumina Limited -- a joint venture between Russian aluminium company Rusal and mining giant Rio Tinto, which has vowed to sever all business ties with Russia.
A Rio Tinto spokesperson said the company "notes the government's announcement today regarding export sanctions" and it was still in the process of "terminating all commercial relationships it has with any Russian business".
Australian Prime Minister Scott Morrison said Sunday his government was working with partners to "put the maximum cost, the maximum pressure on the Putin regime to withdraw from Ukraine".
Morrison said Australia had levelled 476 sanctions against Russian individuals and institutions since the invasion began.
He announced Australia would donate 70,000 tonnes of thermal coal to Ukraine, following a request from the besieged nation.
"We understand that it can power up to one million homes," he said. — AFP
March 17, 2022
Russia's invasion of Ukraine will have a heavy impact on the German economy, with growth reaching just 2.1 percent rather than the previously expected 4.0 percent for 2022, economic institute IfW says Thursday.
"The Ukraine shock will delay the return to pre-coronavirus pandemic levels in the second half," says the institute, the first to issue a forecast since Russia's assault began on February 24. — AFP
March 16, 2022
The International Energy Agency cut its world oil demand forecast for 2022 on Wednesday, warning that sanctions against Russia over its invasion of Ukraine could spark a global supply "shock".
"Faced with what could turn into the biggest supply crisis in decades, global energy markets are at a crossroads," the IEA said in a monthly report, warning that "the implications of a potential loss of Russian oil exports to global markets cannot be understated." — AFP
March 16, 2022
The UK adds over 370 more prominent Russians and entities to its sanctions list and hiked tariffs on a swathe of imports from vodka to steel, and banned exports of luxury goods in retaliation for Moscow's invasion of Ukraine.
The government announces a new wave of asset freezes and travel bans for 350 people and 23 Russian entities. The oligarchs sanctioned on Tuesday have a combined fortune of over 100 billion pounds (120 billion euros).
Foreign Secretary Liz Truss says the earlier the sanctions now extended to 51 oligarchs and their families, as well as Russian President Vladimir Putin's "political allies and propagandists". — AFP
March 15, 2022
The government in Kyiv continues to function, the banking system is stable and debt payments are viable in the short term, but the Russian invasion could plunge Ukraine into a devastating recession, the IMF says.
The Washington-based crisis lender also warned the war could have broader repercussions, including by threatening global food security by causing prices to rise and hampering the planting of crops, especially wheat.
At a minimum, the country would see "output falling 10 percent this year, assuming a prompt resolution of the war," the IMF says in an analysis of the economy in the wake of the Russian invasion. — AFP/Delphine Touitou
March 14, 2022
Asian markets mostly fell Monday as traders track developments in the Ukraine war and diplomatic efforts to bring the crisis to an end, while this week's Federal Reserve meeting is in focus as it prepares to start lifting interest rates.
Oil prices dropped, providing some respite after they soared to a near 14-year high last week, though the commodity remains elevated around $110 and keeping upward pressure on inflation.
Trading floors continue to be flooded with uncertainty as Russia's war in Ukraine rages, with comments from Vladimir Putin that there were "positive developments" in talks with Kyiv unable to provide much support. — AFP
March 12, 2022
Germany's biggest lender Deutsche Bank says it was following other international companies in shutting down its operations in Russia in protest of Moscow's invasion of Ukraine.
"Like some international peers and in line with our legal and regulatory obligations, we are in the process of winding down our remaining business in Russia while we help our non-Russian multinational clients in reducing their operations. There won't be any new business in Russia," the bank says in a statement.
"We condemn the Russian invasion of Ukraine in the strongest possible terms and support the German government and its allies in defending our democracy and freedom." — AFP
March 12, 2022
The United States announces a ban on exports of American luxury goods to Russia and Belarus, including jewelry, clothing, and vehicles, as Washington increased its pressure on Moscow over the invasion of Ukraine.
The ban extends to "certain Russian and Belarusian oligarchs and malign actors located worldwide," a statement from the Commerce Department says, adding that such controls had previously applied only to North Korea. — AFP
March 12, 2022
The United States and its allies move to end normal trade relations with Russia, as President Joe Biden vows the West would make Vladimir Putin "pay the price" for his invasion of Ukraine.
Biden announces the new step, which would enable Western nations to inflict steep tariff hikes on Russian goods, in coordination with NATO allies, the Group of Seven and the European Union.
Washington and Brussels also say they would cut off exports of luxury goods to Russia in what EU chief Ursula von der Leyen described as a "direct blow to the Russian elite." — AFP
March 10, 2022
Casual wear giant Uniqlo will suspend operations in Russia, parent company Fast Retailing says, days after its president defended staying open in the country following Moscow's invasion of Ukraine.
"Uniqlo has made everyday clothing available to the general public in Russia too, as part of our mission," the Japanese firm says in a statement.
"However, we have recently faced a number of difficulties, including operational challenges and the worsening of the conflict situation. — AFP
Follow this page for updates on the economic consequences of the Ukraine-Russia conflict. Photo courtesy of AFP/Stefani Reynolds