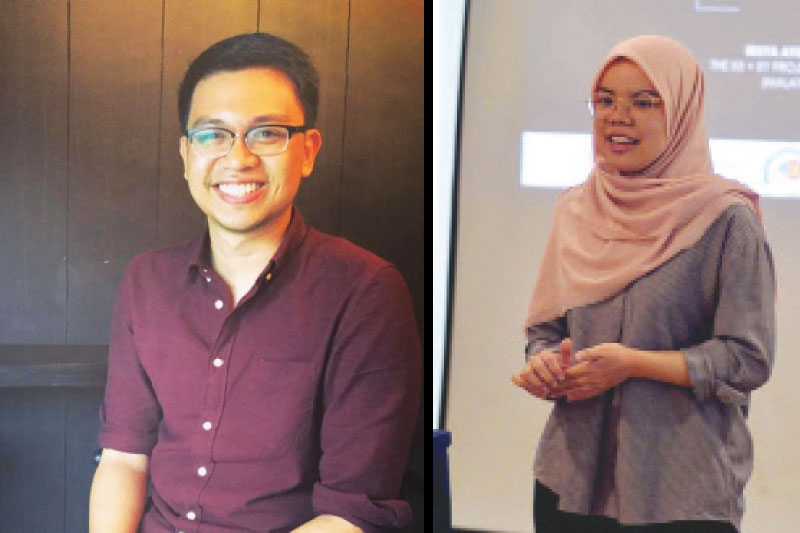 Ernesto and Farhana are only two of hundreds of YSEALI alumni who were empowered to extend their advocacies beyond the borders of their homeland.
Days are tough for lawyers. Every day, they toil to prepare for their next case and weave legal instruments to win their battles and to put individuals or institutions to justice. It is already a difficult endeavor to partake, but some young lawyers are just unstoppable and take on the path of serving other people through advocacies that are close to their heart.
The group of young and woke lawyers include Ernesto Neri and Farhana Zain, alumni of the Young Southeast Asian Leaders' Initiative (YSEALI), the US government's signature program to strengthen youth leadership in Southeast Asia that nurtures an ASEAN community of young leaders who work across borders to solve shared challenges and strengthens ties between the United States and Southeast Asia.
Neri, who graduated from Xavier University in Cagayan de Oro City, saw the need to educate young people on their rights as early as possible. He co-founded an online-offline legal education platform called Legal Starter Pack PH, which aims to provide legal advice and assistance to young Filipinos. It also offers free legal education workshops on the rule of law, democracy, criminal justice system and human rights.
Recently, he won a grant for his project called the Bangsamoro Street Law Program, a project that aims to educate young Moros about their rights.
"Aside from the infrastructure rehabilitation in Marawi, we would also like to educate the young people about the importance of the rule of law and human rights," he said.
For Neri, the discussion about justice among the young, whether they are law students or not, should be mainstreamed as it has a huge impact in their lives.
"Justice is just as essential as food and air, (but) it's not something that people really talk about. The rule of law is very abstract, serious, and boring (to people), but it's very important for children to understand how the law is important in their lives, how individuals interact with those in power," he said.
The non-discussion of legal education on the streets is something that Neri hopes to address, since it would mean empowering people to gain access to individual rights when the need arises.
"We wanted to inspire the kids to understand the concept of justice, how institutions work, make them understand that institutions are slow, but they are very important," Neri noted.
Gender equality in an intercultural context
Zain, a law graduate from Malaysia, found YSEALI as a very instrumental program to talk about gender equality in the context of ASEAN. She founded the XX + XY Project, a platform to empower youth leaders to promote gender equality and combat violence against women across countries.
Zain was inspired to take on her advocacy when she was still a law student, encountering cases of violence against women. This was her wakeup call of sorts, and she believed that she could address this issue in simple ways she could.
"When I (was) still a law student, I read a lot of cases about domestic violence, as well as the discrimination that happens just because you're a woman in ASEAN societies," she noted.
"But more than that, I think it's also important for me to help my fellow country mates in ASEAN to further educate themselves about the status of women in ASEAN countries, and more importantly, the status of other genders like the LGBT," Zain added.
For Zain, talking about gender equality in an intercultural context makes people see the similarities and differences on policies and experiences across Southeast Asian countries.
"Even if gender equality is a universal idea, it is unique in different societies and communities. The idea of gender equality became more diverse through the shared experiences of people we invited to our camps and forums," she said.
Ernesto and Farhana are only two of hundreds of YSEALI alumni who were empowered to extend their advocacies beyond the borders of their countries and while these projects are still young, it already contributed (and still continues to contribute) in the advancement of legal education and gender equality among the Southeast Asian youth.