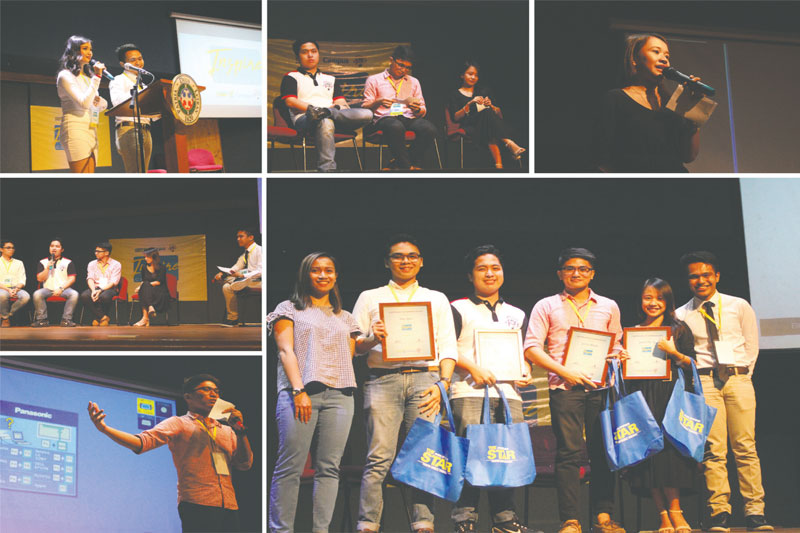 Despite their age, these millennials proved that changing the world is possible. For them, being inspired means being able to create meaningful difference in the lives of others. Photos by Robin Ricohermoso
Millennials inspire millennials
Inspire Congress motivates the young to inspire others
We take inspiration anywhere we can find it. From the things we see, people we meet, places we go, and stories we hear, there is a fragment that we leave to ourselves that keeps us moving. These inspirations make us realize that there is more to be done, and that there are many others like us who also need encouragement to go forward.
While finding what inspires us is elusive for the most part among the young, there are those who discover the particular thing that will inspire them in life early on. Better yet, they not only take inspiration from what they have discovered, but actually advocate and find a way to inspire others in the process.
The Philippine STAR, on its 31st anniversary, pooled together some millennials to take the spotlight and share their stories through an event called the Inspire Congress. Held at the Colegio de San Juan de Letran, the half-day event featured nine young leaders and advocates who did not allow their age to define their capacity to change and contribute to the world.
The event kicked off with four inspiring speeches from Vince Liban, punong babaylan of UP Babaylan, an organization that advocates equality and inclusion on the basis of sexual orientation, gender identity and expression (SOGIE); Nico Aquino, a student leader and climate change advocate who fights for a more sustainable planet; Levi Jun Miscala, a multimedia arts graduate who decided to teach in a public school to further children's knowledge in information and communications technology; and Janessa Tek-ing, a public relations professional who is also an advocate for peace.
Another five individuals also took the spotlight to share their sources of inspiration.
Aiza Mesina, founder of restaurant La Carnita Modern Mexican Cantina, shared how she realized her long-time dream. Working in the corporate world before pursuing her passion, Mesina realized that her penchant for food is what she wanted to pursue as a business. She started with baking goodies, until she crafted the now-famous "Nachos ala Bomba" – a product that has been heralded in media outfits both here and abroad.
For Mesina, the formula "Passion + Dedication + Hard work + Compassion + Prayer" brings success.
Special education advocate Royce Salva, on the other hand, devoted his young life to educate persons with disabilities. Because of his passion, Salva became the department head of a special education school at the age of 21. Despite his age, Royce showed his unwavering passion and dedication to coach children with Down's syndrome, and autism, among others.
Royce shared that he dreams that "public schools will have more spaces for persons with disabilities, so that people who suffer from them can have free access to education."
Tiffany Uy, a student-leader from UP Diliman and an honor student, proved that anyone can succeed despite the challenges they face, in her case, a disease.
For seven years, she was plagued with systemic lupus erythematosus, a disease that made her weak and fragile, but she did not allow it to hinder her growth as a student and as an individual. Instead, she pushed her limits to prove that she is more than her disease.
Uy noted that during her academic journey, there were people who tried to stop her and wanted her to just give up, but her faith was bigger than her fears, so she persevered. "Never mind the haters," she shared.
Perci Cendaña of the National Youth Commission, meanwhile, shared his insights on what the young can do to build a nation of leaders. While the young are blessed, this blessing is best shared with others. He noted that millennials struggle to find meaning in their lives, hence the common feeling of discomfort and agitation.
"We have to transform our potential energy into kinetic energy," he said, as he stressed the importance of doing something relevant to the community.
Micaela Bautista, Teach for the Philippines' recruitment manager, ended the Congress by sharing some of the stories she encountered as she scouts for people who would want to teach for public schools.
Bautista recounted how she wanted to get rich, travel, and "live happily ever after". But during her quarter-life crisis, she looked for meaning. That was when she decided to join TFP.
At the end of her talk, Bautista left the audience with a question: What will you do to leave your mark?
While many millennials struggle to find their purpose and meaning, there will always be something or someone, somewhere that will inspire them. During this one-day congress, nine millennials served as an inspiration to fellow millennials, making them see that the young generation has within its means the power to make lasting change possible for the present and the future.