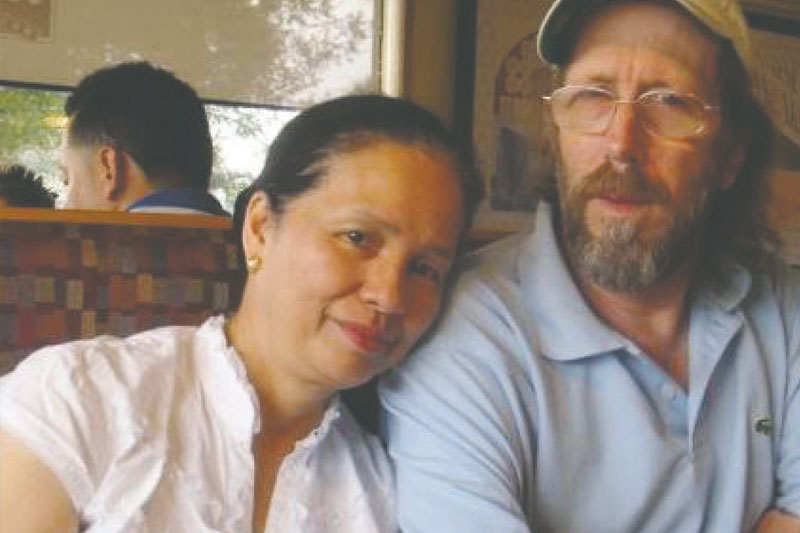 John Martin, shown with his Filipina wife Cirila, pledged to shoulder Marilyn's college education after reading her story in The STAR. They are both teachers by profession.
MANILA, Philippines - Last week, The Philippine STAR ran the story of Marilyn Lauren Rapiza, a 12th grader from Rama Island in Catbalogan, Samar who would swim past troubled waters on most days just to make it to school. While her story of grit is one that draws admiration from many, she gets a good turn from one good Samaritan who was just passing through.
It's amazing how the kindness of a stranger can manifest in ways least expected.
After the article about Marilyn Rapiza was published in Campus last week, a foreigner on vacation in Cebu was touched by her story of perseverance.
James Martin, a retired school teacher from the United States, could not believe Marilyn's daily ordeal just to get an education. Touched by the story, he contacted The STAR to say that he was pledging to support Marilyn's college education, allowances included.
"The determination and struggles that she endures daily in order to attend school was just mind-boggling to me. Most would just up and quit and drop out of school. I'm sure I would be one of those. The early hours, risking her life by swimming there and back and all for the desire to attend school filled me with admiration for this young lady," he said in an email interview.
Married to a Filipina who has also been a school teacher for 44 years now, Martin said his family values education, and learning about Marilyn's condition made him decide to provide for the young girl's education.
"I guess when I read the article about Marilyn in the paper, I thought of what Jesus said, 'Whatever you do for the least of my brethren, you do for for me.' And so I decided right then and there, I wanted to help this unfortunate girl," he said.
He believes that the gift of education is the best one could give to someone in need.
"Education is a gift that you can give to someone that no one can take away from them. If you give money or other material gifts, after time they're gone, but with education it's never gone," he added.
He went on to say that having been school teachers, they always gave their students books as Christmas gifts.
"Once the book is read, no one can take that story away – but a toy or candy, it will be gone after time," he explained.
A life changed
Shortly after learning of the kind man's intention, The STAR, with the help of Standard Chartered Bank (SBC), Philippine Business for Social Progress (PBSP), and the Division of City Schools-Catbalogan, traced Marilyn to give her the good news.
Marilyn was so elated with the kind offer that the news left her speechless.
"Hindi po ako makapaniwala sa nangyayari. Hindi ko po alam kung ano ang ginawa ko para magkaroon ng ganitong pagkakataon. (I couldn't believe it. I don't know what I have done to deserve such an opportunity)," she said.
Marilyn also admitted that although she was doing her best to go through high school, she had actually planned to stop schooling altogether after the 12th grade because of the high cost that a college education would entail.
"Wala na po akong plano na mag-kolehiyo kasi wala naman po kaming pera. (I never had real plans for college because we don't have the means to support it)," she said.
Martin's message, however, gave her renewed strength to do well in class and to not fail in any of her subjects.
"Maraming salamat po sa inyong lahat, lalo na po kay Mr. John Martin. Kung hindi po dahil sa inyo, mahihinto na sana ako sa pag-aaral ng kolehiyo (Thank you very much to all of you, especially to Mr. John Martin. If not for you, I wouldn't be able to pursue a college education)", she said.