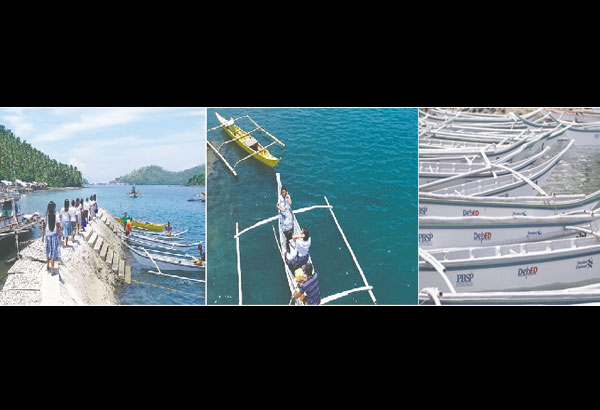 Students can now go to school without having to swim, thanks to Banca ng Buhay project by SCB in collaboration with PBSP and the local government of Catbalogan, Samar.
MANILA, Philippines - For many families wanting to improve their lot through education, poverty is often not the only hindrance. In many cases, the reality is that schools are remotely located in some sitio far from home so young students have to wake up five to six hours before school starts for the day just to make sure that they can make it in time for their first class.
In places where every peso counts, a boat ride costs a fortune. This could also mean that young lads have to risk their lives by countering the tides of the sea just to make it to school.
Children living in Sierra Islands, one of the remotest communities in Catbalogan City in Samar struggle daily just to get to school. Depending on how far their barangay is located from the school, they would swim for give or take an hour.
The waters are not always calm, but for 19-year-old Marilyn Lauron Rapiza, swimming even if the waves are strong, is a risk she is willing to take everyday.
Currently in Grade 12, Marilyn is one of the first students to brace the waters of Sierra Islands just to get to school. Antonio G. Tuazon National High School in Brgy. Rama is the only secondary school in Sierra Islands. Students of the six different island barangays have no choice but to find a way to get to Rama.
As early as three in the morning, Marilyn would already be up preparing to go to school. By 4 a.m., she would already be waiting for a boat heading for Rama.
"Alam ko na pong maganda ang simula ng araw ko kapag nakahanap ako ng ka-barangay ko na nag-iigib (ng tubig sa Rama) na pwede kong masakyan papunta sa school, (I know it's a good day when I chance on someone from my barangay out to fetch water from Rama whom I can ride with on the way to school)," she shared.
She would not be so lucky on most mornings, though. There are times she has to wait for four hours, and still no boat would arrive to take her to school. In such instances, with books and school materials wrapped in plastic, Marilyn decides to swim her way to school.
"Kapag wala na po'ng masakyan, lalangoy nalang po kami ng mga kasama ko papunta sa school. Mahirap kasi hindi laging tahimik ang mga alon. Mahirap, pero kinakaya, (If there's no boat, I and my friends swim. It's a challenge because the water is not always calm. But we manage)," she said.
Marilyn, along with other students who share the same plight, often miss their classes or come to school late. Despite being used to the almost-daily routine, there are times when there is no taming the waters.
Determined not to miss her classes, though, she would patiently wait for the water to calm, and in the afternoon, would find ways to go and catch up with lessons she missed out on.
Going to school is one thing, and going back home from school is another. During a typical swim back home, Marilyn shared that she almost lost her cousin.
"Akala ko nawala na yung pinsan ko, pero noong sinisid ko siya, nakita ko pa siya. Hinila ko siya pataas. Umuulan noon at malakas pa yung alon. Sinubukan naming kumaway baka may bangkang dumaan, pero wala po talaga (I really thought I lost my cousin. I found her underwater and managed to pull her up. It was raining then and the waves were strong. We hoped that a passing boat would see us but there was none)," she recalled.
The students' difficult situation has led many of them to drop out of school. Despite her own determination to finish high school, Marilyn also nearly lost all hope.
If it hadn't been for her parents, she would have given up herself.
Last year, Standard Charted Bank (SCB), in partnership with the Department of Education Catbalogan City Division, non-profit organization Philippine Business for Social Progress (PBSP), Negrense Volunteers for Change (NVC), and the Catbalogan City local government gave came to the aid of the students.
Their project, dubbed "Banca ng Buhay: School Boats for Mobility and Livelihood Project," provided free transportation to students to and from their schools.
The project also helped boost the family's livelihood as the 38 fiberglass motorized boats provided to the locals were also used for fishing during weekends.
Since Standard Chartered donated the boats, Marilyn says she has not been late to school and has gotten better grades. Her restored hope pushes her to even better her academic performance. She dreams of one day completing her studies so she could give back to her mother.
Marilyn is only one of 300 public school students who benefited from the Banca ng Buhay project. She will also be one of the first senior high school graduates of Antonio G. Tuazon National High School. – WITH STAR DIGAY