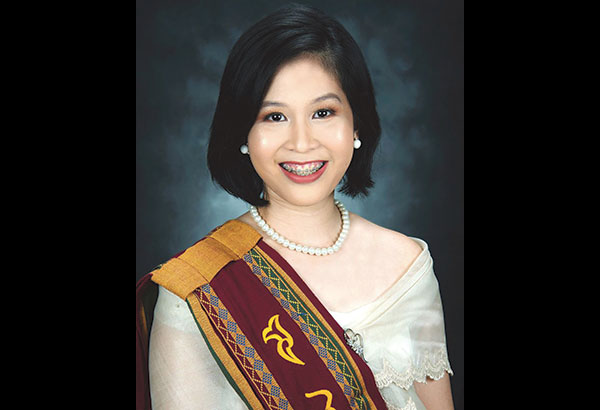 Battling systemic lupus erythematosus, a disease in which the immune system damages healthy body tissues, Tiffany Uy still managed to graduate with honors from University of the Philippines with a degree in Public Administration.
Girl with lupus finishes UP degree with flying colors
MANILA, Philippines - People mocked her, told her she wouldn't make it until the end, asked her to just transfer schools or attend the Open University, but she proved she can make it.
And she did, with flying colors.
Tiffany Uy's inspiring story made a round on social media and gave people hope they desperately need. She was not just another inspiring story, as her graduation tale tells a lot about her hard work and perseverance to achieve her dreams.
Uy has systemic lupus erythematosus, a disease in which the immune system damages healthy body tissues. Despite this, she graduated from University of the Philippines – Diliman with a degree in Public Administration, cum laude.
In an online interview with Campus, Uy admitted that she had second thoughts on entering UP.
"Yes, I was hesitant at first when I heard about the horror stories of students who turn into zombies because of the sleepless nights. My mom told me to just try studying in UP so I could gauge on my own whether or not I could handle the environment. If I didn't like UP then I could leave but at least I knew I tried. In UP, I realized that the real competition is with your self. Will you come out of UP a better person than when you entered? I came out with more questions but I became stronger and determined to serve the country as an Iskolar ng Bayan," Uy said.
However strong Uy wanted to be, there were times that she decided to give up.
"I gave up so many times. I thought I could handle a lot of responsibilities and despite my efforts, I became too overwhelmed and I failed. It was not enough that people were telling me that I could do it but I lost faith in myself because I saw the disappointment in people's faces," Uy explained.
"I was angry with myself for being weak and sick. There were times when I didn't even feel like trying anymore because I was too scared to fail again. I let myself give up several times to realize that there were so many more reasons to stand up again," she added.
But when she ever thinks of her hardships, Uy reminds herself of other people's struggles. It makes her believe that while she has her own set of obstacles to hurdle, there are others, too, who go through the same.
"It feels good to know that there are people who experience the same difficulties as you so you lean on each other for moral support and tips to get through the painful moments," she said.
Her message to those who told her she can never make it?
"Thank you for driving me to set my goals higher. Thank you for pushing me to try harder. Thank you for teaching me to develop a tougher skin. Thank you for making me believe in myself. When people put you down, 'Work hard in silence, let your success be your noise.'"
Tiffany is now taking some time off and enjoying her vacation, but she plans to work for the government, as it was taught to them as "Iskolar."
"We each have a stake and a role to play if we want to see positive changes. My plan is to continue answering the call to serve the country in my capacity. I will bring my SLE with me but it will not stop me from doing my best to perform my duty as a Lingkod Bayan," she said.