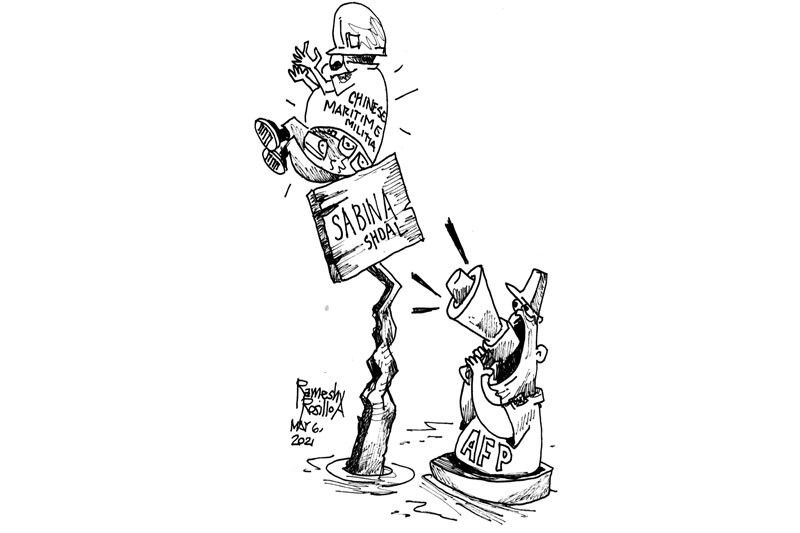 Niadtong Abril27, 2021 malampuson ang mga barko sa Pilipinas pagpapahawa sa mga nag-angkoraheng mga barko sa Chinese Maritime Militia sa Sabina Shoal human sa way puas nilang pag-abog gamit ang trompauga radyo.
Nihit kini kaayo nga panghitabo ning nakalabay nga lima ka tuig. Kaniadto ang mga Chinese maoy nanghawod sa teritoryo sa Pilipinas diha sa West Philippine Sea.
Pruweba kini nga kaya sa Pilipinas abugon ang mga barko sa China nga dili kinahanglang moresulta sa giyera ug magka-nuclear war nga maoy pirmeng gibalik-balik og bahad ni Pres. Duterte.
Nabuhat kini gamit ang mga barko sa Philippine Coastguard ug Bureau of Fisheries and Aquatic Resources. Nagpasabot kini nga kung duna lang daghan pang mga barko ang PCG ug BFAR mas maprotektahan pa og maayo ang mga teritoryo sa Pilipinas ilabi na sa West Philippine Sea nga giangkon tanan sa China gamit ang ilang hinimo-himong 9-dash line.
Dili lamang ang Pilipinas ang nakahimo pag-abog sa mga barko sa China pagpagawas sa ilang mga teritoryo kondili hasta ang mga nasud sa Vietnam, Malaysia ug Indonesia. Apan wala bisan usa kanila nga giatake o gibombahan og nukleyar.
Gipadaghan sa China ang ilang mga barkong puti sama sa Chinese Coastguard, Chinese Maritime Surveillance ships, ug kining gatosang Chinese Maritime Militia maoy mihamok sa kinabuhi sa mga Pilipinong mananagat.
Karon nga duna nay mga barkong puti ang Pilipinas, makahimo na pagpatrolya sa tanang mga adlaw diha sa WPS. Apan kinahanglang masustinir kini sa hangtud. Kini pinaagi sa pagdugang pagpalit sa kagamhanan og mga barko.