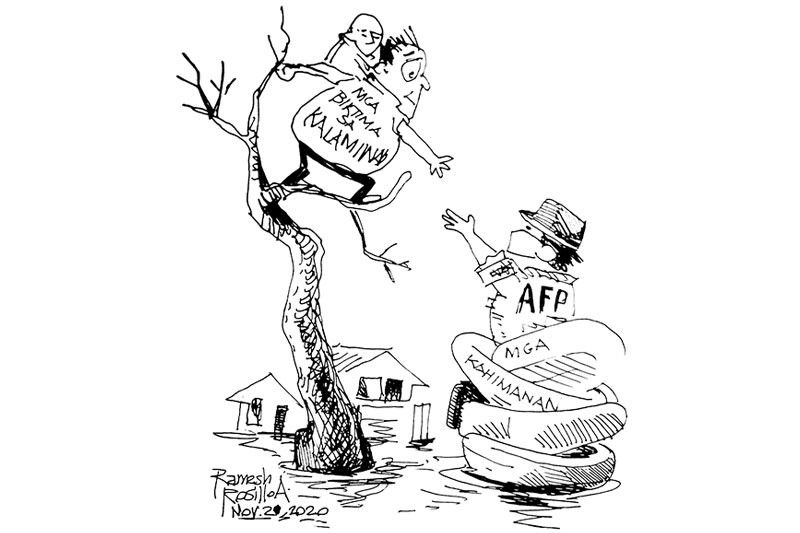 EDITORYAL - Disaster Response
Mas paspas ug mas daghan pa unta ang matabangan sa gobiyerno sa mga biktima sa bagyo didto sa Luzon kun aduna lang kini paigo nga gidaghanon sa mga gamit ug kahimanan.
Ang Pilipinas nalibotan og kadagatan ug nag-atubang sa dagat Pasipiko. Hinungdan nga abunda kini sa isda ug mga maanindot nga mga isla. Apan bugti sa maong kaanyag, agianan sa bagyo ang nasud.
Kada tuig adunay 20 ka mga bagyo gikan sa Pasipiko ug West Philippine Sea nga mosulod sa Pilipinas. Ang bagyo magbilin og grabeng kadaut sa kayutaan ug kinabuhi sa mga Pilipino.
Mao na gyud kini ang kapalaran sa nasud nga angay sab untang tinud-on pagpangandam sa gobiyerno. Apan pila na ka mga administrasyon ang naglabay mura ra man og patapsing-tapsing ang ilang pagpangandam sa mga bagyo.
Kun tipuon ang pundong gipagawas sa nasudnong pangamhanan ug mga local government units, bilyones ka pesos na tingali ang nagasto para sa disaster response, relief operation and rehabilitation. Apan kuwang gihapon.
Kaning bagyo makita man ug mahibaw-an pa gani kun kanus-a maabot apan sa gihapon,duna gyuy mga panahon nga di makapanapo ang mga LGUs sa danyos nga namugna.
Mahimong palambuon ug palig-unon ang kapabilidad sa humanitarian assistance and disaster response (HADR) pinaagi pagpalit og dugang mga ekipo ug pagbansay og mga tawo.
Apan mas makabarato ang gobiyerno kun tutokan nila ang pagpalambo sa kapabilidad sa Armed Forces of the Philippines tungod kay sila maoy adunay daghang mga sakop.
Padaghanon ang mga ekipo ug kapabilidad sa transportasyon sa AFP nga parehong mahimong gamiton panahon sa pagdepensa sa nasud ug sa paghakot og mga relief goods, search and rescue operations, rehabilitasyon panahon nga adunay katalagman.
Ang kasamtangang kahimanan sa AFP kuwang kaayo apan duna silay kapabilidad maong anugon kaayo nga dili dayon sila karesponde tungod sa kakuwangon sa gamit.
Nasayod ang gobiyerno bahin sa sitwasyon sa nasud, dili unta nila tigi-tigihon o tihikon ang paghatag og budget para sa pangandam sa mga katalagman, ug mas praktikal kun anha sila magsugod sa AFP.