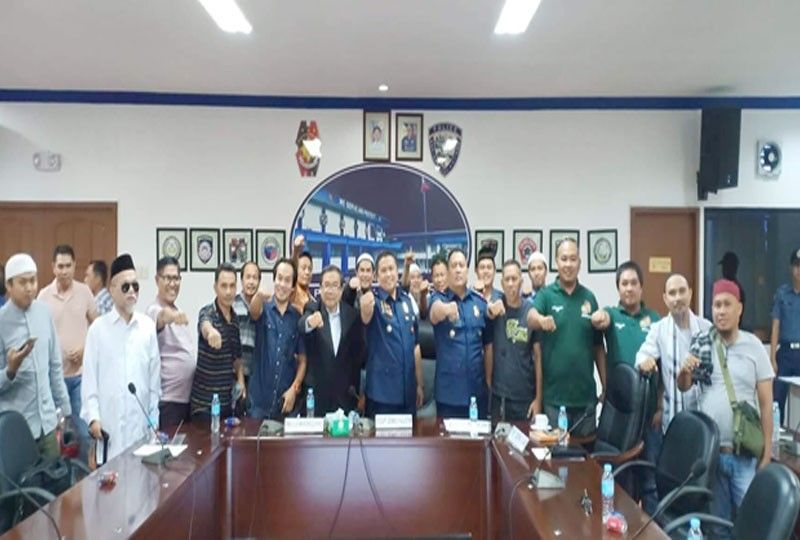 Muslim community motabang sa seguridad
CEBU, Philippines — Mipasalig ang Muslim community sa Sugbo nga moabag sila sa seguridad alang sa Fiesta Senyor ug Sinulog Grand Parade.
Kagahapon nakigpulong ang mga lider sa nagkadaiyang Muslim community sa tibuok Cebu ngadto sa mga kadagkuan sa Police Regional Office sa rehiyon aron ipadayag ang ilang tinguha nga motabang og bantay sa seguridad.
Si Imam Najeeb M. Razul, chairman council of Muslim Elders nagkanayon nga nasabutan sa tanang mga Muslim nga motaho dayon kon adunay mangabot nga mga bag-ong salta nga mga Muslim dinhi sa Sugbo.
"Di man ta kabalo gud sa huna-huna sa mga individuals nga gusto mo-create og kasamok. We have to anticipate that because Cebu could be a soft target." sigon pa ni Razul. "Kami nga naa diri namuyo, we cannot allow that to happen," dugang sa imam.
Pasalig nila nga dili nila amumahon ang mga bag-ong salta nga mga Muslim nga buot momugna og kagubot atol sa kapistahan ni Sr. Santo Nino.
"Kini man gud mga ingon ani nga mga tao, mo-succeed ra ni sila kung naay mopasilong nila. Kami dili mi mopasilong nila," dugang ni Razul.
Si Police Chief Supt. Dennis Agustin, deputy director for administration sa PRO-7 nagkanayon nga ang maong gipadayag sa komunidad sa mga Muslim, daku og tabang sa paglikay nga adunay spill over nga mahitabo dinhi sa Sugbo.
"Gusto kasi namin mapakinggan ang kanilang commitment. Assurance na sila ay sumusuporta sa Sinulog kasi this is not just a religious event this is cultural," matud sa maong police officer.
Plano usab sa National Commission on Muslim Filipino nga mopakatap og gibana-banang 300 ka mga batan-ong Muslim isip dugang force multipliers ngadto sa kapolisan nga mobantay sa kapistahan.
Kahinumduman nga niadtong tuig 2017 nasudlan og mga rebeldeng Muslim ang Bohol diin nakamugna og kagubot ug kahadlok sa mga residente.
Dili buot sa kapolisan nga mahitabo sab kini sa Sugbo ilabi na nga nagkaduol na ang Fiesta Senyor diin modagsa gyud ang daghang mga deboto ug turista. DILT (BANATNEWS)