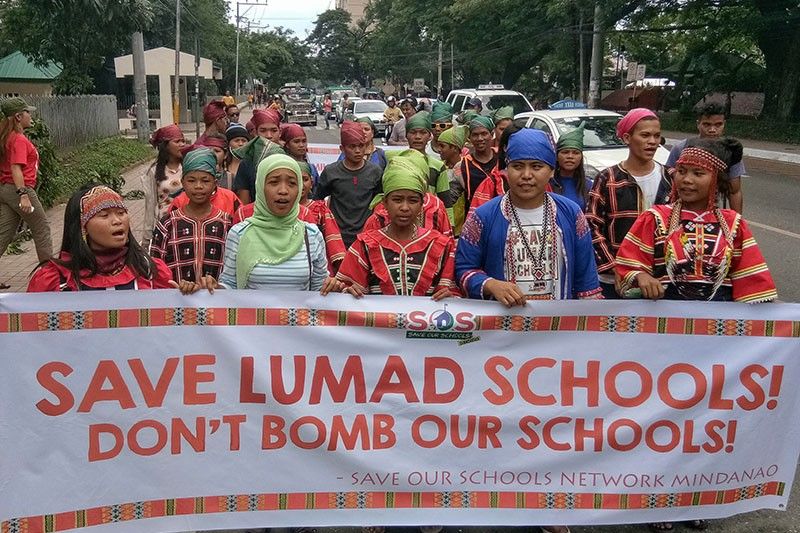 Lumad students and teachers from Mindanao arrive at UP Cebu to air their sentiments. They will stay in different schools in Cebu for 16 days.
Aldo Nelbert Banaynal
Lumads from Mindanao air 'abuses' of military
CEBU, Philippines — Their hometowns being under military control, some indigenous peoples have fled Mindanao to seek refuge in other places like Cebu.
Jong Monzon, lead convener of Save Our Schools Network-Cebu, said a group of Lumad students and teachers from Mindanao is here in Cebu City to call for the lifting of martial law in Mindanao. Classes, he said, are disrupted allegedly due to military harassment and bombings.
At least 29 Lumads, 27 of whom are students and the two others teachers, are in Cebu City to participate in the event dubbed "Bakwit School Cebu 2018" to join forums in different universities here, as well as continue to hold classes here.
They are also calling on Cebuanos to sympathize with them.
Monzon said some Lumad schools in Mindanao have been closed since they are being used as military barracks or camp.
Junior high school teacher Rehana Guiamalon said the school she was teaching in Davao del Sur – Mindanao Interfaith Services Foundation Inc. –was closed and is currently taken over by the marines.
She decried the behavior of the military personnel who are allegedly terrorizing the Lumad communities, which is what their group would like people to know. This is the reason why some of them go to different schools to share the threats and bullying of government forces.
Guiamalon said some teachers are even being intimated as the military press charges on them, tagging them as rebels or supporters.
She said Lumad teachers wanted to continue giving education for students.
Rorelyn Mandacawan, a Grade 11 student, joined the event since she wants to strive in learning and pursue her dream of becoming a teacher someday. She said she also wants to help other Lumads who are deprived of education.
The Mandacawan family is mourning after a member, a Grade 6 student, was killed because of the bombing.
The Bakwit School initiative started in 2017. With it, makeshift classes are set up in different schools and some hosted by churches to provide schooling services for displaced indigenous children.
Aside from education, this initiative has also been an avenue for social activities like advocacy integrations, workshops, trainings, and even protests against attacks on Lumad schools and communities.
Here in Cebu City, the event kicked off on Monday, September 3, and will run for at least 16 days, hopping from one university to the next. The Lumads are housed at the University of the Philippines-Cebu. (FREEMAN)