Ignores color-coding vs ASF: Garcia stops border limits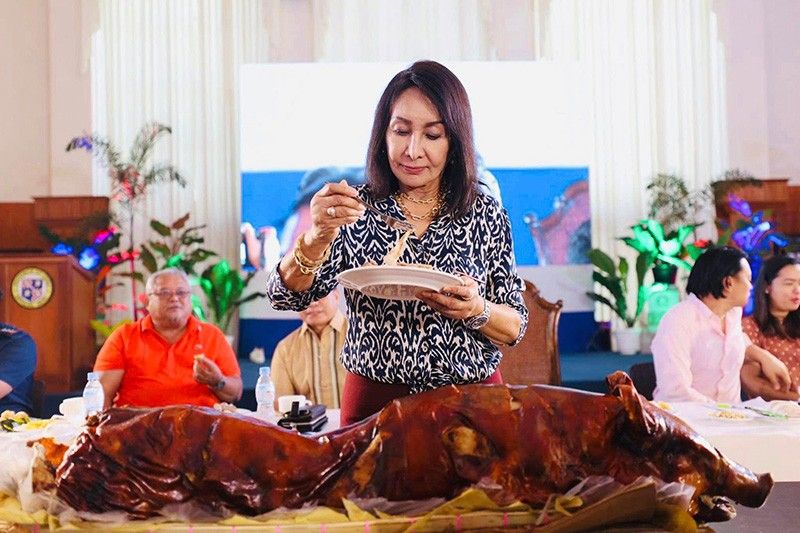 CEBU, Philippines — Governor Gwendolyn Garcia has lifted all border controls on the mobility of hogs in the Province of Cebu despite the threat of the African Swine Fever.
Further, the governor has also "nullified" the color-coding scheme implemented by national line agencies in Cebu to mark LGUs supposedly affected by the ASF.
"We will craft our own policies. We will define our own direction. Because, hello, this is the Province of Cebu!" Garcia said during a general meeting with mayors at the Capitol today.
The governor is set to issue official orders for the implementation of these policies.
As this developed, Central Visayas Pork Producers Cooperative (CeViPPCo) has revealed a slight decrease in the pork consumption amid the Asian Swine Fever cases in Cebu.
"Makita gyud nato nga adunay gamay nga pag-ubos sa pork consumption kay basin hadlok sad ang mga tawo mokaon og pork tungod sa ASF but we would like to make it clear nga kaning ASF wala ni epekto sa tawo," CeViPPCo chairman Rolando Tambago told The Freeman yesterday.
Tambago also explained that pork sold in public markets or supermarkets are free from ASF or any other diseases.
"Bisan sa mga backyard raisers dili man allowed nga anha lang ihawon ang baboy sa kilid kilid. Adto gyud na ihawon ang baboy sa slaughterhouse unya ang baboy nga naay sakit dili gyud na allowed ihawon. So, kanang baboy nga naihaw na, wala nay ASF. Safe ra gyud mokaon og karneng baboy bisan naa pay ASF sa Cebu," Tambago added.
Tambago said that their group also lauded the Cebu Provincial government's measures and policies in managing the threats of ASF.
Tambago said it has been three years that the national government has been culling hogs and yet the spread was not prevented.
Tambago, who attended a meeting at the Capitol on Monday, March 20, told Garcia and nine mayors from LGUs placed under color-coding scheme by the Department of Agriculture that based on private sector estimate, five million hogs had been killed in the fight against the ASF since it first surfaced in the country in 2019.
Sadly, however, he added, only around 20 percent of the figure fell victim to the virus itself while the greater 80 percent majority were casualties of DA's culling protocol.
In the case of Carcar City, there were about 600 hogs that were due for culling when the governor ordered to put on a halt.
"Wala may nadungog nga kadtong 600 ka baboy nga patyunon nga nangamatay gyud to sila," Tambago said.
The governor has remained steadfast in her position that Cebu will take a more evidence-based approach to the ASF, even tapping the expertise of Cebu's leading laboratory services provider and the personnel on the ground through barangay volunteer workers to monitor the situation even down to the purok level.
Tambago also lauded Garcia for being the lone voice in government that seeks for a better method in handling the situation without hurting the economy and the livelihoods of many.
Hog Raisers' role crucial
Meanwhile, the responsibility to stop the spreading of the African Swine Fever virus stops at the local hog raisers, Cebu City agriculturist Joey Baclayon said after ASF was confirmed in the city.
Baclayon said the city government, through the City Agriculture Office and the Department of Veterinary Medicine and Fisheries, has not been remiss in educating the local hog raisers about ASF.
The entry of ASF could not be solely attributed to the deactivation of the border control in Cebu City last month, Baclayon said, as the border control was mainly for transporters/delivery services of live hogs and meat, but not for private cars and all commuters.
"The border control and ato ra gyung mga carrier, but we do not know katong mga private cars, mga magbawn og baboy nga luto na, di man na nato ma-check. So kaning border control, lisod kay maski gani sa international wala man maka control, so how much more diri na wala gyud na gitrace kung asa gyud na gikan tanang sakyanan or unsay sulod," Baclayon said in an interview with The Freeman.
"Wala gyud tay pagkulang in terms of the biosecurity campaign and sa atong mga kaubanan nga mga mag-uuma, gi-inventory man gyud na nato per barangay. Wala na gyud mapugngi… Naa na ni before, karon, nabalik na pud," Baclayon added.
At the moment, though, Bulacao is the only barangay in the city that got positive with ASF, the DVMF has not yet given specific details.
Even before getting the testing results though, Baclayon said they already contained the area accordingly.
"Mao ganing wa siguro naka-spread gyud kaayo," said Baclayon.
Follow Rules
With ASF already detected, the city government is urging hog raisers, mostly backyard raisers to meet the strict enforcement of biosecurity in their farms.
"Naa naman gyud na. Ang ato lang na makontrolar lang gyud nato, ma-contain na. Karon, strict enforcement of the protocol especially on the biosecurity measures… We throw back the responsibility mismo sa mga mamuhiay. Kita sa syudad igo ra man ta pagsulti nila unsa ni about, unsay mga consequences and other assistance. Sila mismo mangunay unsaon nila nga dili makasulod sa ilang tagsa-tagsa ka backyard," Baclayon said.
Invetory shows that Cebu City still has close to 12,000 hogs, including piglets, from over a thousand hog raisers.
Most of the supply is at Lusaran with 1,500 heads owned by close to 90 hog raisers. This can last about two months.
The city government also continues its information campaign against ASF while assisting hog raisers to register for insurance of their hogs.
The city is also emphasizing that hog raisers themselves should be responsible enough for their hogs.
"Sila gyud mismo tagsa-tagsa nila magmatngon nga dili gyud masud (ASF) sa ilang babuyan," said Baclayon. – Mitchelle L. Palaubsanon, JMD (FREEMAN)