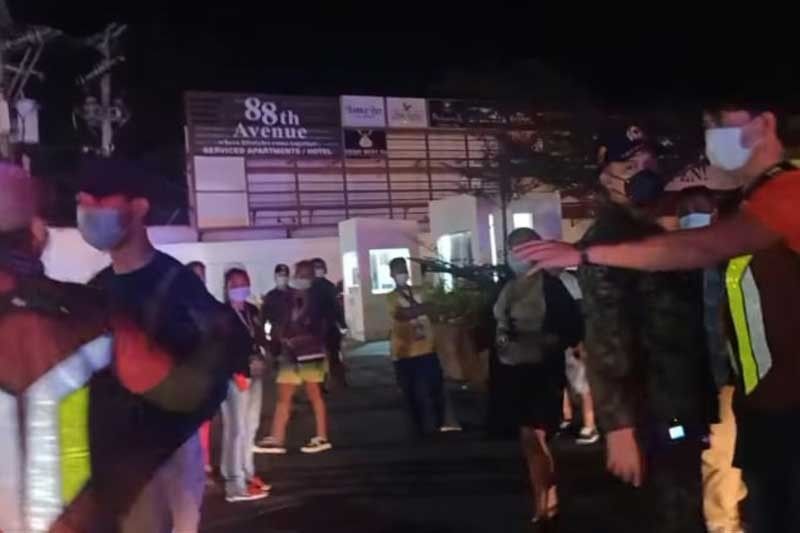 Operation Bulabog of the Cebu City Police Office.
Screen grab from video feed of CCPO Director Ligan
12 doctors arrested, fined for violating curfew
CEBU, Philippines — Twelve medical doctors were among the 166 people the police rounded up Friday night in another round of Oplan Bulabog as part of stricter measures to enforce curfew amid the rising coronavirus cases in Cebu City.
Curfew in the city runs from 11 p.m. to 4 a.m.
Raquel Arce, head of the Prevention, Restoration, Order, Beautification, and Enhancement (PROBE), who also accompanied the Cebu City Police Office personnel in the operation, said the alleged medical doctors presented their identification (ID) cards when they were spotted in a resto bar in Barangay Banilad.
"Allegedly, ni-claim sila nga doctors sila unya ni-present sila og ID nga sila kunong tanan 12 kabuok doctors. Wala nalang nato gitiwas og pagpakita sa ID kay wala man sad ta mo-honor sa ilahang ID considering nga wala man sila madakpi gud nga nag-atang og sakyanan or naa sa hospital. Naa man sila sa resto bar nag-inom," said Arce.
EOC's Deputy Chief Implementer and city councilor Joel Garganera confirms a group of doctors were among the curfew violators arrested.
Emergency Operations Center deputy chief implementer and Councilor Jose Garganera declined to name what hospitals the doctors were working but they reportedly belonged to one group.
After paying the compromise penalty, they were released early Sunday morning.
Garganera said the doctors were cooperative with the arresting officers.
"COVID knows no distinction. The same goes to our enforcement," he said.
Set example
CCPO deputy director for operations Wilbert Parilla emphasized that being an authorized person outside of residence (APOR) does not mean that one can freely have drinking sessions and other leisure activities in public places during curfew hours.
He said that APORs are only authorized to go outside their residences during their call of duty.
Considering that they are medical doctors who play a big role in the fight against COVID-19, Parilla said they should set the example by taking heed the minimum health protocols.
"Dili nimo magamit imong paka-APOR kon naa ka sa imnanan. Unya considering nga doctors sila, sila maoy nag-(violate) anang health protocols nga dili magtapok-tapok ug dili mag-inom, so dapat sila pod ang mangulo, dili kay sila mangulo sa pag-inom-inom sa gawas," Parilla added.
All arrested individuals for violating curfew hours were turned over to PROBE and brought to Tejero gym for a seminar.
Arce said that of the 166 individuals, 116, including the doctors, paid P500 in administrative fine after the seminar while the rest chose to render an eight-hour community service.
A total of 44 individuals were also rounded up by the police and 130 individuals on Thursday night.
When caught for second offense, Arce said it is up to PROBE to fine or file a case against the violators.
"Depende lang sa sitwasyon. If resistance or what, by then, mapugos mi og file og kaso," she added.
Parilla said they will continue the implementation of Oplan Bulabog until COVID-19 cases in city will decrease.
"Ato ning ipadayon hantod nga dili moubos ang atong COVID-19 positive cases. Dili lang ni sa pista sa Sinulog but continuous lang ni siya nga pagabuhaton hangtod lang na mabalik or mapaubos or mawagtang na gyud ni atoang mga mag-positive," Parilla said.
Arce urged the public to be mindful and be responsible citizens to stop the rise of positive cases in the city.
Show cause order
Parilla also disclosed that four establishments were issued a show cause order by the Business Permit and Licensing Office (BPLO) for allegedly operating beyond curfew hours and excessive serving of liquor.
Based on the executive order of Mayor Edgardo Labella, the serving of liquors is limited to only two bottles per customer.
"Ato lang klarohon nga ang mga imnanan wala pa gyud na sila gitugot nga mag-open. Ang pwede ra ang mga restaurants, pwede sila maka serve og liquors," he said.
Meanwhile, Parilla clarified that the deployment of Central Command (CENTCOM) tanks in Barangays Pasil, Sawang Calero, Suba and Ermita since Friday evening was also part of the Oplan Bulabog.
The deployment was undertaken to help prevent the gatherings and enforce health protocols in anticipation of crowds during the barangays' two-day fiesta celebration.
Parilla said that barangay captains were already reminded to prohibit holding of parties.
Households were urged also to celebrate the fiesta with their families alone and advised not to entertain visitors.
"Ato na gipahimangnoan ang mga barangay captains nga wala'y party-party. Pwede ra mangaon sud sa balay ang pamilya, pero kon kaon-kaon na gyud nga daghan ng tawo, excess na sa balay dili nana siya pwede labi na og naa mo sa gawas. Wala nay social distancing, ato nang ipabadlong. Badlong una, unya og dili mopatuo, thats the time nga atong i-apprehend," Parilla said. -- with Mitchelle L. Palaubsanon and Caecent Noot-Magsumbol, JMD (FREEMAN)