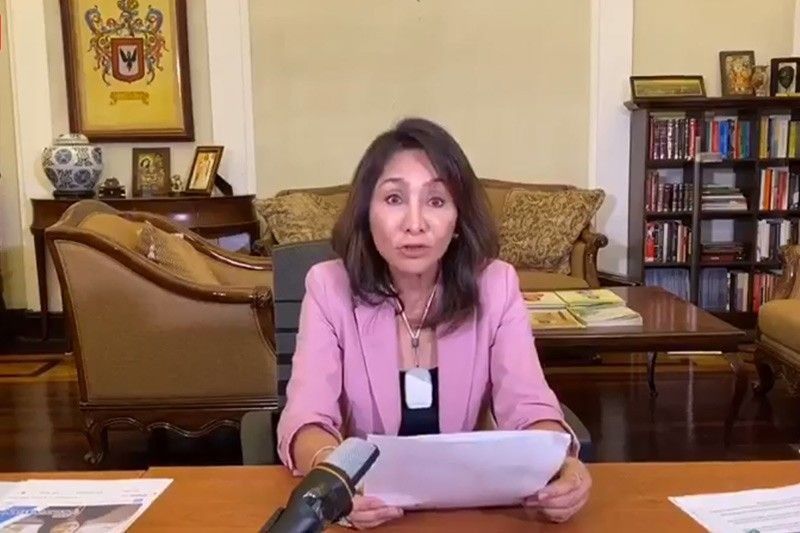 Governor Gwen Garcia
Cebu Provincial Government via Facebook, screen grab
Man behind 'Kill Gwen' post surrenders to cops
CEBU, Philippines — A man who allegedly posted a P10-million bounty for those who can kill Governor Gwen Garcia has surrendered to the Cebu Police Provincial Office (CPPO).
Billy Joe Magdadaro has voluntarily surrendered to the authorities at around 1 a.m. yesterday, after his alleged post has went viral online.
Police Colonel Roderick Mariano of the CPPO said that Magdadaro went to the police office with his friends, reportedly to clear his name.
"Nang chineck namin (account) at around 9 p.m., deactivated na sya. That's a few hours (after) we have received the report that a certain Billy Joe Magdadaro has voluntarily submitted himself," Mariano said.
In a separate interview, Magdadaro denied he owns the account and added that he doesn't have any idea that such account with his name and face existed.
"Dili na sya akoa..wala koy idea ana, ang nag pindot (pahibalo) ra sad nako kay akong mga amiga," Magdadaro said.
Magdadaro said that it has been a long time since he used his Facebook account. He also claimed that his original Facebook account doesn't bear his last name, unlike the account that posted the bounty offer.
Initial investigation showed that the account who posted the offer of P10 million bounty had existed since 2015.
Mariano, on the other hand, said they will be going to investigate further and look into the possibility that the account might have been hacked. They will also look into his claims that there is somebody else that has been using his name and picture to post it.
Mariano said they will be turning the case over to the Regional Anti-Cybercrime Unit (RACU)-7, since the investigation will be needing technical digging.
"At para din ating makita kung bakit ngayon lang nya sinabi na ay gumagamit doon sa account nya since 2015 pa na joined yong account nya sa Facebook," he added.
Magdadaro is under the custody of CPPO pending the investigation.
Meanwhile, Governor Gwendolyn Garcia, in her presser yesterday, said that Magdadaro would have to prove and clear his name in the court.
"Well, he can prove in court. Naa ma'y korte. Mao na'y nakanindot ani bitaw kay naa ma'y rule of law. Sige lang. I-prove lang na na-hacked… the burden of proof is on him," she added.
She also accused the netizen of looking high of illegal drugs in his pictures.
"Sabog ka adto dong pag post nimo kay kani, mura man ka og sabog. Gipa-drug test to ninyo o wala? Mura man ni og sabog o, tan-awa ra gyud ni iyang nawng. Basig sabog to siya pagpost niya," she added.
Lawyer Donato Villa of the Provincial Legal Office said charges will definitely be filed against the netizen. He said the post is inciting sedition in relation to the cybercrime law.
"Definitely mo-file gyud ta og kaso. Bahala na siya og iya nang i-deny. Sa court na," he said.
The RACU-7 is coordinating with the Province of Cebu in determining which of them will be filing the charges before the court. GAN (FREEMAN)