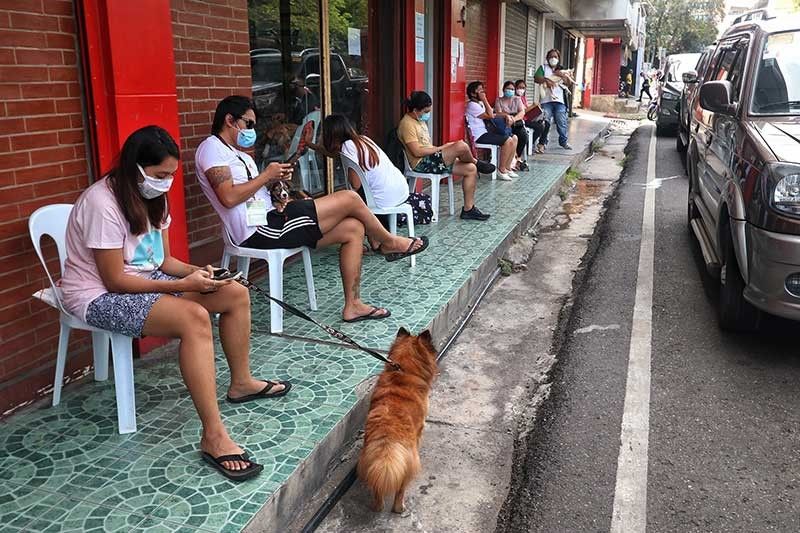 Pet owners queue outside a veterinary clinic along Ramos St. in Cebu City yesterday.
Aldo Nelbert Banaynal
If cases continue to rise: City may revert to MECQ or ECQ
CEBU, Philippines — Cebu City runs the risk of being reverted to modified enhanced community quarantine (MECQ) if the number of COVID-19 cases in the city continues to rise before evaluation of quarantine status on June 14, 2020.
The worse that can happen is that the city returns to ECQ status if rapid transmission is proven, said Dr. Tony Leachon, special adviser to the Inter-Agency Task Force (IATF) under chief implementer Secretary Carlito Galvez.
The city is now under general community quarantine (GCQ).
In a Facebook Live session Sunday night, Leachon, said:
"IATF evaluation on June 14, pero kung mataas talaga ang datus pwedeng hindi mag hintay ng June 14 at ibalik ang ECQ o MECQ kung saan sila dati, depende po. May criteria ang national task force based sa real time and granular data."
Leachon, a leader in preventive health education and a health reform advocate, said the increasing number of cases in the first week of June, the first week that Cebu City was under GCQ, worried him.
"From June 2 to 7, nagwagi po ang Cebu (City) vs. NCR," he said, referring to data from the Department of Health (DOH).
By June 6, Cebu City recorded 2,548 cases against San Juan City's 2,537 cases. San Juan is the local government in the National Capital Region with the most number of cases.
"Cebu City has surpassed San Juan and is now number one in terms of confirmed COVID-19 cases per million population (using DOH data as of June 6)," reads the caption of a graph Leachon posted on his Facebook page.
He also pointed out that NCR has 114 fresh cases against the rest of Region VII, which has 156.
"Cebu City, nababahala ako. Fresh cases dumadami kaysa the late cases in the past three days," he said.
(Cebu City, I'm worried. There are more fresh cases than late cases in the past three days.)
Leachon said he has already alerted fellow members of the national IATF so they can look into the situation.
"Bilang isang researcher at health advocate, data po ang ating pinanghahawakan. Na-alert na po natin ang ang ating kasamahan natin dito sa National Task Force at pina-iimbestigahan natin yun hong Cebu (City)," he said.
(As a researcher and health advocate, I look at data. I have already alerted my colleagues in the national task force and asked that the situation in Cebu City be looked into.)
"Take note, sa WHO (World Health Organization) criteria on countries easing restrictions, rapid transmission po ang magiging problema," Leachon said.
(Take note, rapid transmission is the problem based on WHO criteria on countries easing restrictions.)
As of yesterday, June 8, Cebu City recorded a total of 2,883 total cases and also logged a total of 1,627 recoveries.
Leadership
In the same Facebook session, Leachon emphasized "monitoring and follow through" in dealing with the crisis.
"Aside from being a leader na on top of the situation - and hindi tayo naninisi ng ating mga tauhan – yan ay trabaho din ng isang leader na i-monitor at follow through. Ang part ng isang leader is to be able to follow through yun mga plan of action, at kung nabibigo ka dun, may timeline yan… i-correct mo agad yan kasi ang laki ng ramifications kung nag-iincrease ang viral transmission sa Cebu kasi habang gumagalaw ang tao sa pag-alwan o pagdali ng mobility, ang virus gumagalaw din," he said.
(Aside from being staying on top of the situation – and we're not putting the blame on the subordinates – it's the also the job of the leader to monitor and follow through on the plan of action. If the plan fails, and there has to be a timeline, it has to be corrected immediately because ramifications will be big if there is an increase in viral transmission. As people move as restrictions are eased, the virus also moves.)
He said that an increase in viral transmission increases will be an added burden to the health care system.
Hospitals
A source tells The Freeman that the Department of Health (DOH) will meet with doctors and officials from government and private hospitals today to discuss pressing issues, particularly on the capacity of hospitals, without intervention from politicians, government officials, and businessmen.
The source, a well-respected doctor in the city, says hospitals in Cebu City are now overwhelmed or almost in full capacity due to the rise of COVID-19 cases and health care workers are getting affected.
The Cebu City Quarantine Center, which was reported to have already catered to some patients had to be closed as some parts still need repair while the Bayanihan-2 Field Center-EIC3 remains unused as of yesterday.
The source said the information on the status of hospitals is not intended to spread fear but to caution Cebuanos to be careful and practice preventive measures against COVID-19.
"The virus is here to stay so the best cure right now is prevention," he said.
June 8 numbers
On Monday, June 8, Cebu City recorded 127 new cases but also logged 56 recoveries.
Of the 127 new cases, seven each are from Barangays Basak San Nicolas, Duljo-Fatima, Punta, and Tejero.
Barangays Camputhaw, Sambag 2, and Tinago have six new cases each.
Five each are from barangays Labangon, Lahug, Mabolo, T. Padilla, and Tisa.
Barangays Pahina Central, Quiot, and Sambag 1 have four.
Barangays Apas, Bulacao, Pasil, and San Nicolas Central have three new cases each while Barangays Basak Pardo, Buhisan, Busay, Calamba, Capitol, and Guadalupe have two new cases each.
One new case each are recorded from Barangays Bacayan, Banilad, Luz, Carreta, Cogon Ramos, Inayawan, Kalubihan, Kasambagan, Kinasang-an, Lorega, Mambaling, Pardo, San Antonio, San Roque, Sawang, Sto. Nino, Suba, and Talamban.
The city health office is also verifying one new case from an unverified area.
Meanwhile, of the 56 new recoveries, 25 are from Barangay Duljo-Fatima and 23 are from Barangay Mambaling.
Two more have recovered in Barangay Mabolo and one each in Barangays Tejero, Suba, Kamputhaw, Labangon, Lorega, and Tisa.
The number of deaths remain at 32. JMO (FREEMAN)