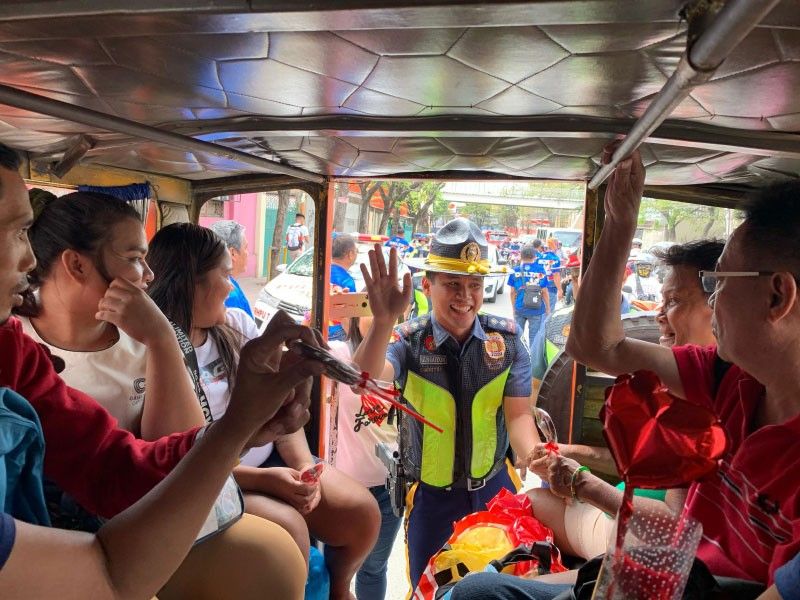 An HPG-7 cop hands out chocolates, flowers and balloons to some jeepney passengers.
Romeo Marantal
HPG-7 cops play St. Valentine
CEBU, Philippines — Instead of issuing violation tickets to erring motorists, personnel of Regional Highway Patrol Group (HPG)-7 gave out flowers, chocolates, and balloons as the nation celebrated Valentine's Day yesterday.
They started their day by handing out roses to some motorists and commuters during their regular checkpoint on V. Rama Avenue in Cebu City.
Police Captain Michael Gingoyon, HPG provincial officer, said the activity dubbed as "Gugma sa HPG alang sa mga Motorista" was part of the group's creative information drive.
He said the motorists and commuters were reminded about road safety and policies in line with HPG's road safety awareness.
"The special activity was our way of expressing our love and care to the public by reminding them to follow the road and traffic rules and regulations," he said.
Nympha Pinote was among those who received flowers and chocolates from HPG.
Pinote, a resident of Barangay Mambaling, said she was "terrified" when she was flagged down by HPG personnel, thinking she would get arrested. She was on her way to a private hospital in midtown Cebu City for a check-up.
When she rolled down the window of her car, the cops handed her flowers and chocolates.
"I was really surprised," she said.
Moreover, Gingoyon reminded the drivers to observe road ethics, to refrain from speeding, to avoid overloading, and to always bear in mind the safety of the passengers.
He stressed the importance of following a speed limit on Cebu roads to avoid accidents.
Overloading and overspeeding are among the common traffic violations.
"The best way to stay safe is to abide by the traffic rules and regulations," said Gingoyon. KQD (FREEMAN)