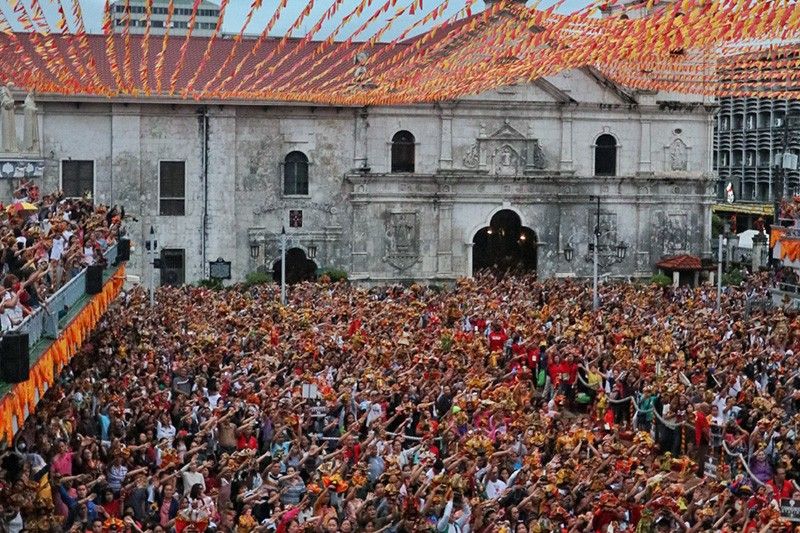 An estimated 300,000 devotees brave the rain to join the annual procession dubbed as "Walk With Jesus" from Fuente Osmeña Circle to the Basilica Minore del Santo Niño to kick off the Fiesta Senyor.
Aldo Nelbert Banaynal
Crowd 'walks with Jesus' amid rain
CEBU, Philippines — She could have stayed home where it's nice and warm but Shiela Regalado, 53, chose to get up early dawn yesterday to join a procession under the rain.
Drizzles to light rains threatened the penitential Walk with Jesus from start to finish but devotees like Regalado were unfazed; it's as if the rain fueled them.
"Wa ko nagduha-duha nga modayon karon og anhi bisan sa panahon. Uwan ra na, wa na nakatarog sa akong pagtuo (I didn't think twice on coming here despite the inclement weather. That's just rain. It cannot topple my faith)," Regalado declared while clutching an image of Senior Santo Niño under her umbrella.
Regalado was among the about 300,000 Catholics who showed up for the one-hour march that started at 4 a.m. at the Fuente Osmeña rotunda and ended with a Mass at the Basilica Minore del Santo Niño.
As soon as the procession moved, Osmeña Boulevard visibly transformed into a river of light. Devotees bringing Niño images of different sizes and garbs marched under umbrellas amid drizzles in a show of devotion to the Holy Child.
The traditional walk heralded the start of the novena masses leading to 455th Fiesta Señor in Cebu City.
Basilica rector Fr. Pacifico Nohara, in his homily, expressed hope that the devotees' penitential act be translated "to good relationships with their fellowmen, attached with good works."
He also added that people must reconcile with their enemies, as Jesus died to save humanity from its sins, even the ones who did not deserve it.
Reflecting on this year's theme, "Santo Niño: Cause of our Unity and Charity," Nohara told the faithful: "We should be grateful that this is alive; and so until now, we treasure this faith and we continue to spread and build love, peace and joy in our family, our society, and our whole country."
Nohara was referring to "our ancestors' the gift of Sto. Niño's faith."
Touted as the cradle of Christianity in Asia, Cebu will celebrate the 500th year anniversary of the arrival of the faith in 2021.
After the homily, Alan and Elvie Doromal were also fomally installed as this year's Hermano and Hermana mayors.
ASSESSMENT
Colonel Engelbert Soriano, director of Cebu City Police Office, said the walk was generally peaceful with about 60,000 people joining the march and an additional 200,000 more or less attending the mass at the basilica after.
Soriano said the figures were based on the consolidated reports from the City Disaster Risk Reduction and Management Office (CDRRMO), Thursday morning, hours after the procession.
Despite the rain that had pushed authorities to further shore up security, no untoward incidents were reported.
Police, however, confiscated a drone that was found to have been flown without permit.
Soriano said personnel from the Sinulog Foundation Inc. apprehended the drone's owner and turned him over to the police for questioning, but he was later released yesterday after being able to secure the needed permits.
"And doon sa basilica area, wala rin tayong reported na insidente. As planned, we were able to carry out yung security measures natin," he said.
He said among the issues that came up at the basilica were minor in nature such as devotees being unaware of the mass schedules and the entrance and exit points. These did not cause any delay in the proceedings, he added.
Soriano said that police used the Walk of Jesus as "dry run" for their security measure installment for the upcoming major activities, including the Solemn Procession on January 18 and the Grand Parade on January 19.
He likewise said that he is also taking cues from the security experience from the Feast of the Black Nazarene in Quiapo, Manila, which, according to him, may also happen in Cebu.
Soriano said they have executed their security strategies according to pan but are also willing to apply sudden changes if the need arises. JMD (FREEMAN)