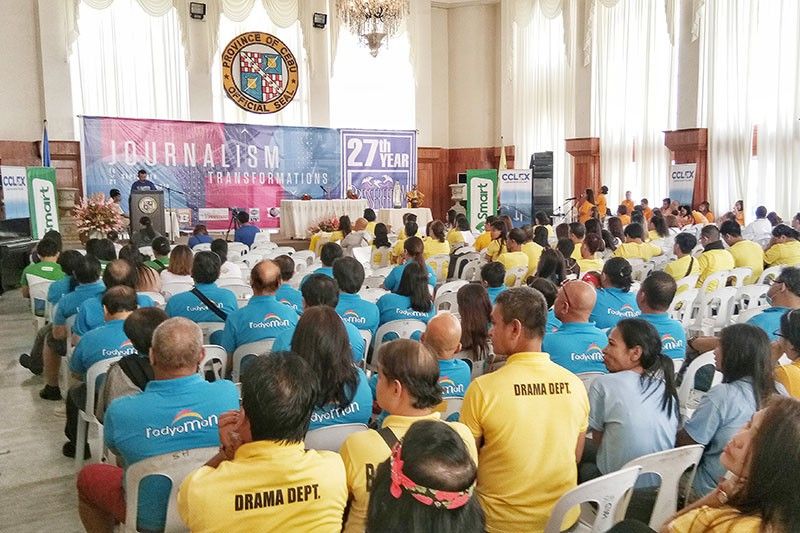 Members of the Cebu media gather for the opening program of the 27th Cebu Press Freedom Week at the Capitol Social Hall yesterday.
Aldo Nelbert Banaynal
27th Cebu Press Freedom Week kicks off
CEBU, Philippines — The 27th Cebu Press Freedom Week officially opened yesterday with a Holy Mass celebrated by Fr. Roberto M. Ebisa, SVD at the Cebu Provincial Capitol together with journalists and other media workers from local news organizations.
Amidst the challenges and transformations in the industry, Ebisa encouraged Cebu journalists to remain hopeful.
"We in the press are far greater than the challenges haunting us. It is okay to be afraid but we don't let fear cripple us. We are not like the monkeys of Africa as we have the courage to let go. We will adapt, we will transform… we re-invent ourselves and there will be rebirth. We are butterflies. Yes, we can fly!" Ebisa said.
The next steps in the journey, he said, is all up to the industry, taking inspiration from the gospel of the three parables: The Parable of the Lost Sheep, the Parable of the Lost Coin, and the Parable of the Lost Son.
Ebisa said the industry can take inspiration from the fact that while several journalists have left due to challenges and concerns, there are still those who choose to stay and who remain unfazed.
"For just like Stripes and Yellow, we believe there is more waiting for us in the midst of the digital revolution – that there will be joy in the end so much like the three parables in the Gospel of today."
After the Mass, an inter-news organization sing and dance contest saw CDN Digital winning, followed by The Freeman in second place, and SunStar in third place.
The Cebu Newspaper Workers Foundation (Cenewof) and the Cebu Newscoop also organized a wellness clinic where attendees of the opening ceremony availed of services for free like massage, eye examination, and blood sugar testing, among others.
At 3 p.m. today, the organization of photojournalists, LENS, will open its exhibit entitled "Repleksyon" at Robinsons Galleria. The exhibit will run until September 22.
On September 18, SunStar will hold its Journalism Transformations forum at the Marcelo Fernan Press Center from 9:30 a.m. to 11:30 a.m.
The following day, at the same time and venue, The Freeman will welcome veteran journalists Ana Marie Pamintuan, editor-in-chief of the Philippine Star, and Manuel Mogato, editor-at-large of News5 Digital, for a forum entitled The News in Challenging Times.
Pamintuan and Mogato, a 2018 Pulitzer Prize Winner for international reporting, will share their thoughts on news values and media economics – how the challenging times are affecting the quality of news.
Still at the press center on Friday, CDN Digital's forum will focus on Digital Transformations: Changes and Chances from 1 p.m. to 5 p.m.
Happening every third week of September in time for the commemoration of the declaration of Martial Law in the Philippines, the Cebu Press Freedom Week serves as a constant reminder for Cebu journalists of the freedoms they lost during Martial Law and serves an avenue for them to come together to discuss how they can protect and uphold these freedoms. It also serves as an avenue for them to discuss the challenges and issues faced by their profession. (FREEMAN)