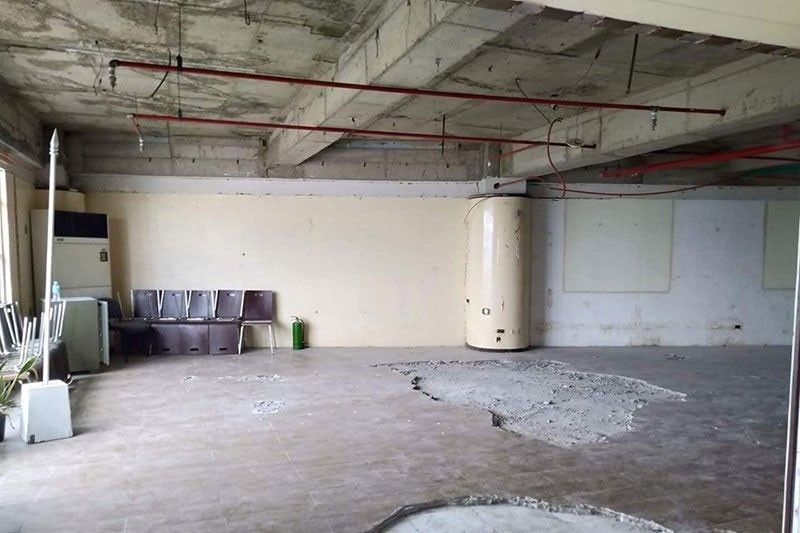 For stripping Mayor's office: Osmeña may be liable - DILG
CEBU, Philippines — Former Mayor Tomas Osmeña can be held liable for stripping the fixtures off his former office at the Cebu City Hall, an official of the Department of the Interior and Local Government (DILG) said.
DILG Undersecretary for Operations Epimaco Densing III said Osmeña could face administrative charges after he left his office bare for his successor, Mayor Edgardo Labella.
"Tingin ko, meron itong mga administrative issues. Baka nga umabot pa ito sa Ombudsman kung sakali. Talagang malaki ang damage," Densing said in an interview with dzMM in Manila.
From Thursday night and Friday dawn last week, personnel of Dakay Construction cleared the mayor's office at the eighth floor of the executive building because Osmeña owns the shelves, light and plumbing fixtures, partitions and door, ceiling, and floor works.
The city's Department of General Services also certified the ownership.
"This is to certify that the subject properties (attached pictures of brown colored cabinets/shelves/claddings, light plumbing fixtures, partitions and doors, ceiling and floor works) located at the 8th Floor Cebu Mayor's Office are not Cebu City Government Owned Properties but are personal properties of former Cebu City Mayor Tomas Osmeña," reads the certification signed by DGS officer-in-charge Ronaldo Malacora.
But Densing described Osmena's move as an act of a "sore loser," saying Osmeña should have just left the office as it was.
Osmena is unperturbed and also told dzMM that he used his own money and contributions from friends to renovate the office when he took over in 2016 because the City Council, then headed by Labella, rejected his request for funds.
Osmena said a total of P2 million was spent to renovate his office – P1 million from his own pockets and another P1million in contributions from his friends.
"I decide to remove everything so that he will know what I feels like," Osmeña told dzMM.
He said the Council did not explain why they denied his request for funds.
"Wala, basta nabuwisit na rin ako. What can I do?" Osmeña said.
Densing is unconvinced.
"I don't think personal nyang pera yan. Pera ho ng city government of Cebu yan (I don't think it was his personal money. I believe it was the money of the City of Cebu)," he said.
LABELLA
Labella, for his part, said Osmeña should just have preserved the office at the eighth floor because it can still be used as lounger for dignitaries and other VIP guests of the city.
"It was saddening to note that I was shocked that this happened," Labella said.
He chooses to hold office at the ground floor of the executive building because he wants to be more accessible.
"I permanently or more often stay in an office at the ground floor so that it would made me reachable, my feet will be on the ground for my constituents to easily approach me," Labella said.
For a week, however, he will hold office at the Office of the Vice Mayor while his own space is uninhabitable.
Vice Mayor Michael Rama, meanwhile, will hold office at the Social Hall located at the 4th floor of the Legislative Building.
Labella said he will not ask money from his friends to fix his office. He said the most logical thing to do is use the city's funds but he assured that he will use the money sparingly.
Meanwhile, Labella vowed to continue the 24-hour operation of the Rizal Public Library, which was initiated by Osmeña.
Since it opened round the clock in 2018, the library provided a free space for students, especially those who reviewed for licensure examinations. University of San Carlos graduate Marcley Augustus Natu-el who ranked second in the 2018 bar examination admitted staying at the library for a time to review for the bar. Philippine Star News Service