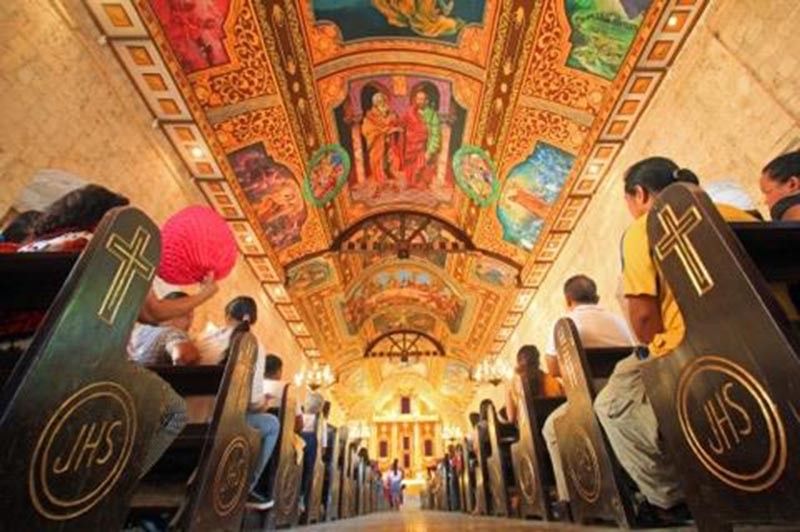 The bare ceiling of Saints Peter and Paul Parish since 1580 turned into an ongoing work of art with the "Dibuho sa Kisame," a project that began in September last year.
In Bantayan Church, mural seen to boost tourism
CEBU, Philippines — The launch of the ceiling mural of its centuries-old church, the venture into faith tourism, and the promotion of its 17 islets are expected to boost the town's vibrant tourism industry of Bantayan, Cebu.
The bare ceiling of Saints Peter and Paul Parish since 1580 turned into an ongoing work of art with the "Dibuho sa Kisame," a project that began in September last year.
"The church is the first established parish outside Manila. Before ang mga baroque na simbahan naa jud mga ceiling mural. But pag-research namo, there was none here. It was empty," said Parish Priest Rev. Fr. Joselito "Joy" Danao.
A group of 12 artists from Cebu and Leyte, led by Aris Avelino Pastor, worked together with the parish in creating the exhibit of Biblical scenes and images of patron saints.
Danao said the intricate ceiling painting is not just meant for aesthetics but will serve as a visual catechism on the Creation, Fall of Man, and Redemption.
"We can more understand the message of salvation," he said.
He added the visual arts in churches used to be a method of catechism when access to information through social media was not a trend back then.
The massive ceiling artwork is targeted to be finished in the middle of May this year.
Danao said they want to finish the project before he will be transferred to another parish in June.
Bantayan Tourism Consultant Vince Escario said that while they have to see the impact of the Dibuho Kisame, he is optimistic it will positively affect the industry.
He said his friends from Manila and abroad have already showed interest on the ceiling mural even before it was officially launched.
Escario said the tourism industry is fast growing, citing a 75 percent increase of tourist arrivals from last year.
He said most of the visitors in Bantayan town are itinerant tourists who mostly come from Santa Fe town, being the port of entry.
"Statistics would be from Santa Fe since they require tourists to register when they enter. There is no way for us to require them unless we stop them in the boundary, which is also not tourism-friendly," he said.
According to the Santa Fe tourism office, around 15,000 to 20,000 tourists visited the island from the Bantayan port in Holy Week alone.
Acknowledging Santa Fe as the primary tourism center in Bantayan Island, Escario said Bantayan town, being the next to the former, is the island's center of trade and commerce, arts and culture, and seat of Catholic faith.
Escario said they are now looking into faith-based tourism since Bantayan reportedly used to be the jump-off point in the Christianization and colonization of the neighboring provinces.
"Faith tourism is an experience most well-promoted by word of mouth because it is experiential tourism. It is something very personal. It is not something that you can put on tarpaulins or on social media," he said.
Inspired by Mary's 'Fiat' or submission to God's will, the local government is planning to launch the Feast of Faith in October this year and hopefully hold it annually.
This will be on top of the annual "Palawod Festival" on June 29, which is in honor of its patron saints, Peter and Paul.
The tourism office is also aiming to develop islet tours in its five coastal barangays with 17 islets, except for two, that are uninhabited.
These islets, Escario said, boasts of white sand beaches and untouched nature.
They have yet to address the availability of pump boats and infrastructure.
"Untouched in the sense they have no resorts, no bed and breakfast places, no accommodations. Nothing commercial in these islets," he said.
He said there are would-be stakeholders who saw the potential of these islets and have expressed their interest in investing.
Escario said these planned programs will focus on improving the livelihood of the locals and the economy of the town. They also vowed to protect the environment at the same time.
"Come and discover the island and the best way to discover the island is to allow the island to speak to them through its people and to experience living with us and among us," Escario told the tourists. (FREEMAN)